Druhomes.com – A studio apartment is a rented house that has several rooms in one flat or apartment. You will find this type of apartment in a functional design. It allows you to live simply if you are a single bed with a living room, kitchen, bathroom, and small entryway. A studio apartment or studio flat is an exciting choice to rent a house and live in an urban area. It provides all rooms in a tiny apartment with normal functions like other residences. If you live in a studio apartment, it has a defined area to separate one room from another.
Since it has no walls to separate each room, you need to arrange all rooms in a neat layout to make it looks even larger and uncluttered. We will give you some tips to decorate a minimalist studio apartment. Minimalist design is an interesting interior style to apply in a studio apartment. This design has less furniture and makes your room looks spacious and simple. Here, the tips to decorate a minimalist studio apartment. Let's discuss!
Use Lighter Color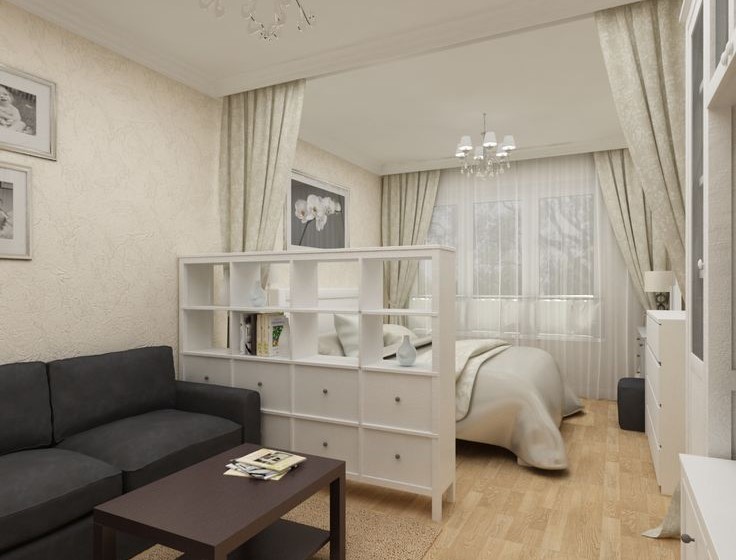 Room color is the first thing to consider in a small house. It helps you get a spacious look. The white color is a perfect choice to apply in your studio apartment. It emerges a calm atmosphere that you can combine with other neutral colors. There are light grey, soft brown, and soft yellow that have an interesting impression to bring up the large perspective. You will get a perfect studio apartment to start with a minimalist design.
Install a Mirror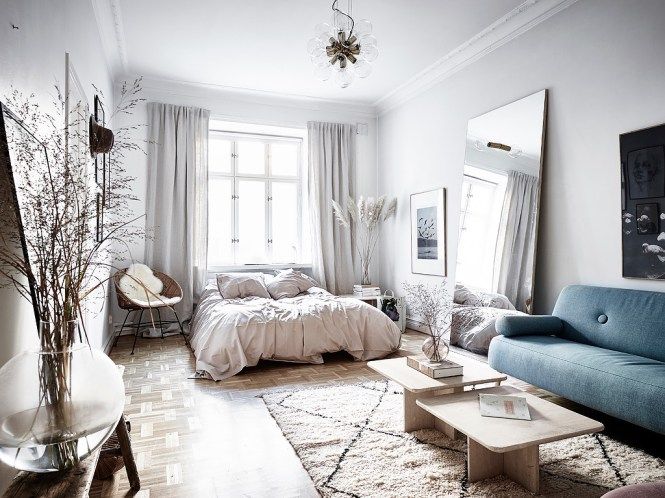 Mirror has a function to reflect the things in front of it. Installing some mirrors on your wall will help you create a brighter and larger impression. It gives a more shiny accent in your apartment that you can put in some places with high traffic. Moreover, having more mirrors gives a benefit to manage the impression in a room by seeing the reflection. The bedroom, living room, and bathroom are interesting places to get a wall mirror.  Choose the large vertical mirror if you want to make your studio apartment looks bigger.
Maximize Space and Storage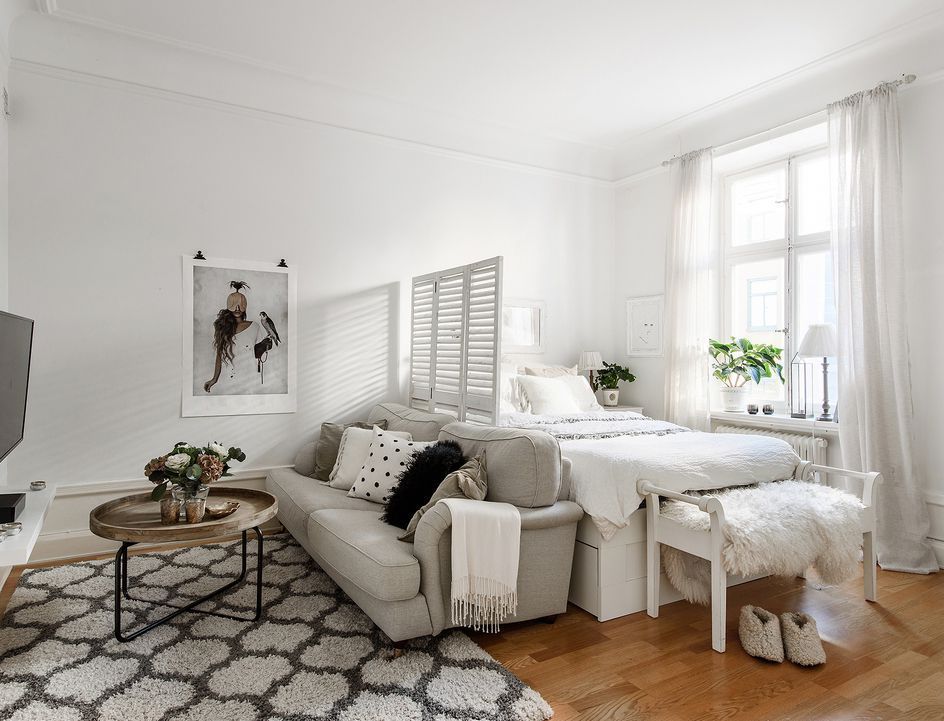 The limited space in a studio apartment challenges you to design it in simple decor. Thus, minimalist design is good for your living space. You can use the space under your bed as storage.  It helps you will look messy and saving stuff in an uncluttered way. Other ideas are the wall storage in the corner of the room. You can put your books in the living room and bedroom. Besides, the empty wall also offers you a space to install a mounted bookshelf.
Create a Vertical Arrangement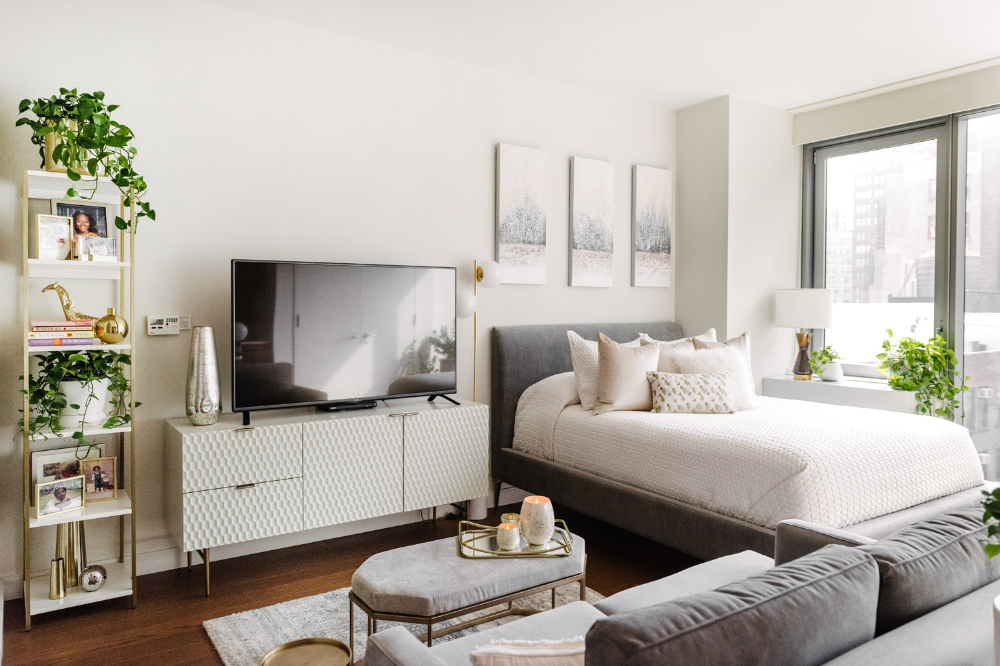 This tip relates to the previous tip to arrange storage. The vertical arrangement in a minimalist design brings a simple and neat look. It makes your room ever taller. Then your room saves more space. Arrange your book collection vertically to draw the tall impression. You can put a vertical basket in your kitchen to put your food supplies. Another vertical arrangement is in your bathroom storage. Put white vertical storage to make it looks spacious.
Uses Different Types of Organization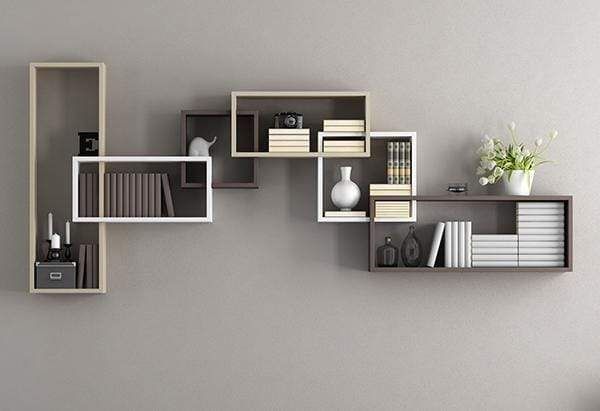 Since you have some storage in your studio apartment, you can try to use some different types of storage. It helps you draw a unique point in every corner. You can manage more than one store in a different room. It makes your room has neat storage to arrange the things inside it. Moreover, it allows you to support the minimalist design by lessening cluttered things in every room.
Use a Tray to Keep Stuff in a Group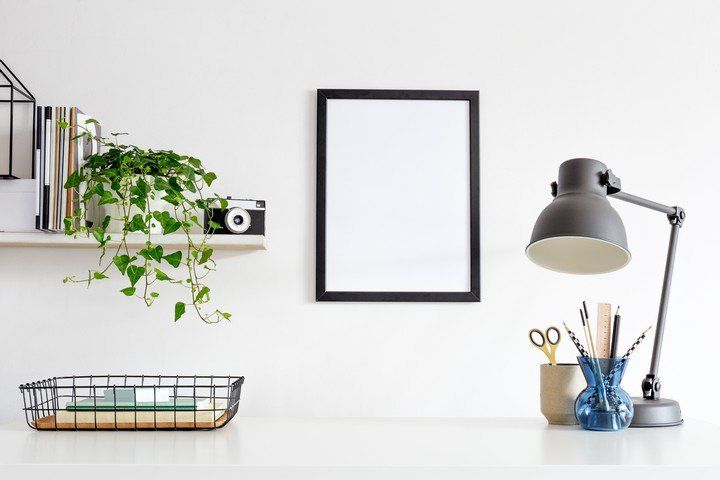 The net tip is how you compile many small things in a group. Using a rounded tray is a nice solution to keep the decoration looks neat and clean. People usually display an interesting tray on a coffee table and a cabinet. This tray will keep your small things in one group, so it is easy to find them whenever you need one thing in that tray. Choose a minimalist tray with bright color and geometric shape.
Adopt an Open Space Concepts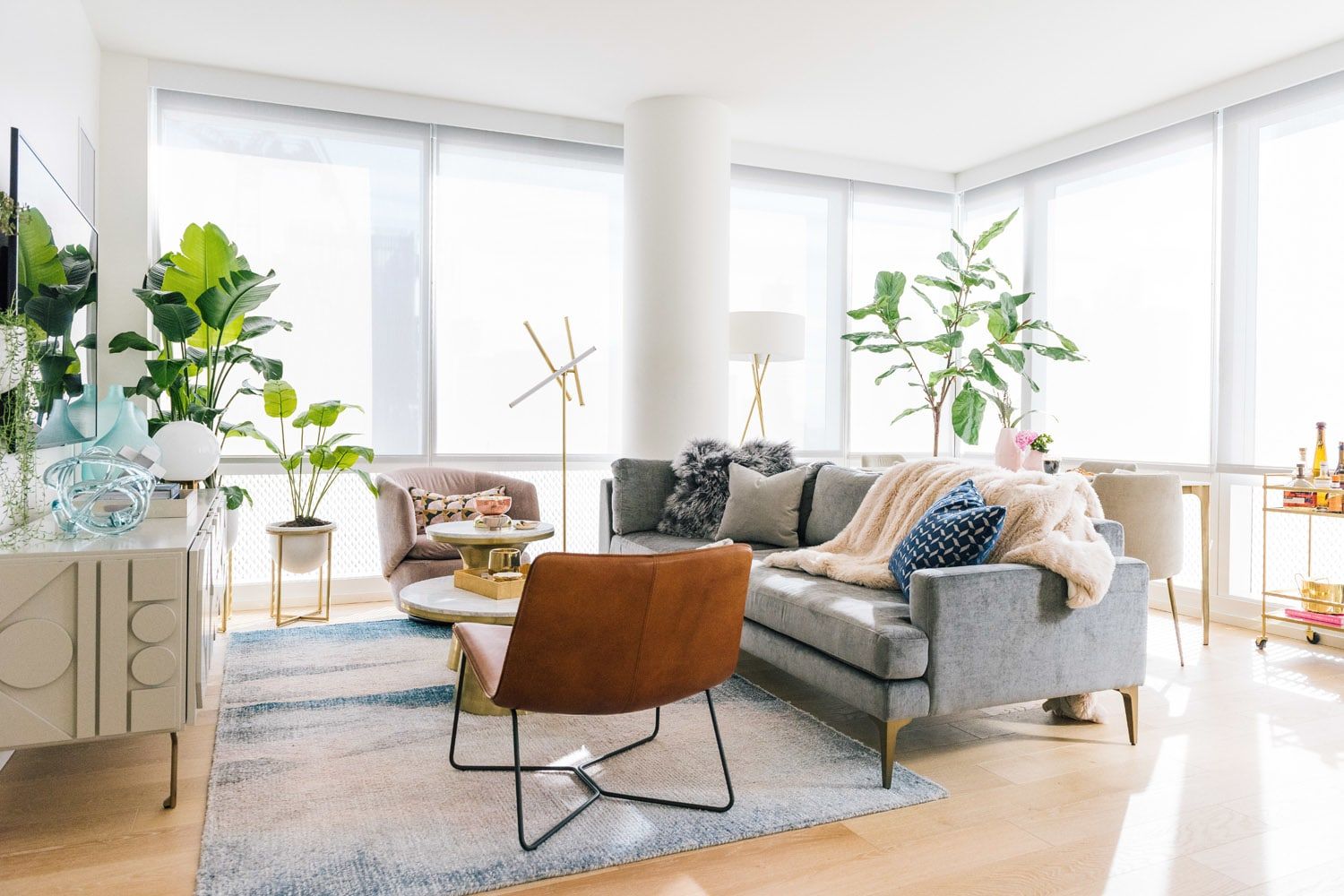 We know that a small apartment needs to apply an interior design with a spacious impression. An open space style is compatible with an urban residence. Studio apartment that uses this layout will look larger because it has no wall to separate the rooms. However, the rug is an attractive thing to create a dramatic line for your living room area. A slim and short partition is also good to draw an area for a certain room. You can also choose doorless storage will do just fine to create a neat layout and aesthetic decor.
Layer Some Accents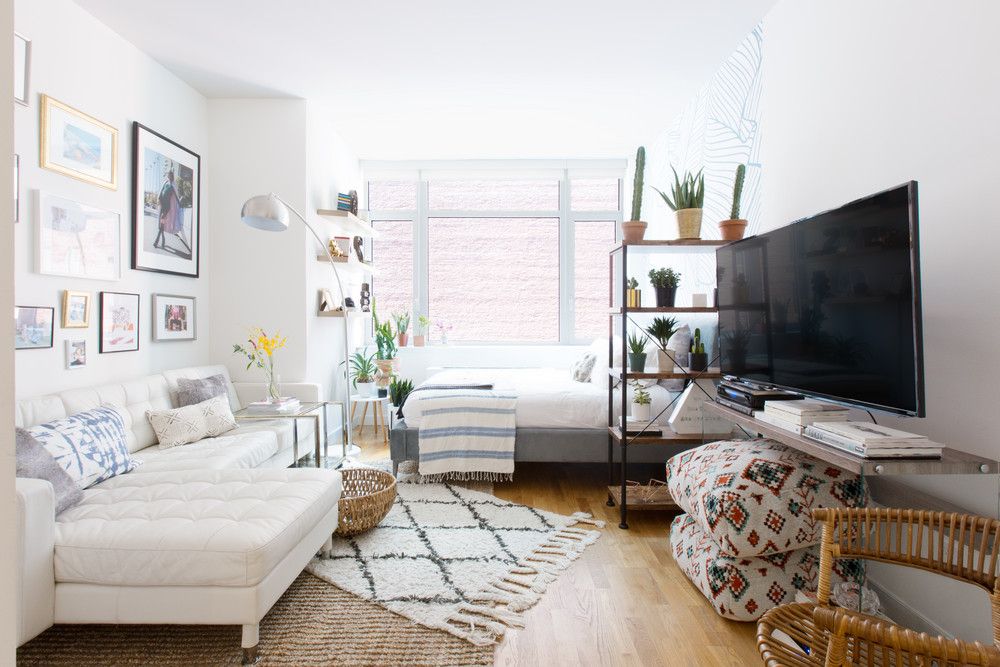 If you have space under the coffee table, you can make a simple layer beneath it. Use floor cushions to make your living room in the studio apartment looks spacious. You can save the floor cushions under the coffee table or even arrange them around that table. Another tip is layering the lights. Installing some small lamps in some different spots will give you layering lights and a dramatic ambiance.
Give a Small Texture or Pattern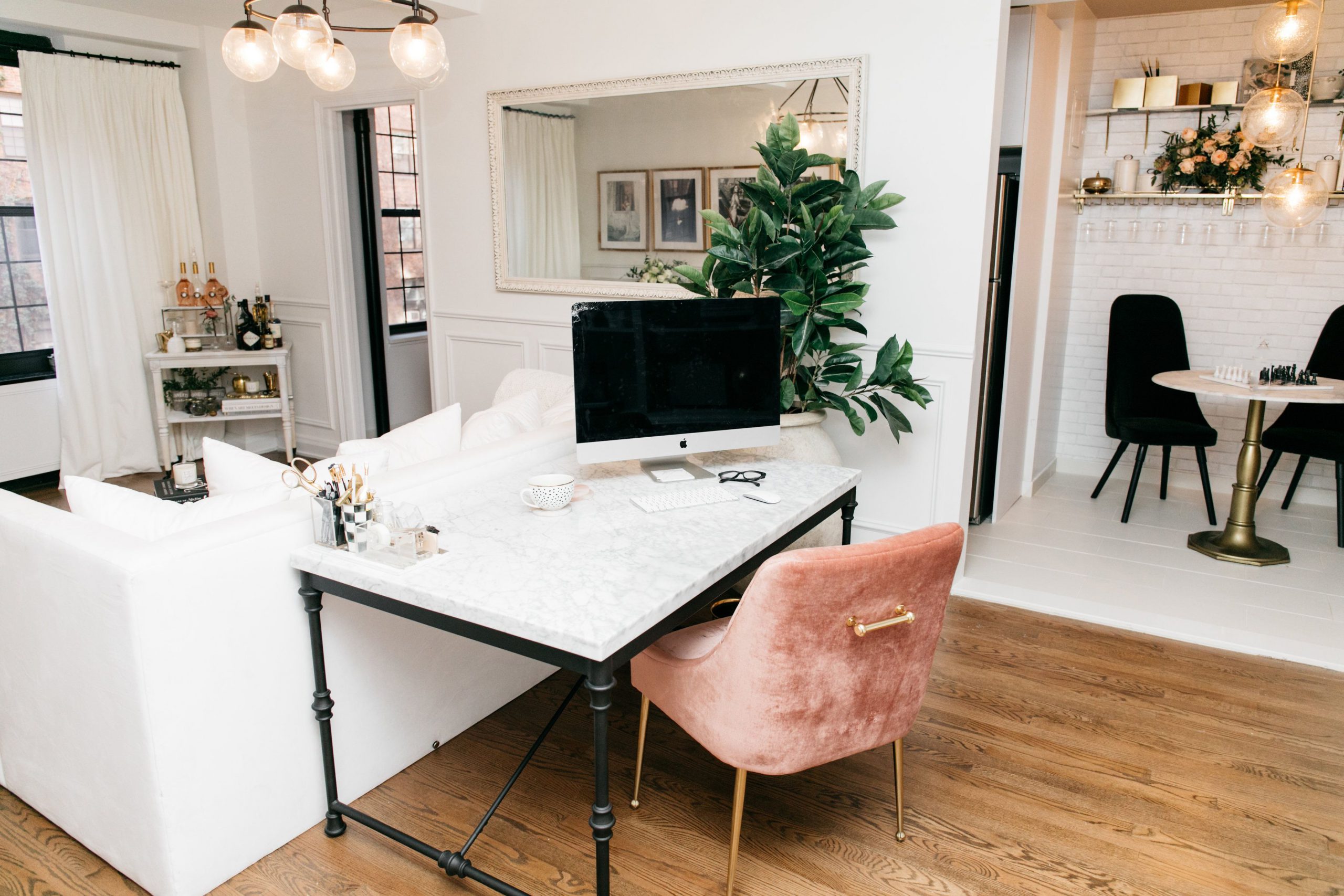 Minimalist design looks stunning if it has little patterns. You will get an attractive design by combining white colors and patterns. Since it is a minimalist design, you can add one to two patterns in a room. It is useful to enliven an aesthetic perspective. The texture in your furniture brings a certain impression. The feathery surface from your wool couch gives a comfortable touch. The white molding wall or protruded sticker wall is stunning to create a strange touch on your finger and a striking view for the eyes.
Thrive Some Green Plants to Make it Alive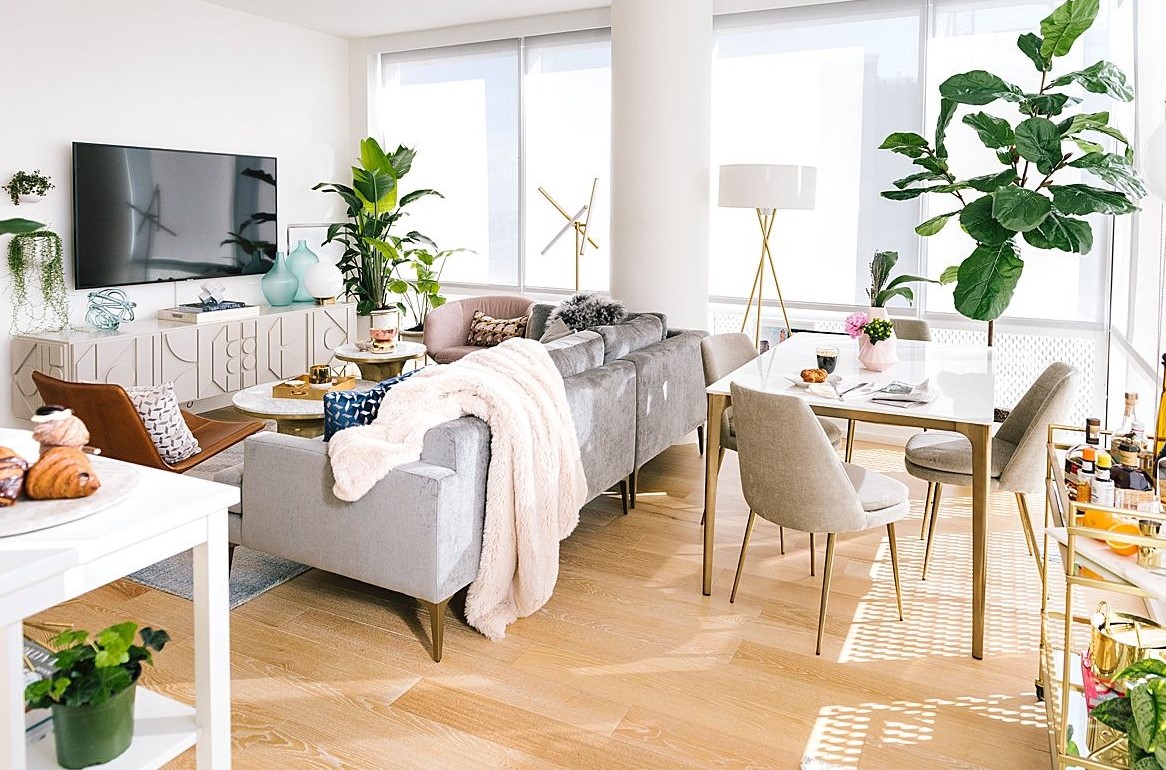 The greenery accent in your studio apartment can invigorate the decoration. It brings a natural ambiance and attractive view. Nowadays, many people like to grow ornamental plants at home during the pandemic. Gardening is an exciting activity to do, especially to make their home looks shady. Do the same way to create a natural ambiance by thriving some plants in the corner of your apartment room. The living room, bedroom, and entryway are the recommended spots to invigorate your apartment.
Thus our discussion about Tips and Ideas to Decorate A Minimalist Studio Apartment. Studio apartment in an urban area is one of the solutions to get a residence for some people. They like to buy or rent a studio apartment for a single owner or share a home with their roommate. Maybe you do the same for your living space. Even though this apartment is small but it has all you need in one house. It has limited space for each room, but you can manage it with some decorations and simple layouts in minimalist design. The tips above will give a short guide for you to start decorating your studio apartment. Hopefully, you get a nice interior in your minimalist studio apartment. Happy decorating!