Druhomes.com – Organizing small things in a bathroom takes more time to make it neat. Toiletries, towels, and bathroom supplies need to store neatly. You have to be clever to arrange these things. Planning a neat organizer can help you solve this problem. Even you can start providing 'a home' for your toiletries. Rather than make it neat, a minimalist organizer also brings a simple impression. You can try to install the minimalist bathroom organizers. Minimalist bathroom organizer is a stunning and interesting design to apply to the home interior, especially in your bathroom. If you wonder how it fits the bathroom interior, this article will discuss Simply Attractive and Functional Minimalist Bathroom Organizer Ideas. Let's discuss!
Adjustable Shower Caddy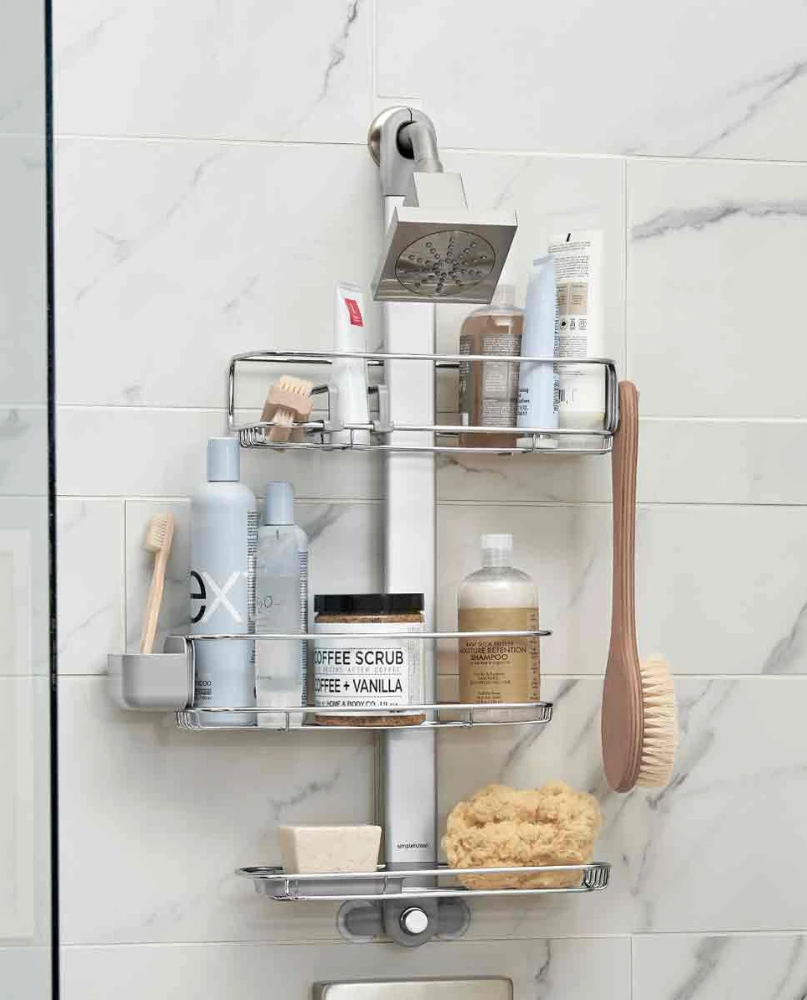 A shower caddy is a simple design of a bathroom organizer. It has more than one basket to hold the toiletries. You can classify the toiletries in each basket. The basket is deep enough for body soap and shampoo bottles. Even the wire basket is useful to hang bathroom brush and toothbrush holder. This organizer is simply hanging over the shower head, so it is easy to use when you take a bath under the shower.
Wall Mounted Rack in The Corner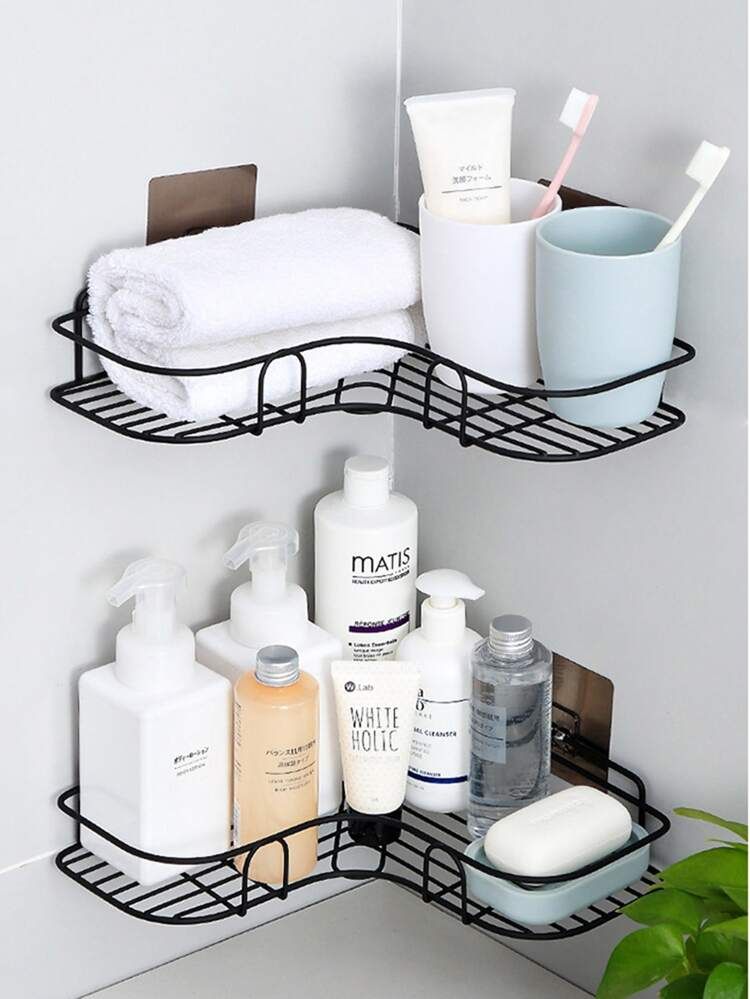 Wall-mounted rack has an interesting design. It uses the corner wall to be your storage. This organizer is easy to tote your toiletries without consuming lots of space. The corner rack fits well in a small bathroom, even it makes your bathroom look simple and admirable. Arrange your toiletries in this rack from the top shelf to the lower shelf. The top shelf should hold some things that will not spill anything to the lower shelf. Thus, you can put your toothbrush and dry towel on the top shelf.
Over The Door Storage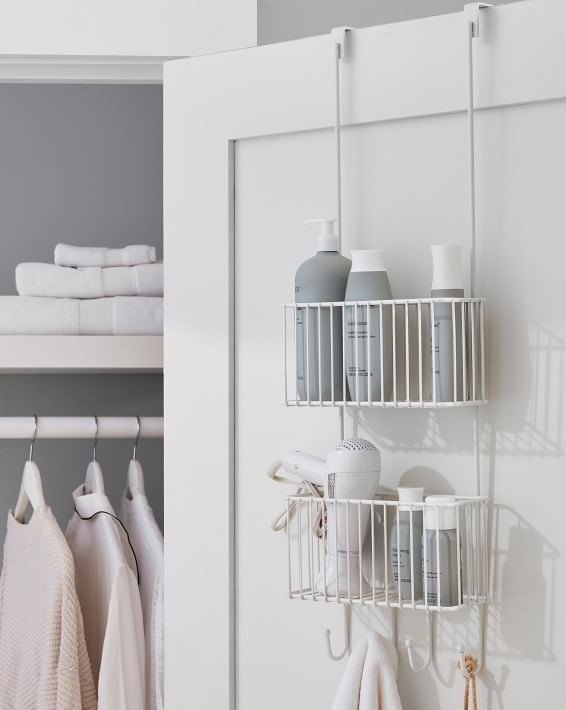 Make use of space in the bathroom by maximize the door and wall. The bathroom door is a beneficial spot to hang toiletries. You can hang a vertical organizer behind the door to declutter your toiletries. Make it more stunning by uniforming the bottles for body wash, shampoo, and other bathroom essentials. This organizer is functional to hold the toiletries and save more space in your bathroom.
Minimalist Wall Shelves with Hanger for A Towel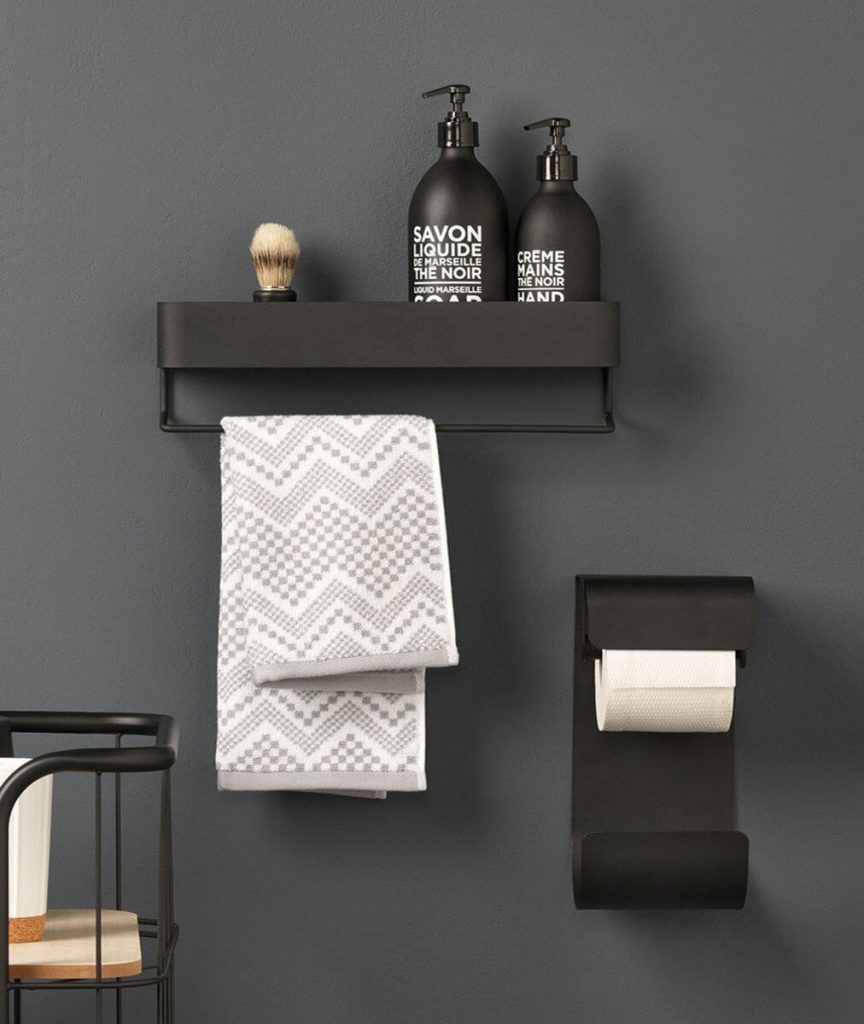 Many designs of wall shelves that you can find in home depot. The wall shelves with a hanger are functional to organize your toiletries and hang your towel over them. This organizer should be too big because it adjusts the horizontal storage to bring a simple impression. Pick an attractive color to strengthen your bathroom interior. If your bathroom uses a black theme, the wall shelves are stunning to have metallic color.
Hanging Wall Storage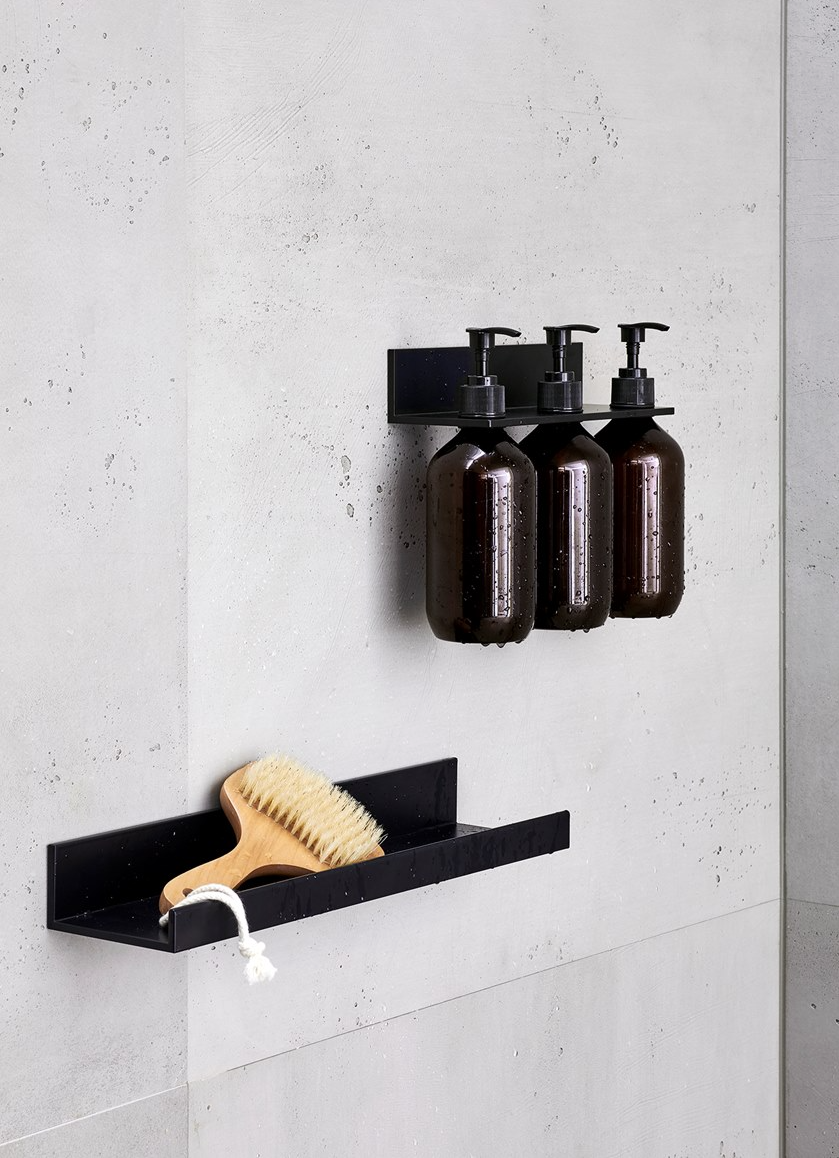 Hanging wall storage has a simple design for your bathroom. It hangs the bottles on the wall to create an uncluttered design. Thus, you don't need to touch the bottles when using them. This organizer is practical and hygienic to install in the bathroom. The amber bottles are stunning to give an accent to the wall. It is compatible with a shower bathroom that has a limited space to build storage in the bathroom.
Mounted Hunker Storage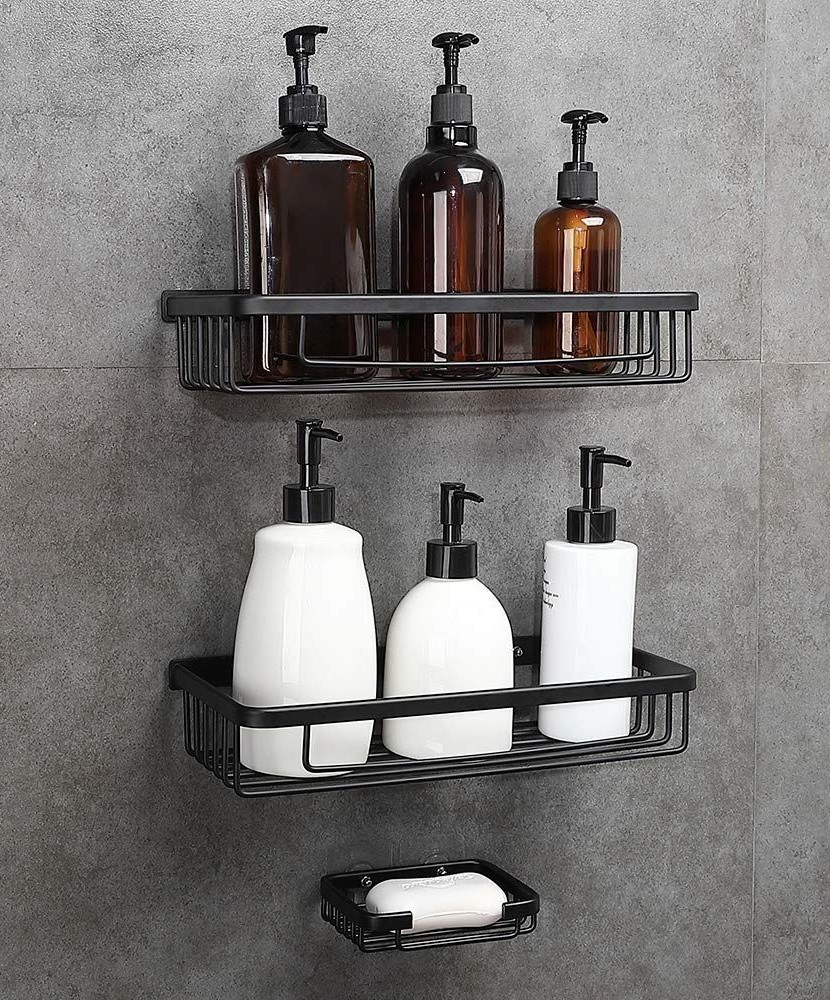 If you like to organize the toiletries vertically, you can install mounted hunker storage. It has a simple design with an uncluttered basket. The basket is stunning to hold several toiletries in one basket. You can arrange three items in the basket to reduce a crowded look. It is more interesting to arrange them based on the bottles' color and give an accent. Black basket is a neutral color that looks attractive to combine with other colors.
Simple Bathroom Tray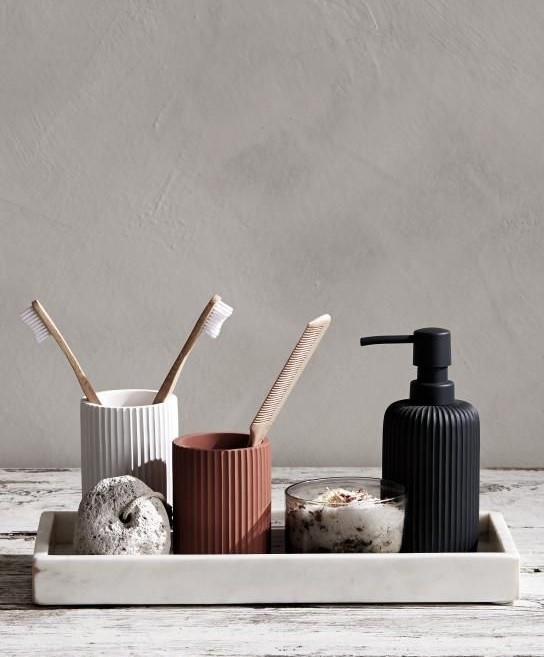 Create a simple interior design is easy by using a small tray. Put a simple tray in your bathroom board to hold several items in one group. It makes your bathroom looks like a resort bathroom with a calming ambiance. Moreover, you can put a candle or room diffuser to beautify the tray. It is a simple organizer for a single homeowner or a small family.
Small Mounted Shelves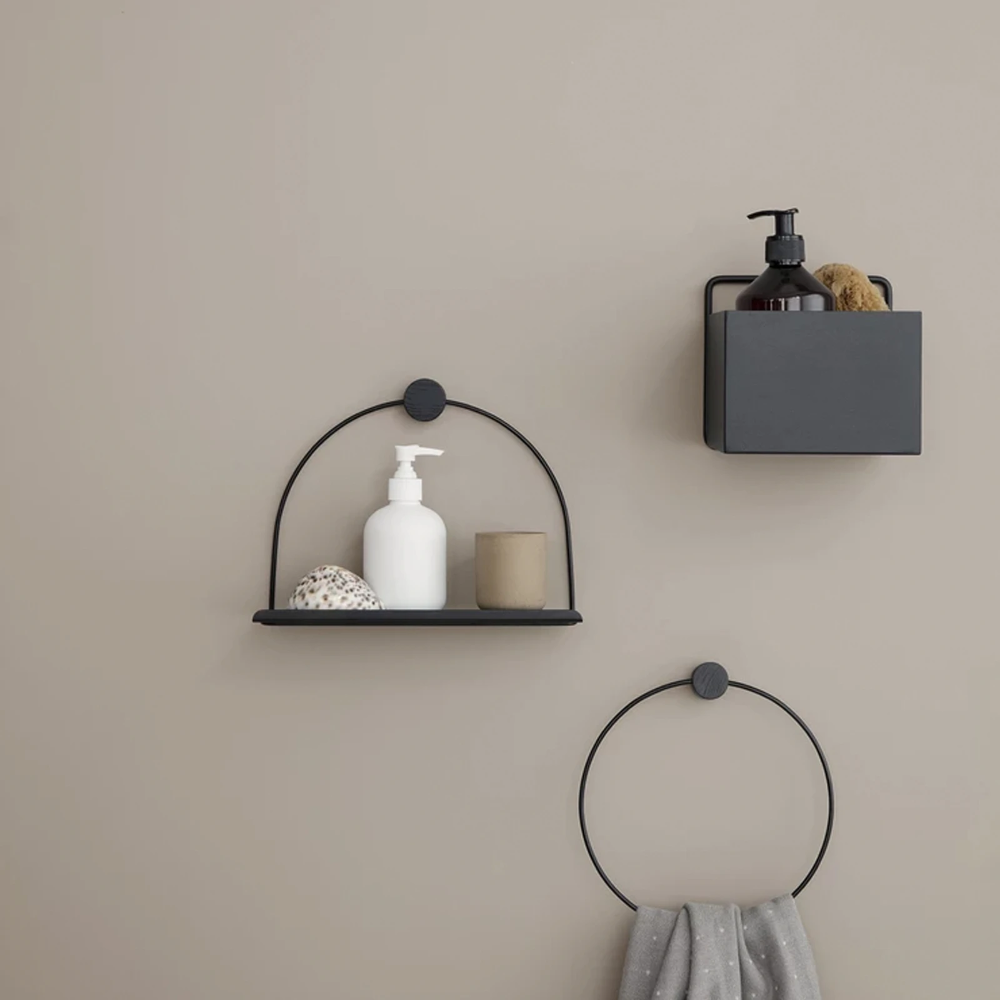 This organizer is slim but stunning. The small mounted shelves are compatible with a bathroom that has a low-traffic foot area. This mounted shelf has a strong metal hanger and a holder to keep your toiletries uncluttered. Put one bathroom essential on a small shelf because it has a limited space to hold many items. You can add another mounted shelf to hold the body wash and sponge.
Black Storage with Three Shelves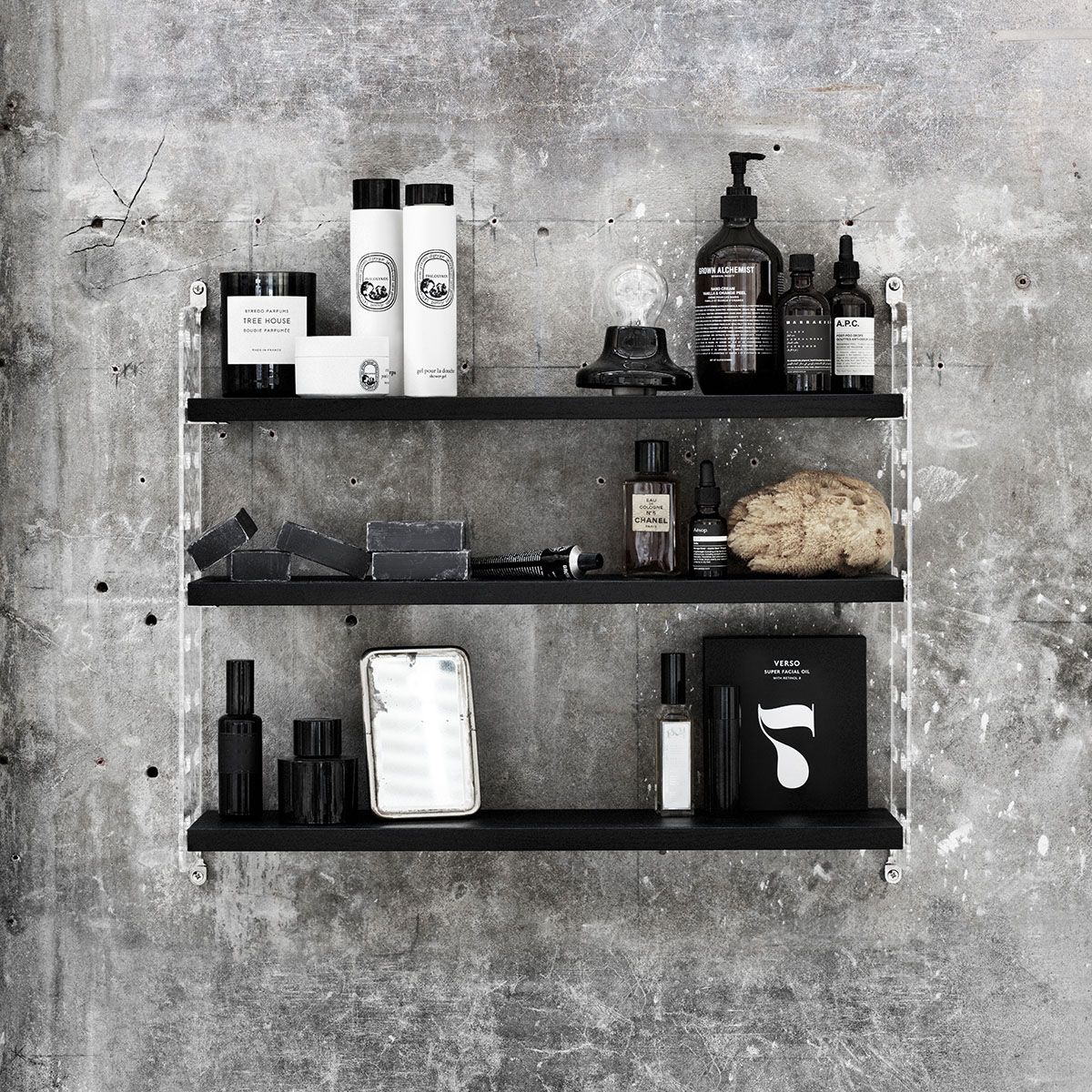 Decluttering the toiletries in your bathroom by installing wall storage. This storage has several shelves to load more toiletries. You can arrange the toiletries based on the height. Put the tall bottles on the top shelf, while the shorter bottles are on the lower shelves. Considering the arrangement of these items are essential to declutter the crowded look and make it neat.
Simple Wooden Hooks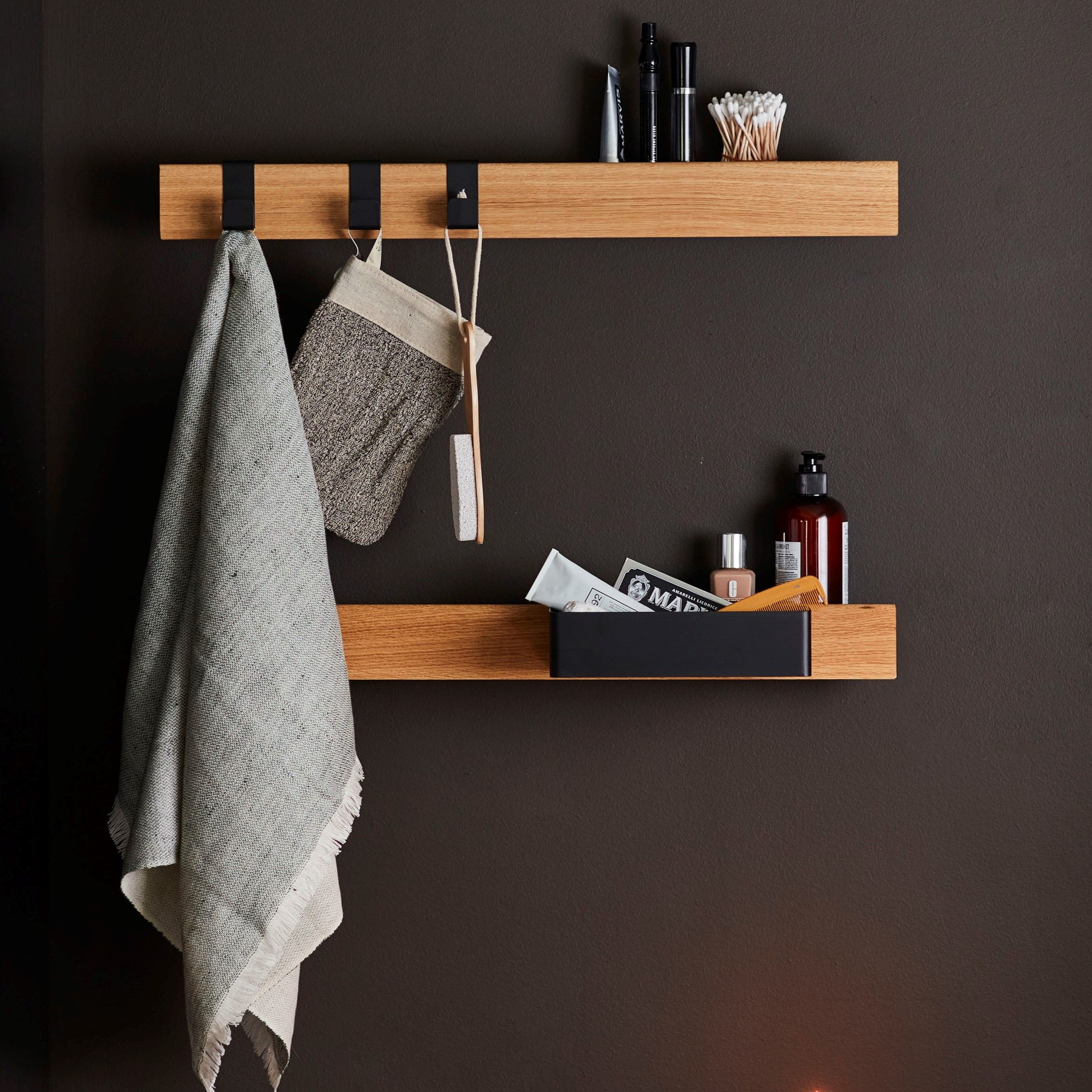 The last idea is simple wooden hooks. This organizer looks like an ordinary hanger in the kitchen and entryways, but this wooden hook is functional too as a bathroom organizer. You can hang the towel, scrub cloth, and brush to separate it from the toiletries. This classification is beneficial to keep the toiletries clean and dry. Moreover, it protects your toiletries from getting wet and moist.
Thus our discussion about Simply Attractive and Functional Minimalist Bathroom Organizer Ideas that you can use in your home. Sometimes, planning the right organizers for your bathroom makes you confused. The thing you need to underline is the function of these organizers to suit your toiletries and bathroom size. Minimalist bathroom organizer is an interesting organizer with a simple and multifunctional design. It decluttered your bathroom for any room size. Hopefully, the ideas for minimalist bathroom organizers in this article are helpful for you to pick the right organizer in your bathroom. Have a nice design!