Druhomes.com – A bookshelf is a beneficial piece of furniture to put your book collection. It can load other items too, such as porcelain ornaments, ornamental plants, toys, and electronic tools. You can put this furniture in a restroom in your home. The living room is a comfortable room to spend time reading a good book. Even you can have a cup of tea while sitting on a comfy couch. Having a rotating bookshelf in this room brings a clever impression. Maybe your friends and other guests would like to read the book on your bookshelves. Thus, we will bring to you some ideas for rotating bookshelves to put in a living room. Rotating bookshelves are interesting and simple to put in a living room. If you wonder how it suits your living room, then we have some benefits to underline, there are:
Make your living room looks neat
It is easier to find the books because it has a home
You can rotate the bookshelves to find another book
The vertical bookshelves will save the space
Display various items to make it interesting
The rotating bookshelf in a living room draws attention at some points. It brings a different look and is simple enough to arrange your book. Seeing more ideas for rotating bookshelf may inspire you to redecorate your living room. Let's discuss!
Neutral Wooden Bookshelves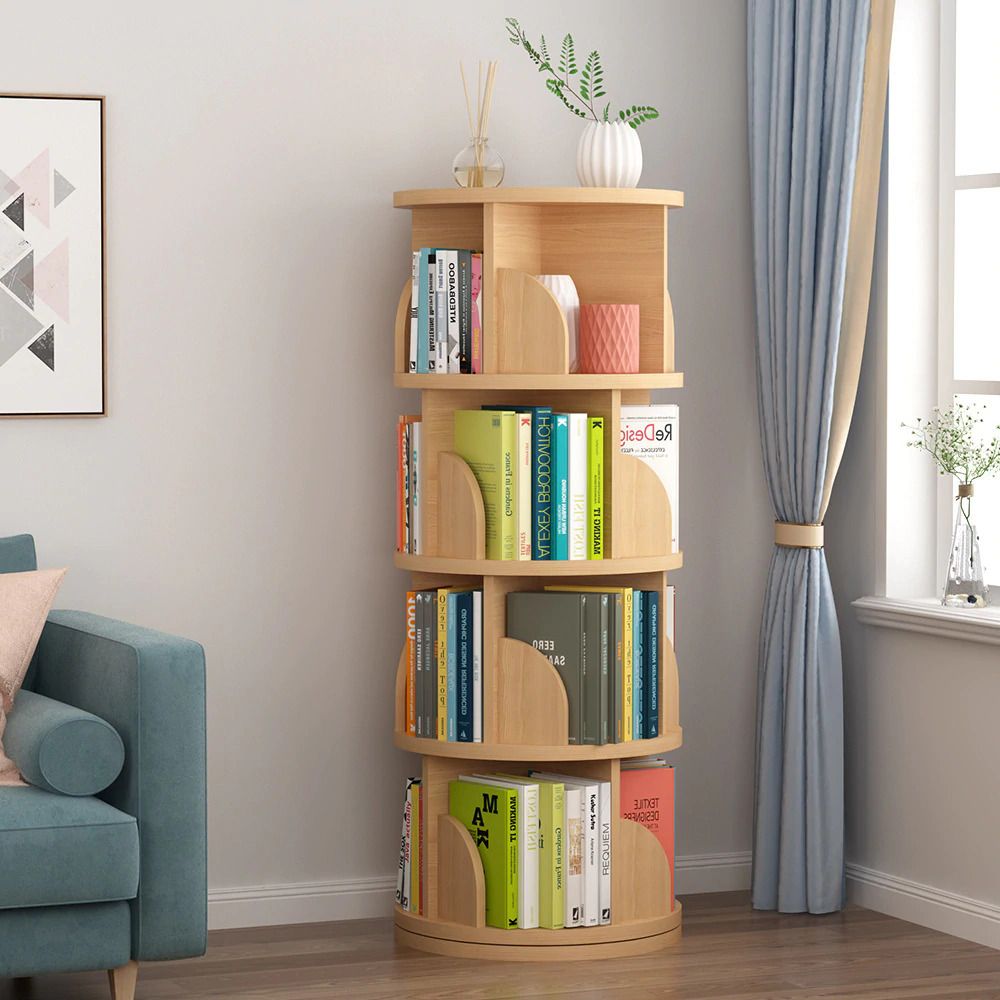 A wooden accent is an interesting point in almost every home design. It brings a natural impression and makes the atmosphere looks warm. Picking a wooden bookshelf may give a different ambiance to your living room. This bookshelf is stunning to stand your books neatly. Combining this bookshelf with another accent like room diffuser and a small vase with the faux plant will make it close to nature.
Cute Design for Kids' Bookshelves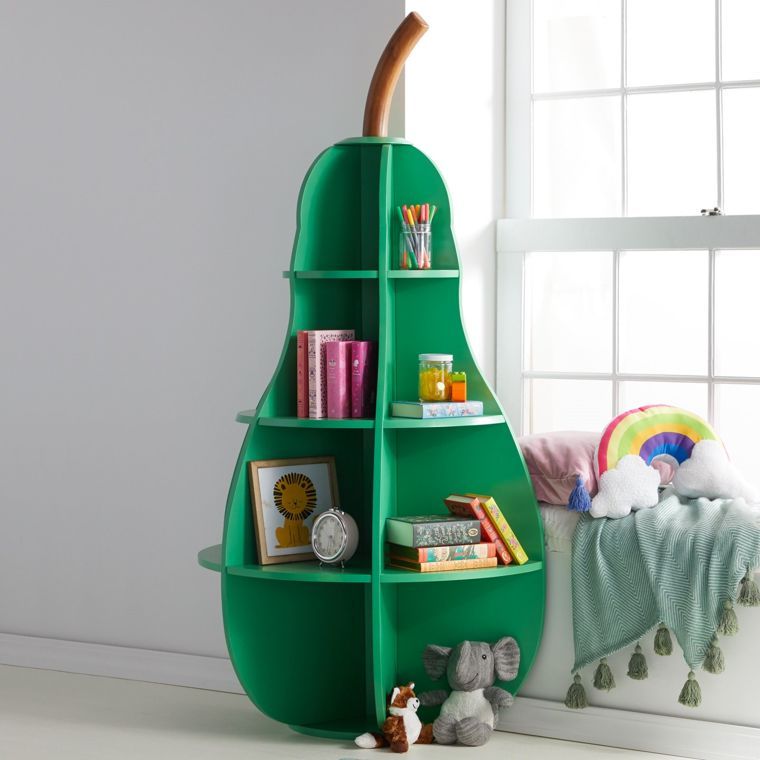 Do you have some kids at home? It is important to introduce some literature to them because it develops their knowledge. You can do a small step by using an interesting bookshelf to attract their attention in the literature and displaying some books. Put stationery and few toys to decorate this bookshelf. Most kids like a striking color, then it will more stunning to attach an interesting color for your rotating bookshelves.
Curving Bookshelves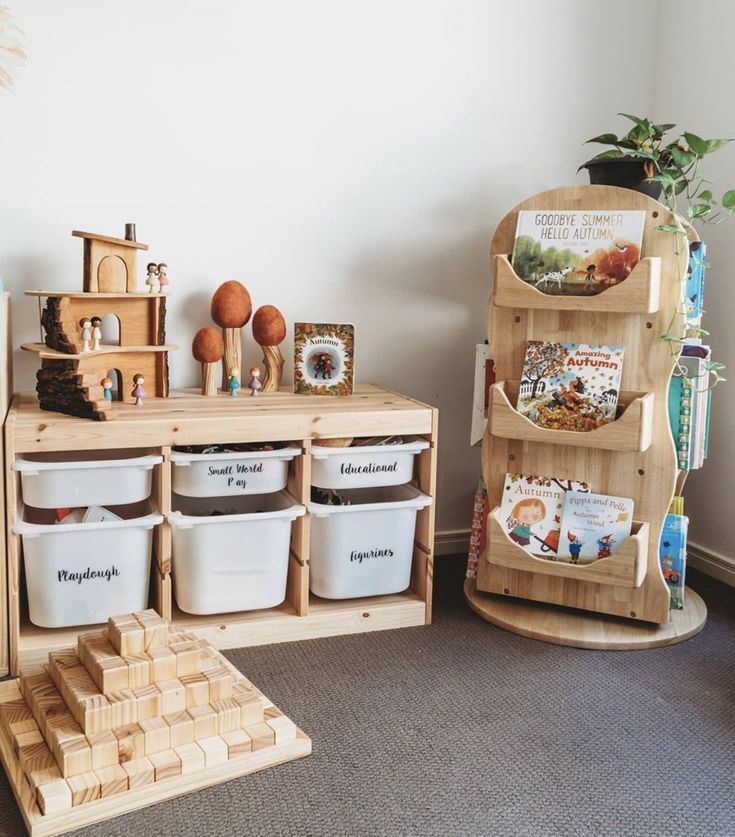 This design relates to the kids' bookshelves. The curving bookshelf looks attractive to decorate a living room. Even it is useful to complete the educational support in another room like a bedroom and playroom. Curving bookshelf makes it possible to see the books behind the other shelves. You can put several books of the same size to create a neat layout on each shelf.
Square Tower Bookshelves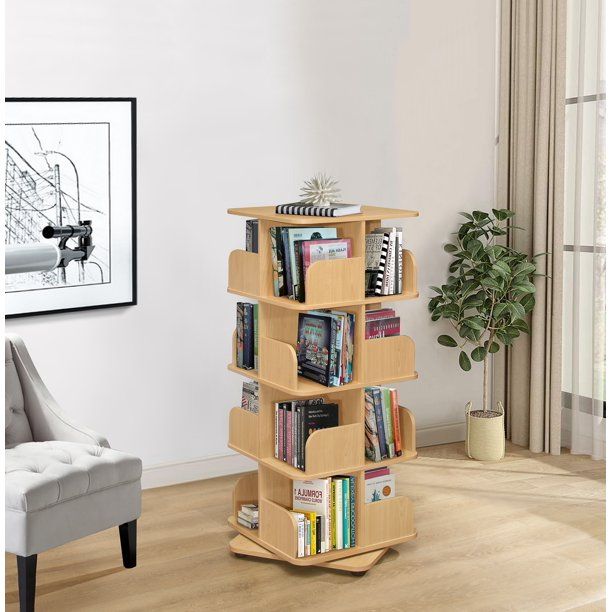 Square sides on the bottom and top of the bookshelf determine how it draws the shelves. The square shape brings a tower-like appearance. This shape is useful to hold your square books on each shelf. You can move this bookshelf into the corner of your living room. The square bookshelf suits any corner and it is movable.
Geometric Bookshelves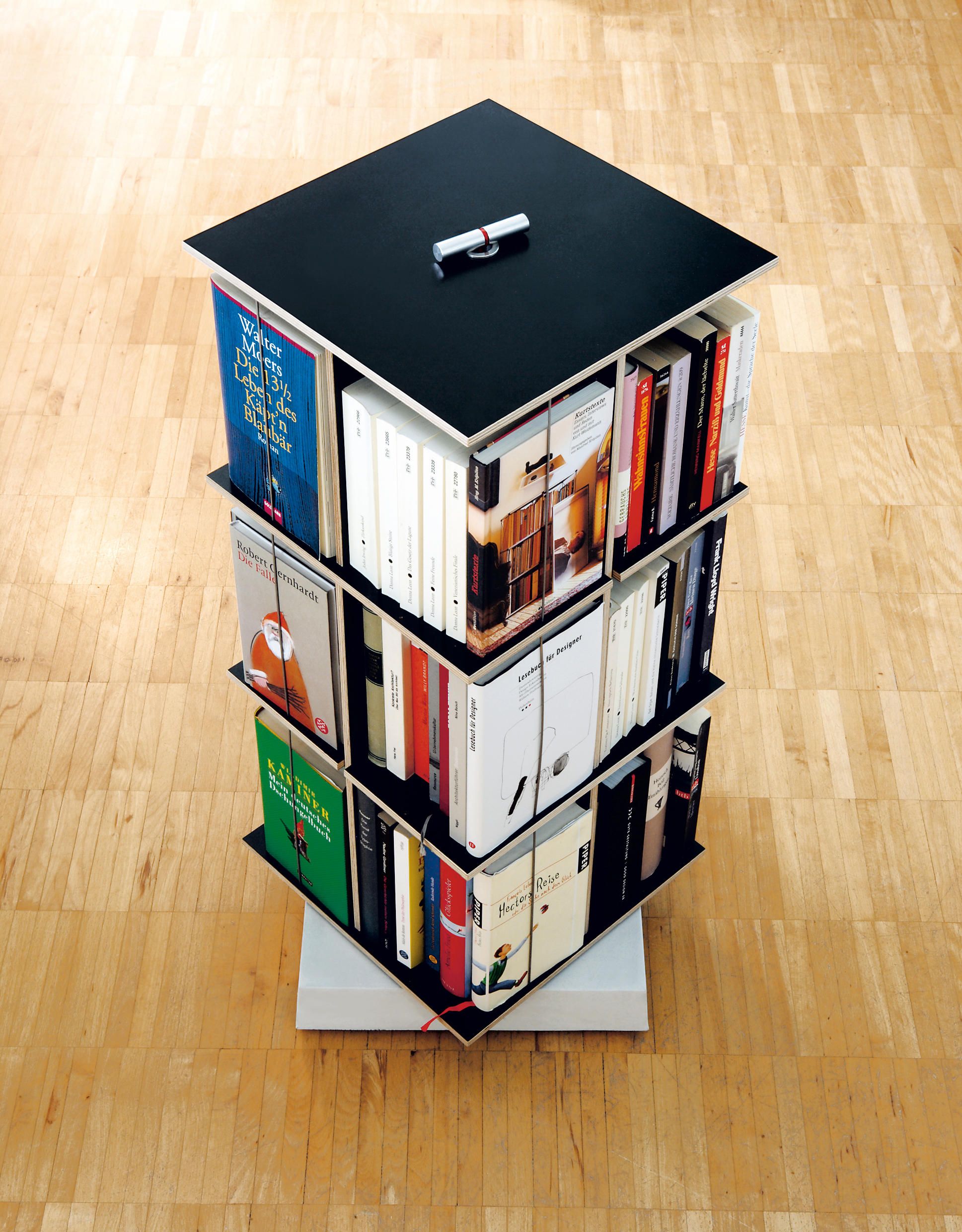 Geometric bookshelves are the common design for this furniture, but it can be a simple choice to save your book collections. The square wooden shape makes it easy to arrange your books on each shelf. This bookshelf needs a slim plank to separate the shelf into four rooms. Thus, you can classify your books collections. It is a doorless bookshelf, then it is easy to see the book title on the cover.
Interesting Classic Bookshelves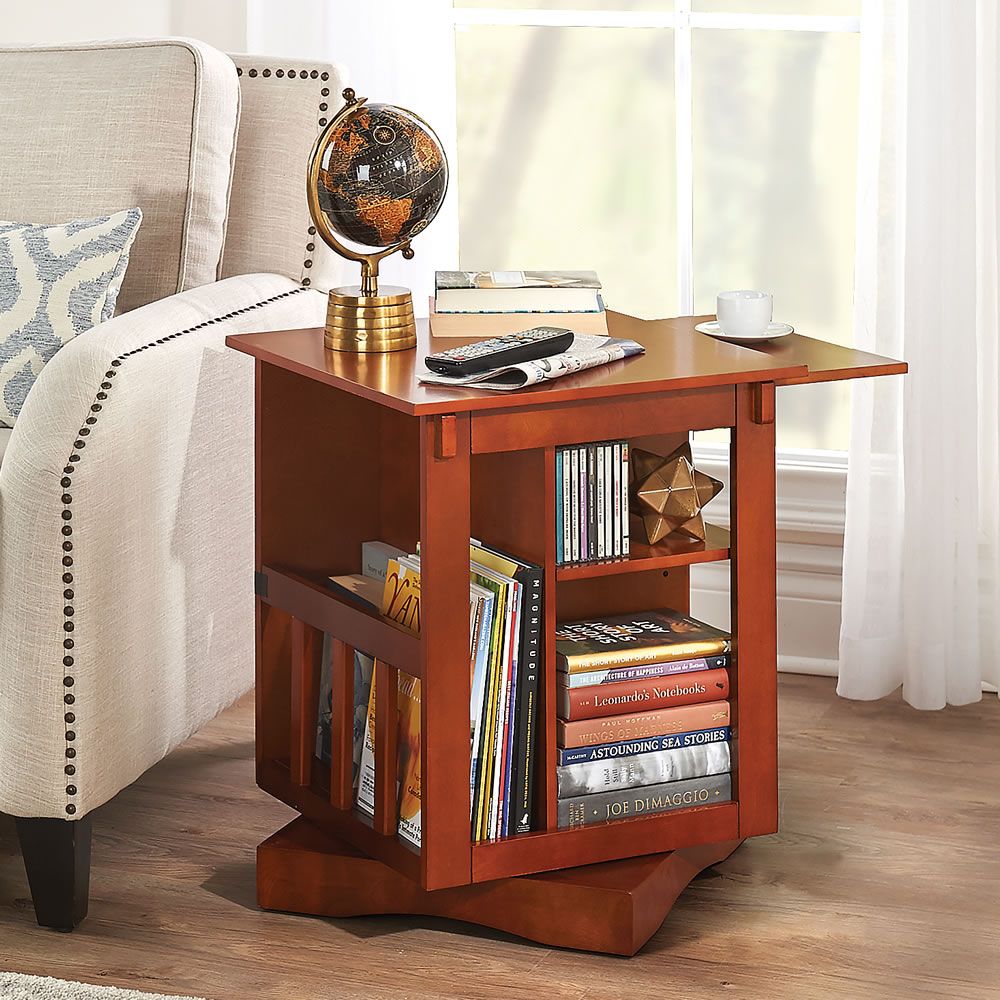 Feeling classy is not bad. Put an interesting classic bookshelf in your living room and brings an outstanding accent to the room. It is an artistic way to get old-fashioned decor. Classic bookshelf looks stunning with its deep brown color. It brings a warm impression in a neutral living room. The deep brown color is striking to stick out the classic accent in your living room.
White Bookshelves for A Clean Impression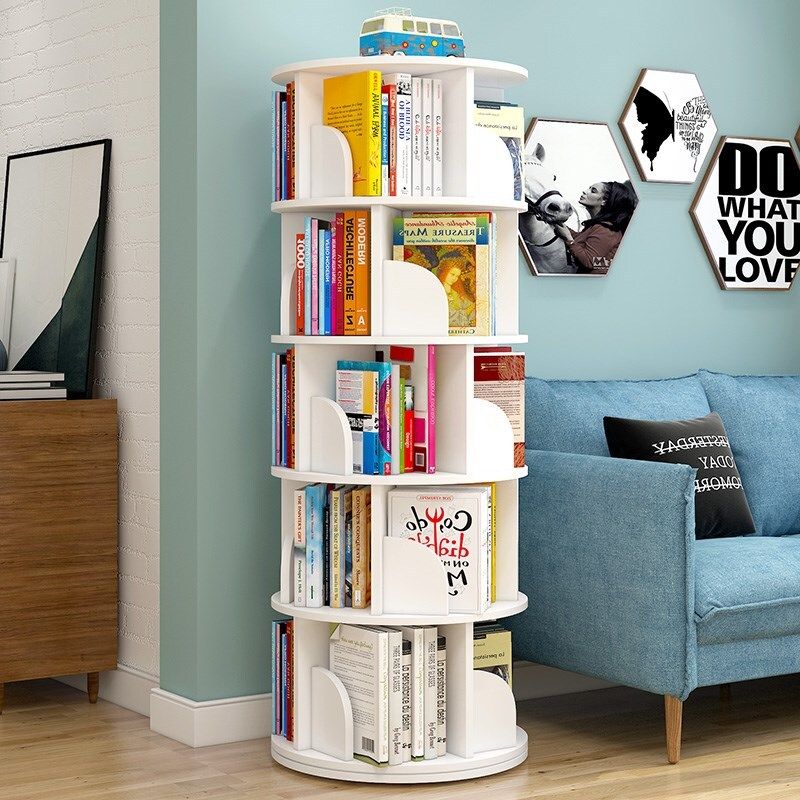 We often see that white color brings a clean impression. It looks striking to put near the bold colors. You can pick the white rotating bookshelf to give a clean accent in your living room. If your living room uses a neutral color, you can add a white bookshelf to make it clearer. Moreover, the white book collections will strengthen an airy look in the living room.
Minimalist Bookshelves with Ornamental Plants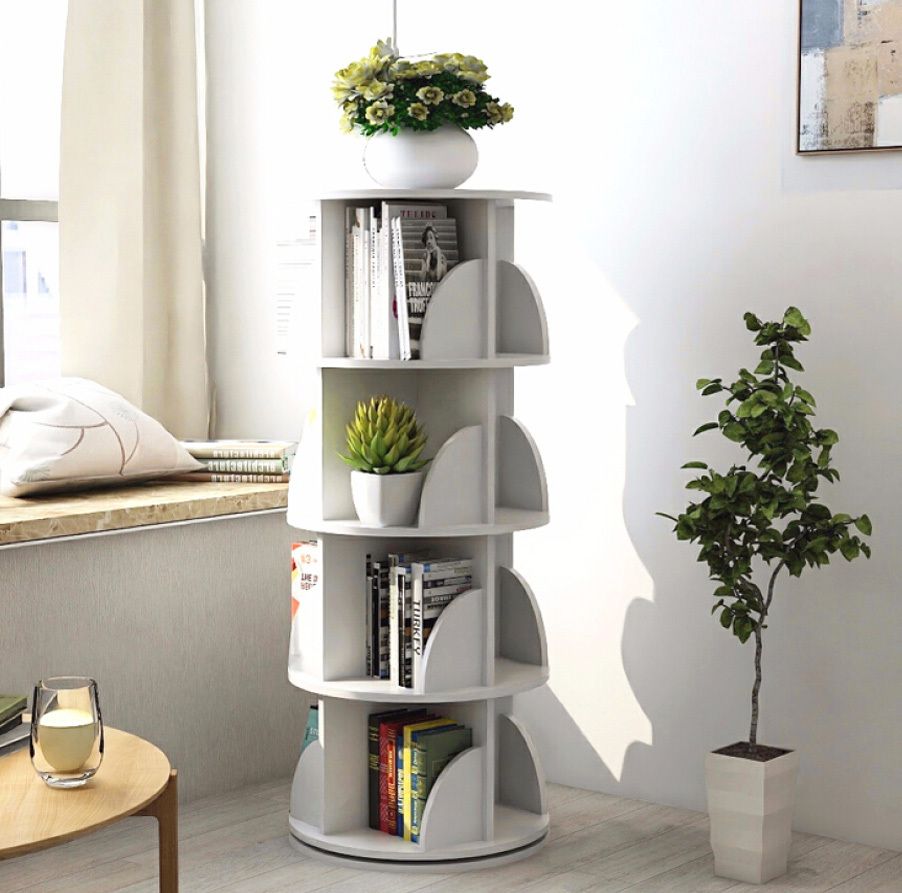 A simple rotating bookshelf is a nice choice to pick this furniture in your living room. The minimalist design influences many elements such as color and furniture. Picking a minimalist bookshelf is soluble for your neat living room. This furniture is multifunctional to hold your book collections and ornamental plants. The square foot makes it easy to rotate without changing the look of this bookshelf.
Rotatable Upholstery Bookshelves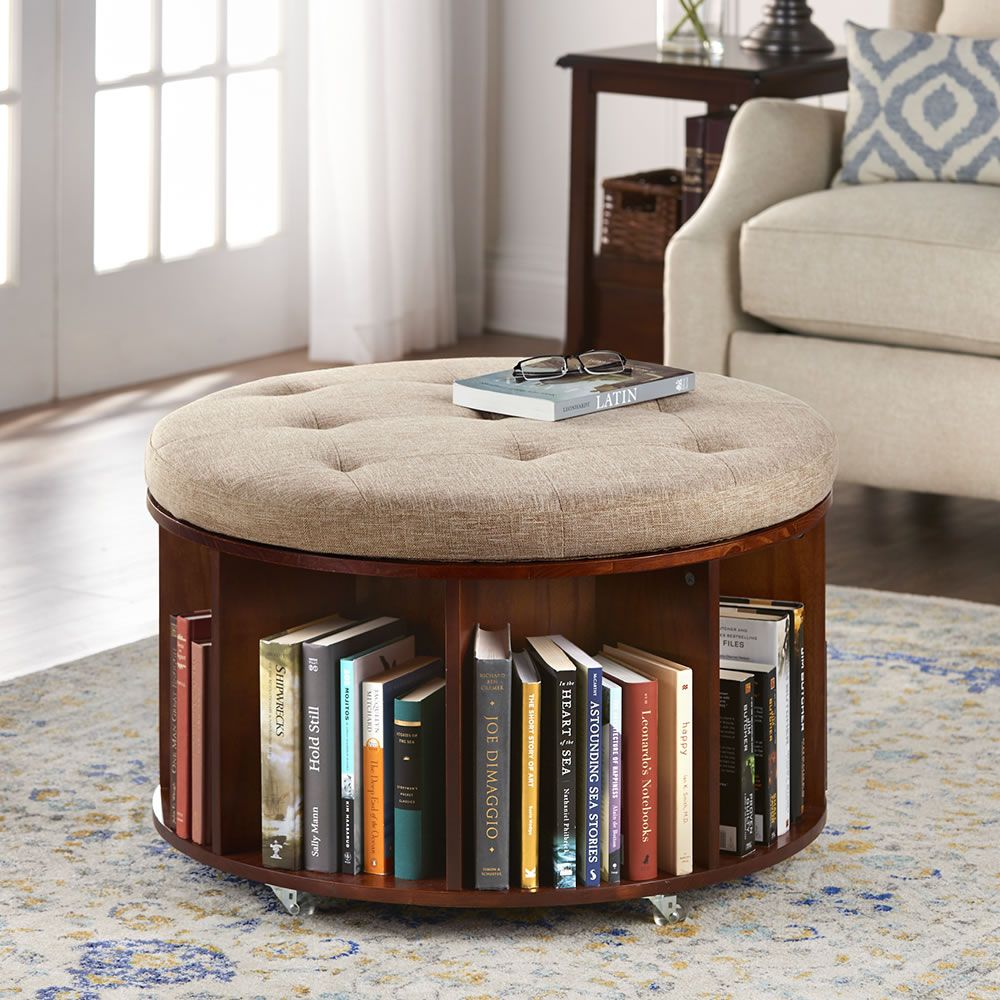 Customing a multifunctional upholstery chair brings an interesting accent to a living room. This rotatable chair has a short tower design while the side is useful to save several books. You can use this chair and save your book collections at once. This doorless bookshelf is a little bit tricky to use in a living room. Sometimes, it is difficult to keep out your feet on the floor and touch these bookshelves will ruin the layout.
Corner Bookshelves to Simplify The Interior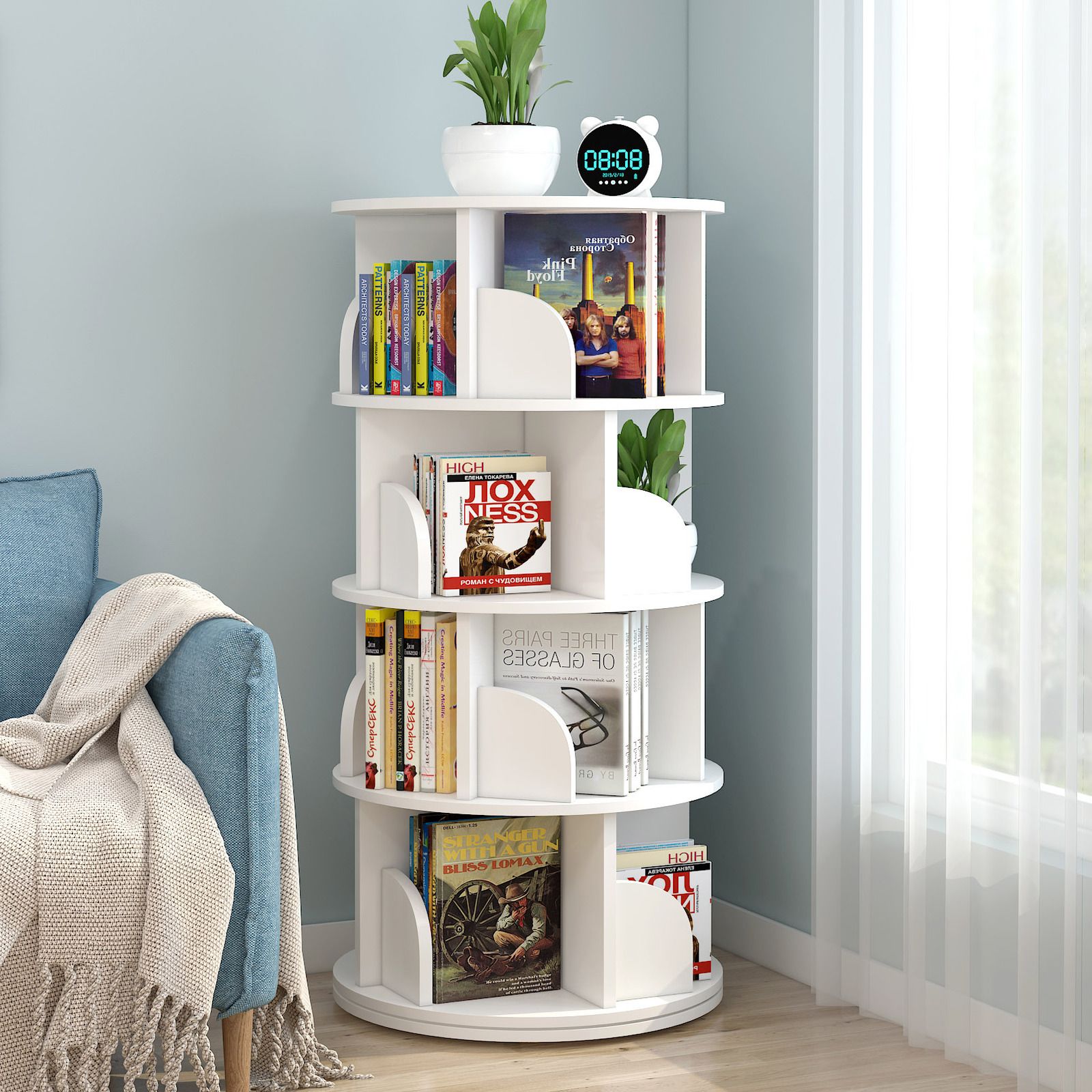 Having a stunning living room requires an efficient layout. An empty corner needs something to fill the dense look. Put a rotatable bookshelf in this spot. Make it simpler and attractive by putting a digital clock and a small ornamental plant. It is a design trick to put an accent in a living room.
Thus our discussion of Rotating Bookshelves Ideas to Simplify Your Living Room Interior. By using the various ideas that we have discussed, we hope you can create a living room interior that feels more spacious and comfortable for you to use every day. These are several ideas for rotating bookshelf that you may find in a property showroom. Maybe you want to pick an attractive rotatable bookshelf to hold your book collections, so these ideas will be an inspiring design for you. Hopefully, your living room looks more stunning and comfortable to spend most of the time in every day. Happy decorating!