Druhomes.com – Clothing is a primary need for you to use every day. For that, arranging your clothes in your home is an important thing for you to do. If you like to put them outside the wardrobe, you should try to install a cloth rack. This rack makes it easy to hang your clothes that you use frequently in a week. Having a cloth rack is simple and attractive to put in a bedroom. The design of a cloth rack is various. So, you can install your desired design for a cloth rack. For that, in this article, we will discuss Stunning Cloth Rack Ideas to Beautify Your Bedroom Interior. But before that, let's discuss some of the advantages of creating this cloth rack ideas in the interior of your bedroom. We want to give you some benefits of installing a cloth rack in a bedroom.
Having a neat design
Make it easy to take out your clothes
Decorate your room aesthetically
It challenges your creativity to modify your cloth rack
Some designs are low budget
By knowing the various advantages of creating a cloth rack in the interior of design your bedroom, you can be more enthusiastic about creating it. Besides that, you can also create various cloth racks with various designs to suit your expression and character. For that, here are some stunning cloth rack ideas for you to create in your bedroom. Let's discuss!
Sliding Cloth Rack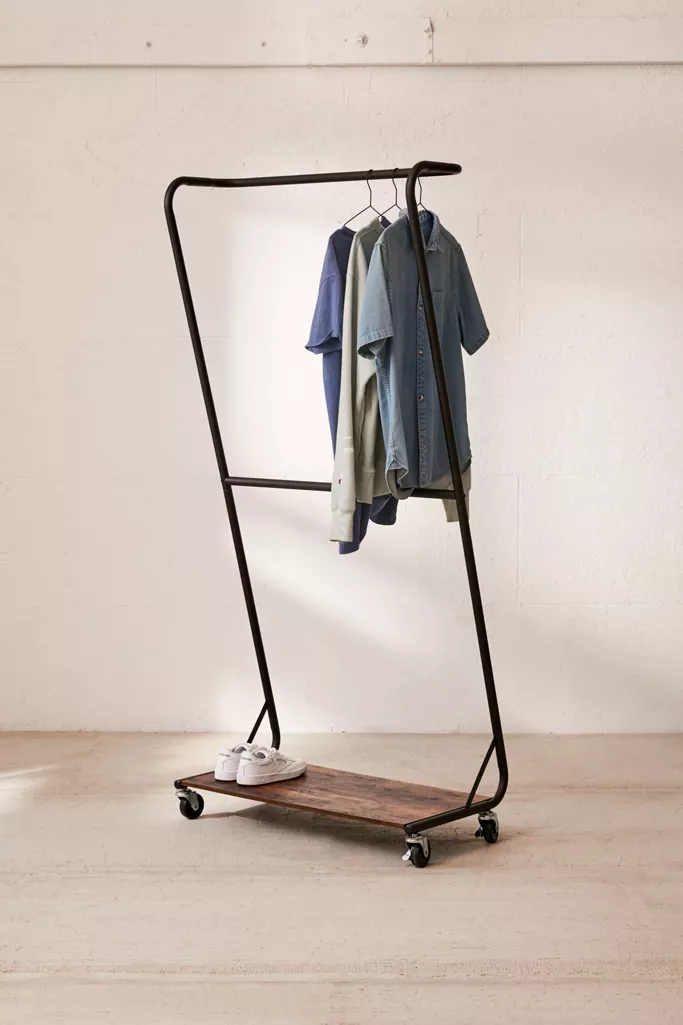 Having a cloth rack is beneficial to modify your bedroom interior. It also has a function to keep your clothes still neat. You can hang many clothes to make your rack looks aesthetic. To have an attractive decoration, choose the cloth rack that has a unique design. It suits your need to choose a narrow or large stick to hang your clothes.
Having a sliding cloth rack is useful to help you move this rack easily. You can put this cloth rack in a desiring position to make a little bit changing the bedroom's layout. It has at least four rollers on each edge. This roller makes it easy to move by pulling this cloth rack. To make it stands firmly, use a key roller for each roller.
An Aesthetic Cloth Rack with Pampas Grasses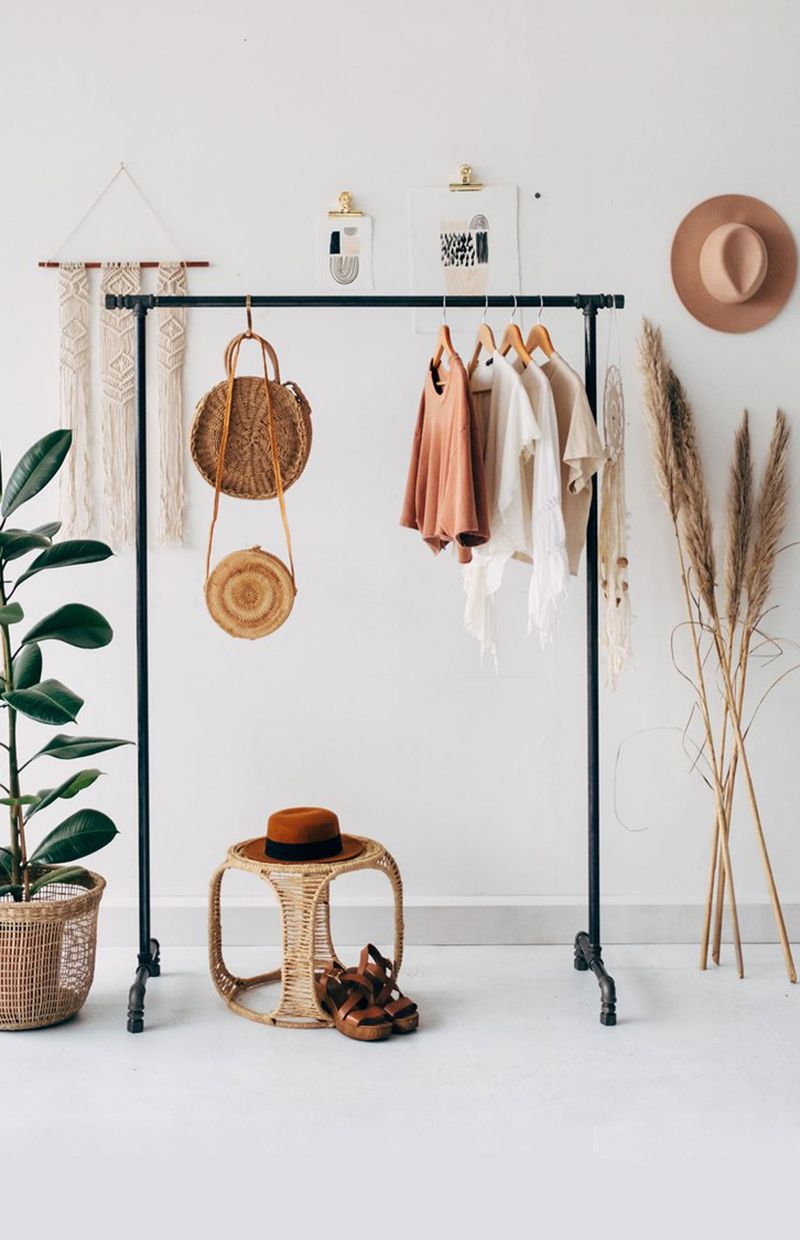 Pampas grasses are interesting to make as decoration. It has soft brown color and dry texture. Mostly, it has a long stem to show its brown grass perfectly. Some people like to have pampas grass to lean on the wall. It looks catchy to modify your cloth rack by having other brown ornaments. Rattan furniture and a brown hat look catchy to pair with pampas grasses.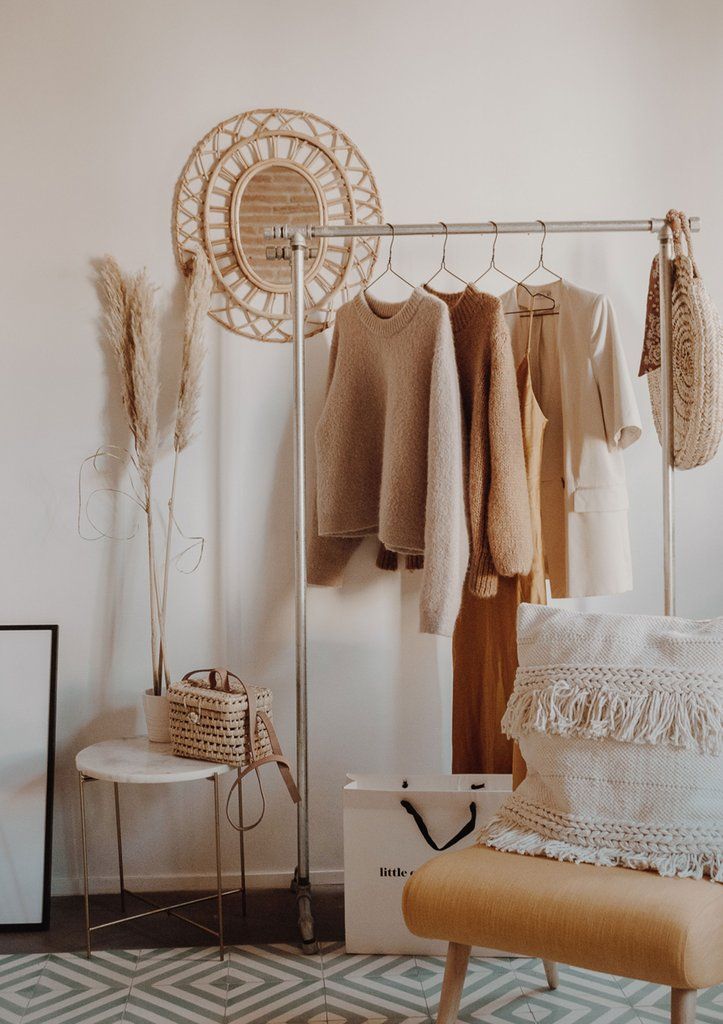 Decorating your cloth rack by using this pampas grass is attractive enough to catch attention. It enlivens the Bohemian design by its natural appearance. However, it helps you to complete the aesthetic value in a bedroom. It is compatible with wicker ornaments and white theme colors in your room. The pampas grass makes your bedroom looks nice and clean.
A Simple Idea of Hanging Cloth Racks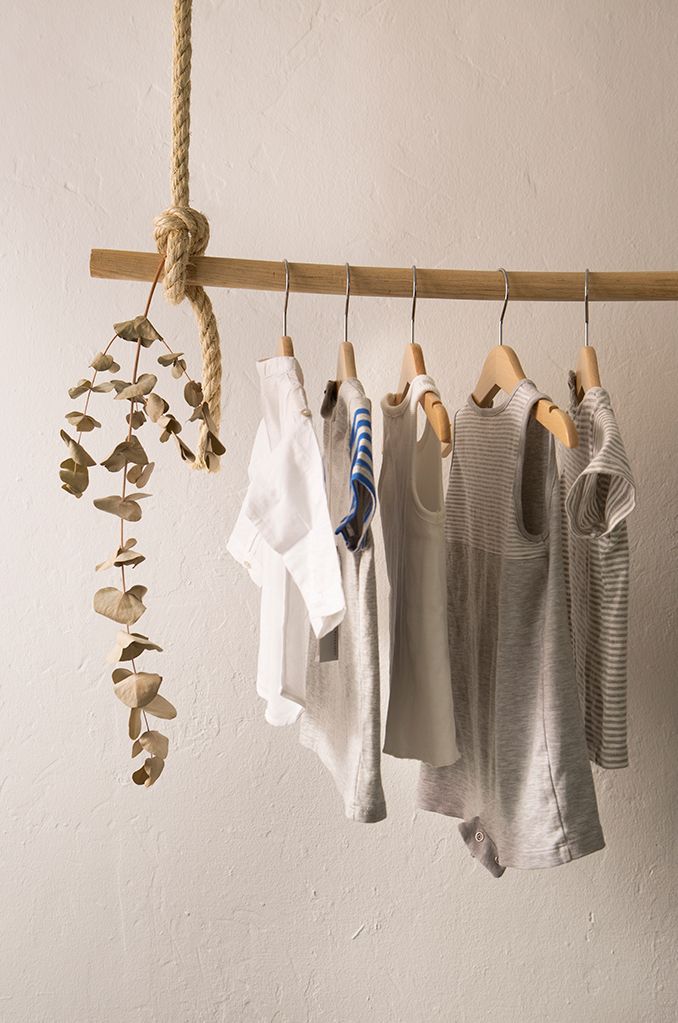 Take advantage of your old rope in a warehouse now by creating a hanging cloth rack. You should install two hooks on your ceiling or having them on the wall. The hooks are beneficial to tie the ropes on them. Put a wooden stick that is strong enough to hang some clothes on it. Hang this stick by using a rope on each edge.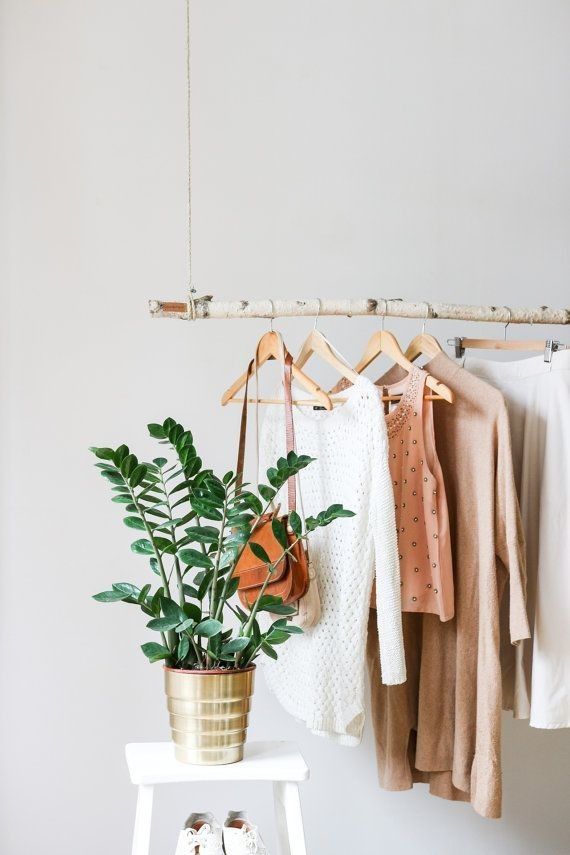 You can modify this cloth rack by putting a dry branch with some leaves in your rope. Moreover, do some decoration on the stick's color. The more practical way is to replace the wooden stick by using a bamboo stick. This material already has an aesthetic appearance to make your cloth rack looks stunning with its natural stem.
Creative Cloth Rack by Using Industrial Pipe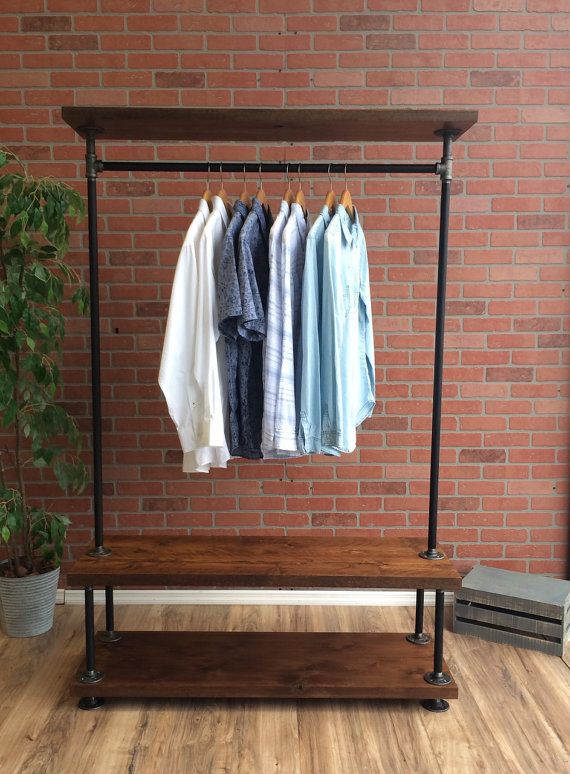 We know that Industrial design uses many raw materials to transform the room interior. Industrial pipe is a beneficial material to create a cloth rack. By resembling some pipes, you will have an elegant cloth rack. It has a strong material to use in your bedroom to contains many clothes. Design this rack to have at least one slab to put other stuff such as shoes, boots, and bags. Use dark colors like black and deep brown for a strong Industrial accent.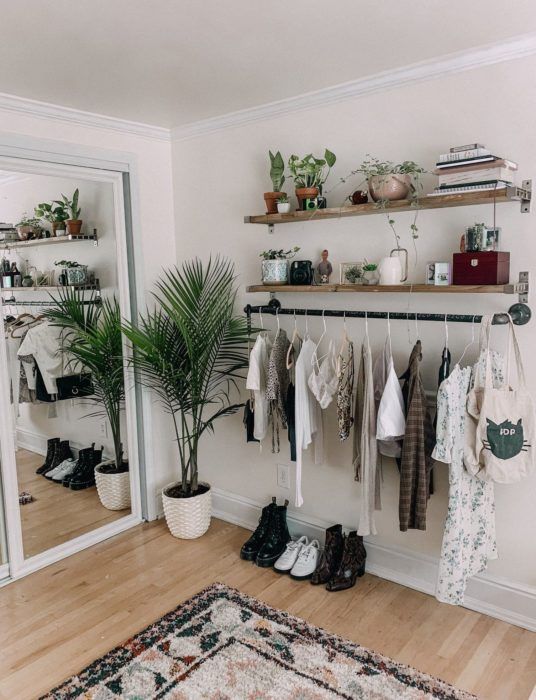 Another simple way is installing this Industrial pipe directly on your wall. You will need few pipes rather than build a cloth rack frame. It looks aesthetic to give your cloth rack a wooden slab above it. The wooden slab is interesting to put some modification items like ornamental plants, books, and decorative statues.
Ash Cloth Racks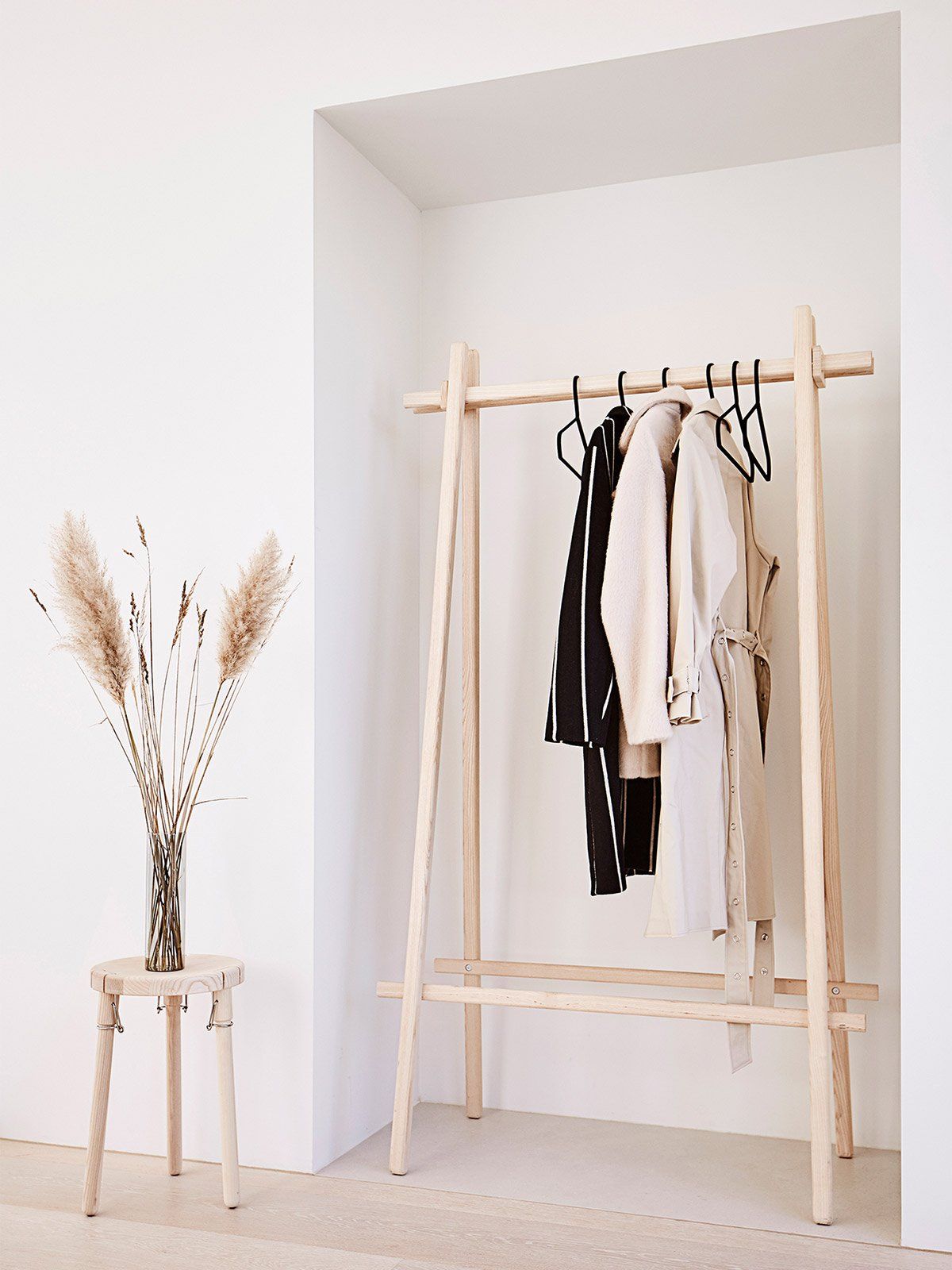 Ash is a tree from the Fraxinus genus. This wooden tree has a function to use as the main material for aesthetic furniture. It has a soft brown color that looks calm and brings peace. You can use this wooden material to make a cloth rack. By resembling at least five sticks, you can create a simple cloth rack.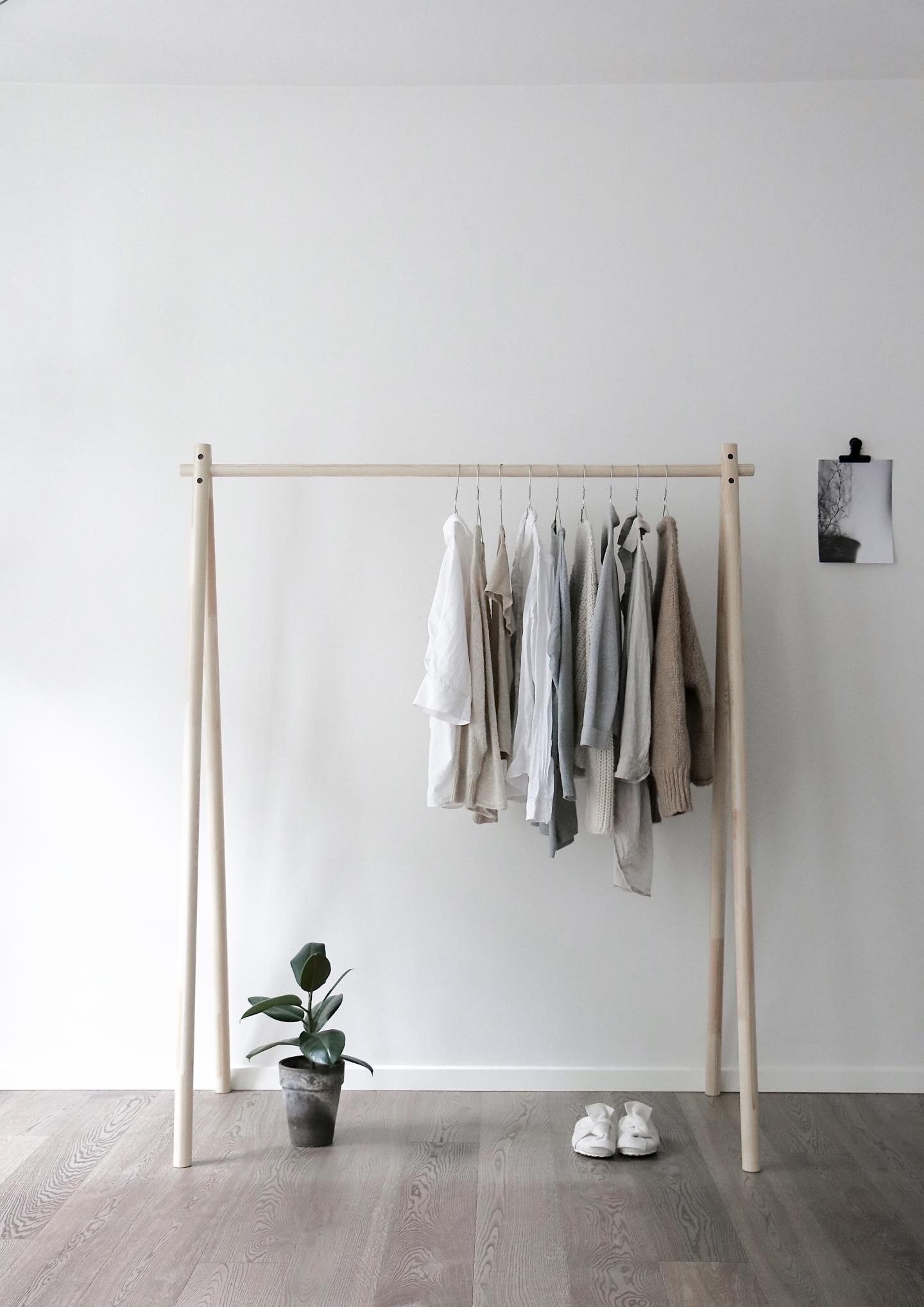 This cloth rack is compatible with the Minimalist design and Bohemian design. It strengthens the clean nuance by its soft color. To create a little decoration, put an ornamental plant near this cloth rack. Besides, this cloth rack is portable because you can remove all sticks, then resemble them in a place that you desiring.
Installing It as a Wardrobe on The Wall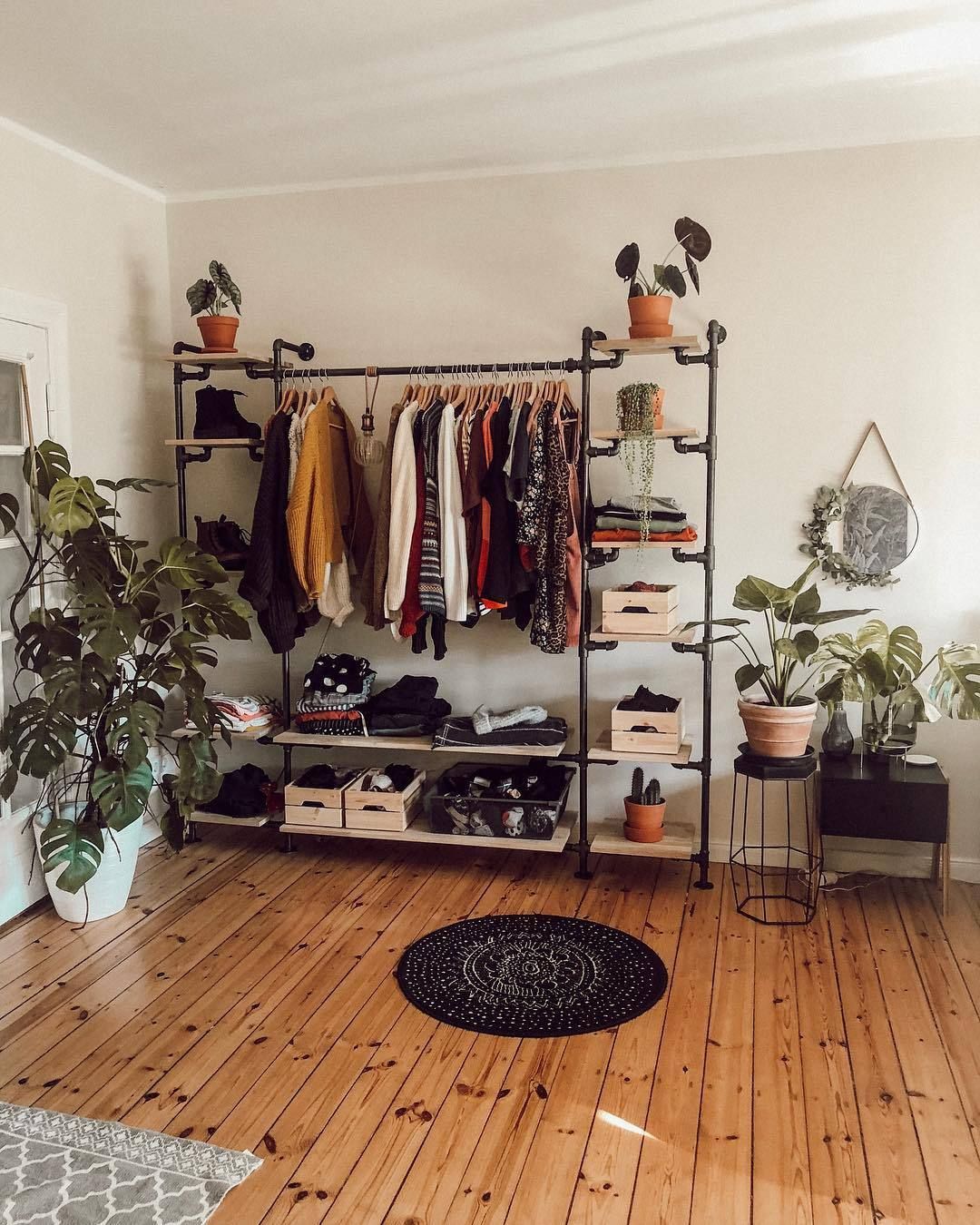 This idea is suitable for those of you who like a wardrobe version. A cloth rack in this idea is another form of a wardrobe with no boards. Even though it looks like a wardrobe frame rather than a cloth rack, this design is interesting enough to have in a bedroom. It contains more stuff rather than a plain cloth rack. The more sticks and wooden slabs make this cloth rack is multifunctional.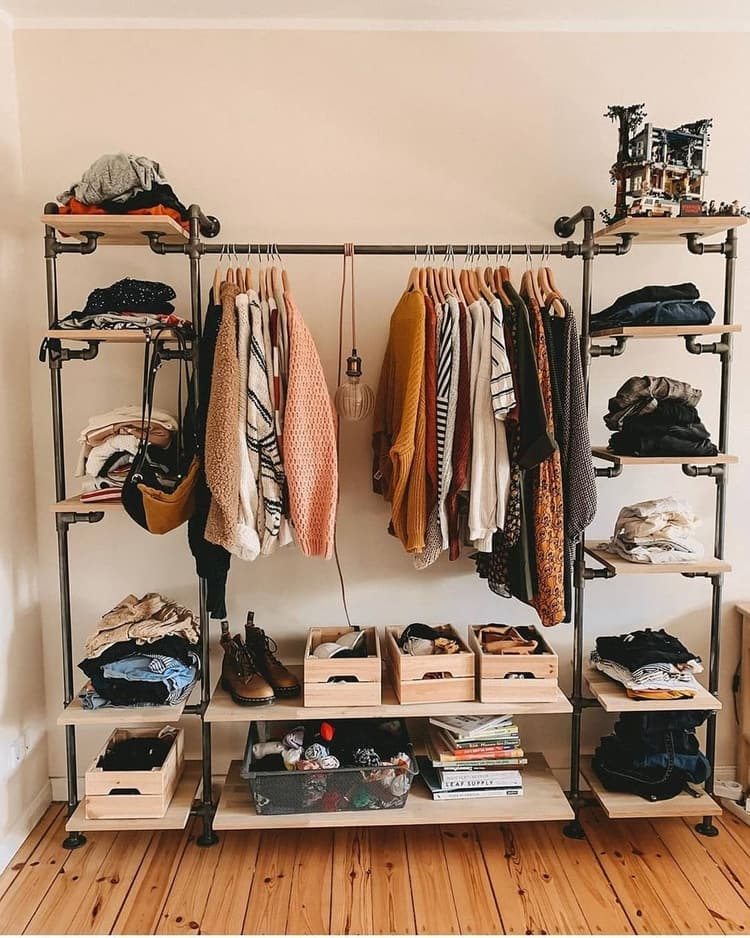 It allows you to separate your clothes, shoes, bags, hats, and the dirty clothes on each part. Arrange your stuff in this cloth rack in a neat layout to make it looks stunning. Don't forget to give a sweet accent by having an ornamental plant, book decoration, or other displays on the slab.
Thus our discussion about Stunning Cloth Rack Ideas to Beautify Your Bedroom Interior. A cloth rack is a functional furniture to have in a bedroom. It replaces the wardrobe to keep your clothes in a simple and practical design. Your clothes and other stuff that are too often for you to use becomes easier to take them out. Even, some design is a DIY design that is possible for you to create it at home. We hope that this article is helpful for you to get inspirations to choose a cloth rack. Happy decorating!