Druhomes.com – Madrid is one of the many major cities in Spain. This city has a modern touch in home design with some classic accents. The classic accent in this design is adapted from the style of popular buildings in the 19th century such as the Royal Palace of Madrid, Buen Retro Park, Royal Theatre, National Library, etc. The use of many different accents from these buildings generates an interesting design in Madrid as the centerpiece of Spain. It has a classic beauty of a traditional building but looks elegant. These designs use traditional displays such as artistic paintings, traditional weapons, and use a big tapestry on the wall. As the big city of Spain, it emerged original culture for the Spanish building. For that, we will discuss Classical Design Ideas from Madrid to Create a Stunning Atmosphere. Let's discuss!
Using a Deep Blue Color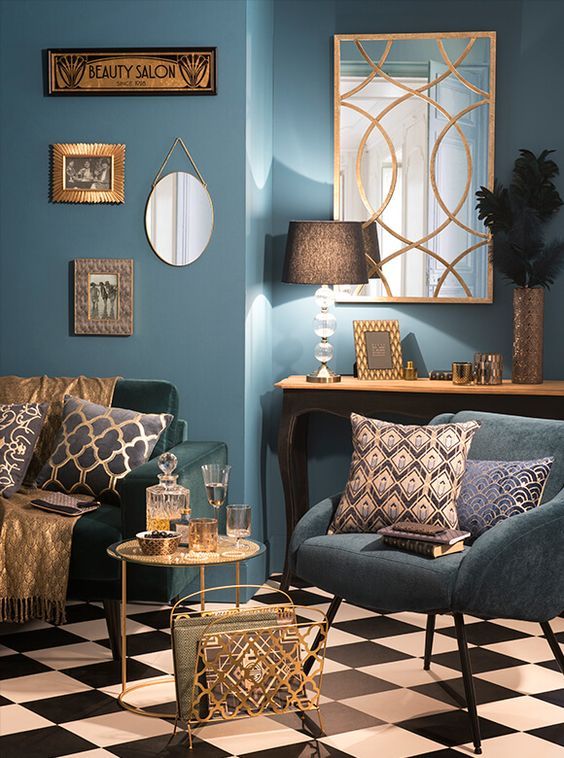 The characteristic of a classical design ideas is the deep color on its furniture and the wall. A deep blue room has an elegant impression with an eclectic touch. You can pair it with then golden furniture or other glossy accents. To make your design more catchy, use the black color to make a contrasting effect on this interior design. Display some cushions with an attractive pattern on them and a blue color in the same hue. This proportion creates a beautiful layout in your room, especially for a living room.
Use an Open Wide Window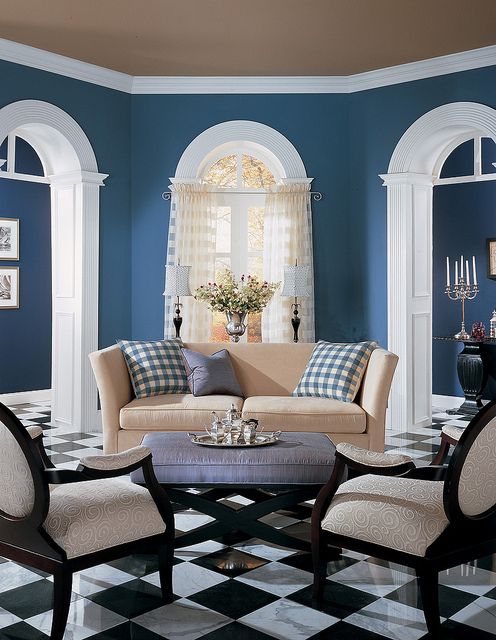 You may see an open wide window in a huge building. This window is beneficial to supply the fresh air circulation in a room. In this design, you will find a curved window that represents the influence of Royal Castle building architecture. Moreover, a wide window has a decorative curtain to modify the windowsill. Usually, it is a paired curtain that needs to pull this curtain on two edges for an open wide impression. The use of natural light in this decor is useful to get a fresh breeze.
Using Black and white Tiles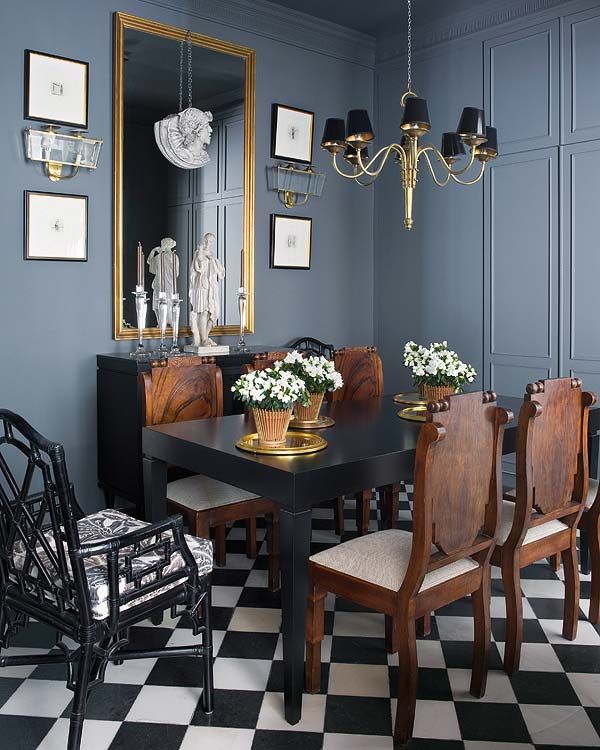 The decoration from Spain is identical to the patterned floors. It has various designs for an attractive impression in the room. The black-and-white tiles in this style bring an elegant ambiance. It creates a strange effect on the eyes that makes it looks unique. The arrangement of the tiles also influences the impression that it brings to your room. You can arrange them in a straight or zig-zag line.
Display Some Elegant Furniture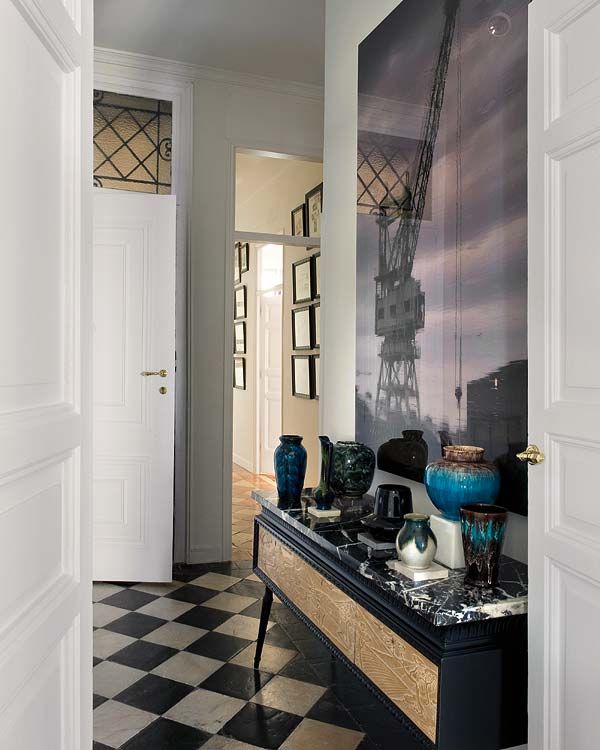 Some traditional furniture from Madrid city helps you to arouse classical design origins from this city. The neon blue color of decorative vases looks catchy to modify your room. It enlivens an elegant nuance by its shiny effect on the eyes. You can also add a black metallic vase to give a different accent. As long as you can make it balance with the color of its home interior, you will get an interesting Madrid home design.
An Attractive Home Library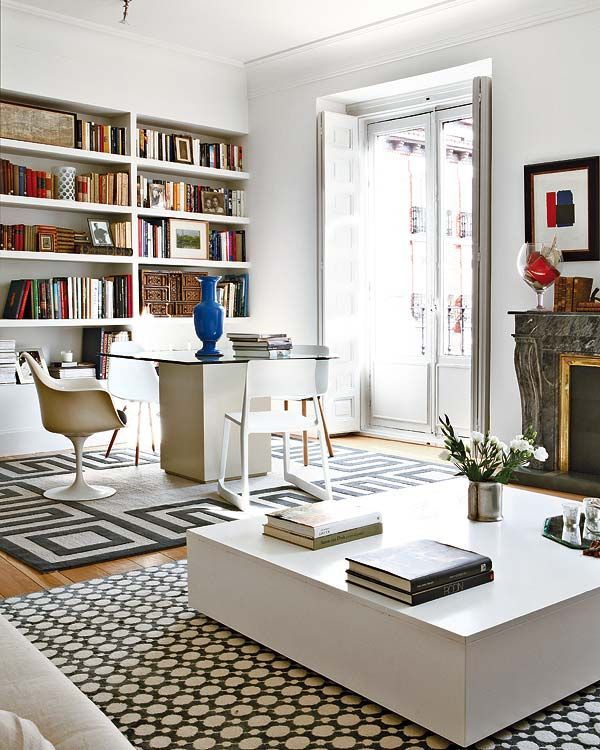 The home library is a must-have room for people who like to collect books. Creating a home library means that you bring a paradise to your home for book lovers. In Madrid, the library home is an important room to get an attractive decoration. The neat and beautiful design may boost your mood to read the books. Thus, provide natural light to guarantee a stable brightness in the room during the day. Besides, apply the white color to reflect its natural light perfectly.
An Elegant Grayish Room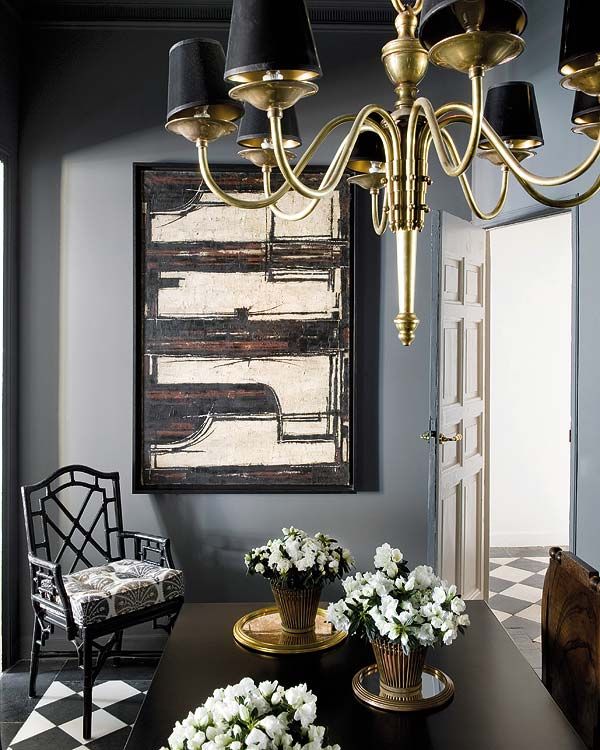 Modern accents in Madrid's home-style emerged from the choice of home color. Grey color is an elegant color to decorate your room. Using this color transforms your room to impart an excellent decoration. Pair this color by attaching golden accents. The combination of gold and grey color generates a luxurious impression. Hang a huge chandelier to show a classical element in this room. Moreover, put an interesting chair to complete the classical design.
Having a Natural Accent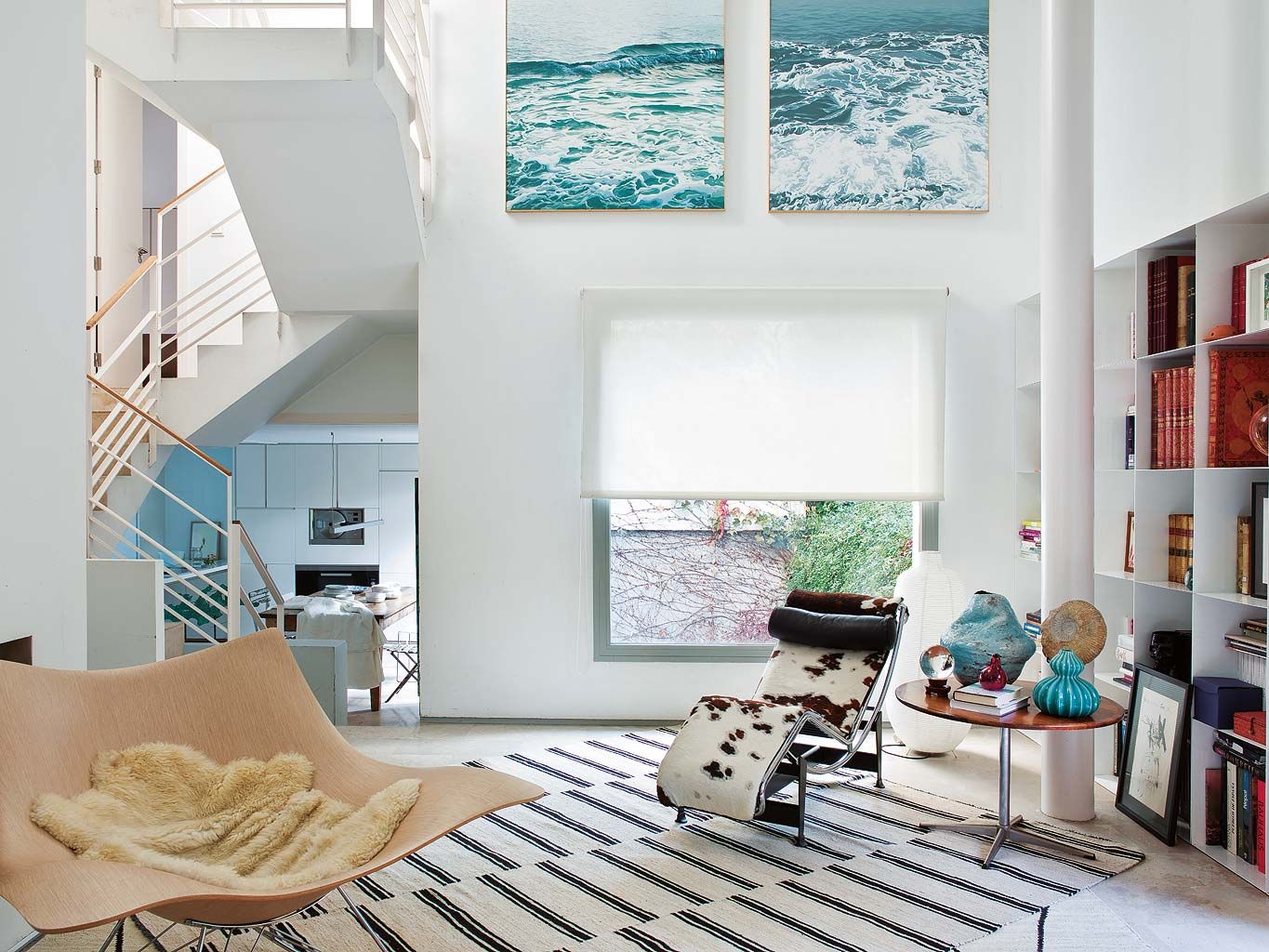 In the modern design of Madrid's home, the use of white color brings a big transformation in a room. It gets an influence from a Mediterranean design that uses bright colors. This design elevates a natural accent to represent its origins that near the beach. The weave painting and white walls are inviting a fresh ambiance. Your living room will be a peaceful place to take a rest.
That is our discussion about Classical Design Ideas from Madrid To Create A Stunning Atmosphere. Madrid is one of the big cities in Spain. This city has an interesting design as the center point of home design development. From the classical era to the modern era has an elegant atmosphere. Combining these designs generate a stunning home interior. Even though there are no strict rules to design your home to bring a Madrid nuance, it is beneficial to take a look at some ideas of related decoration in Madrid. The ideas we have provided for you will guide you to create an interesting design. Happy decorating!