Druhomes.com – A spa bathroom is a concept of a bathroom with a bathtub to wash the body. This design is a common design for most bathrooms, but the layout of the bathtub determines how it looks like. Designing an elegant spa bathroom requires a nice taste of interior design, especially for the bathroom. It also requires a comfortable design from furniture, layout, lighting, fragrance, and other complements. It is important to build a certain impression and relaxing atmosphere. For that, in creating an enjoyable and beautiful bathroom, this article will discuss Relaxing and Satisfying Spa Bathroom Design Ideas for Your Home. Let's discuss!
Relaxing Spa Bathroom with Foamy Bathtub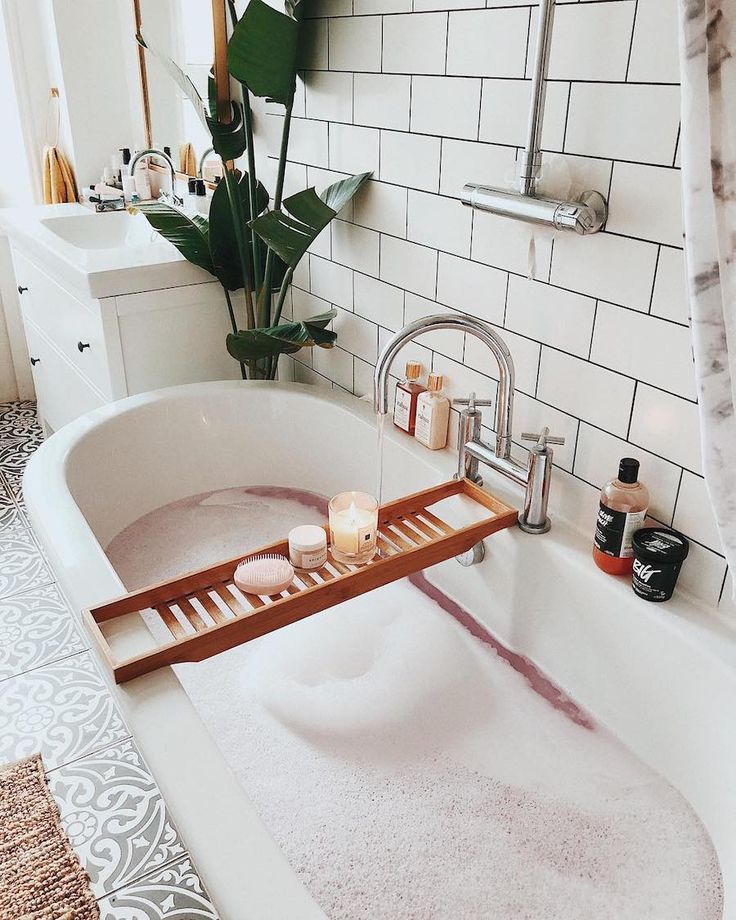 Creating a foamy bathtub is a calming thing that everyone wishes to get when they are tired. Surrounding by foams with fresh fragrance will relax your body and calm your mind. You can choose a fresh aroma such as green tea, lemon, and roses. Thus, it is an essential thing to use when taking a bath. It cleans your body from sweat, dirt, and tired body after doing daily activities.
Beautiful Roses in Your Bathtub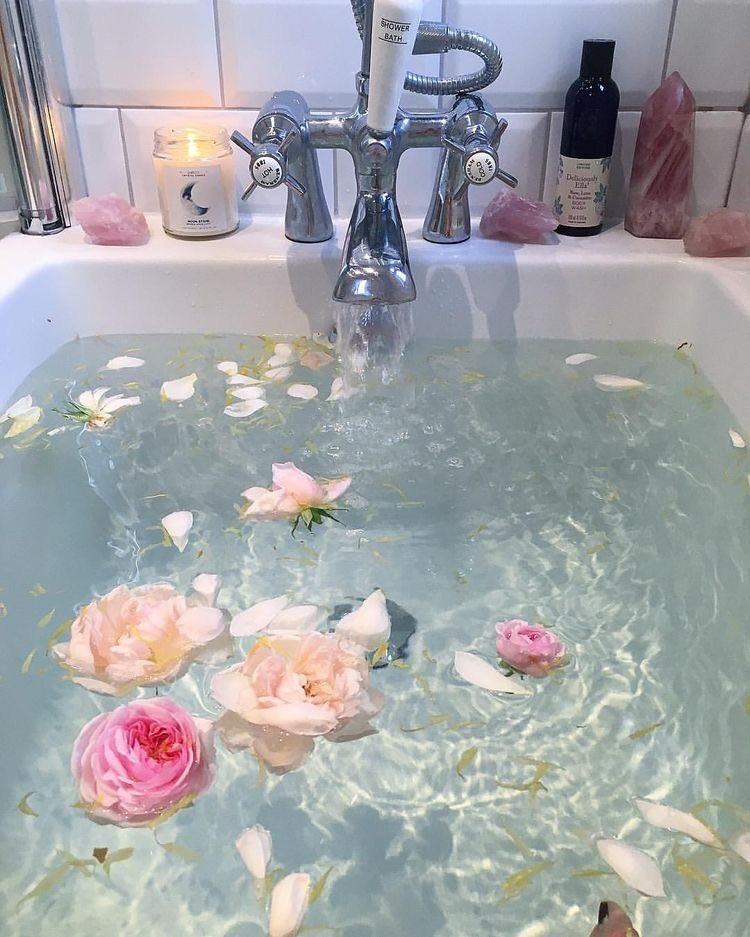 Pouring some natural flowers in your bathtub gives a natural fresh atmosphere. It makes your bathtub looks more beautiful. These roses have soft colors, it decorates your freshwater and gives you natural fragrance in the bathtub. You can use the flowers as a natural scrub that will grow their scent.
Marble Stone Bathtub for a Natural Serenity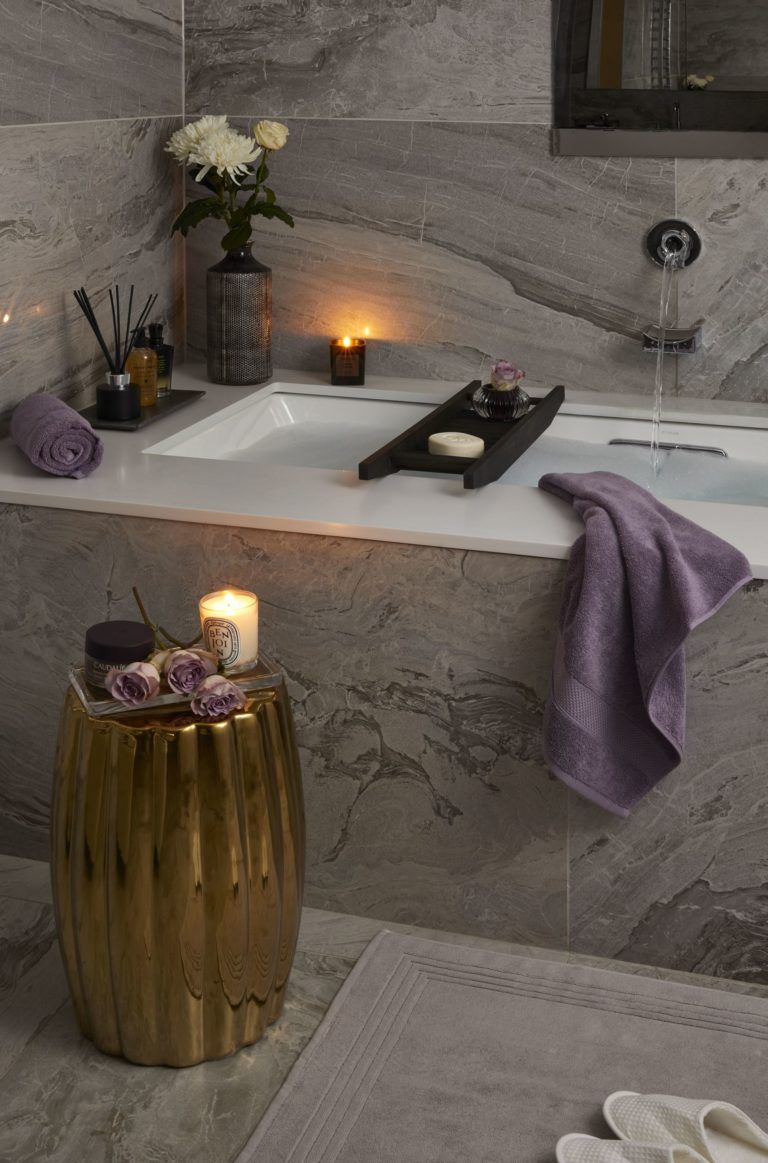 Many room designers like to use marble stone for a bathroom. This stone has natural deep colors. It is a relaxing element to see in the bathroom. Moreover, this material brings a cool atmosphere when you take a bath. The bathtub from marble stone looks catchy to pair with yellow lights, white accents, and golden accents. You can add this idea to your spa bathroom lists for the next makeover.
An Interesting Bathtub with Towel Storage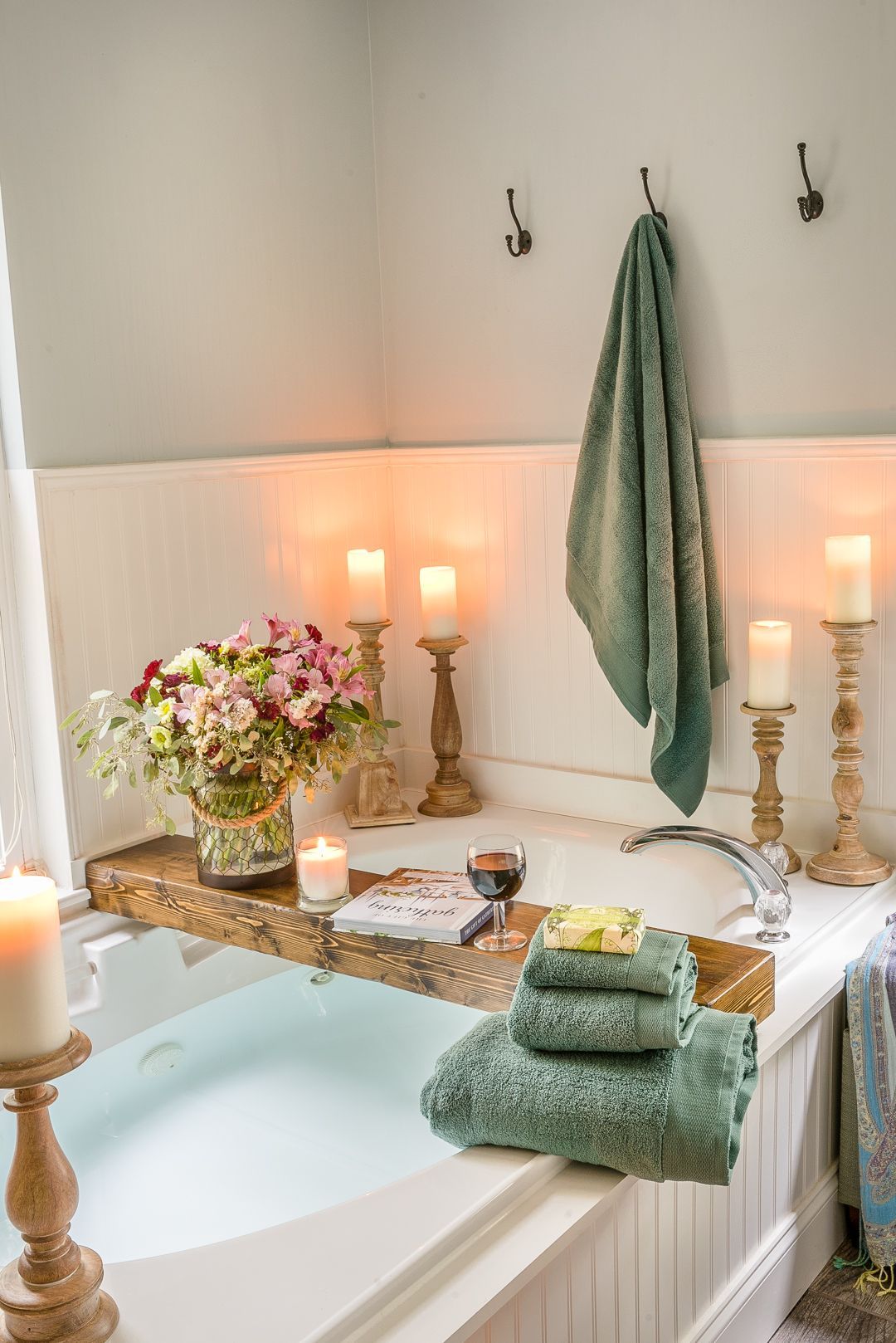 Decorating your bathtub by using some elements such as candles and flowers is welcoming your tiring mind. Complete your bathtub design with towel storage to make it easy to use them after taking a bath. You can have some hooks to hang other things. Installing ladder storage is also nice to keep your ball towels still neat and clean.
Add an Aesthetic Curtain for Privacy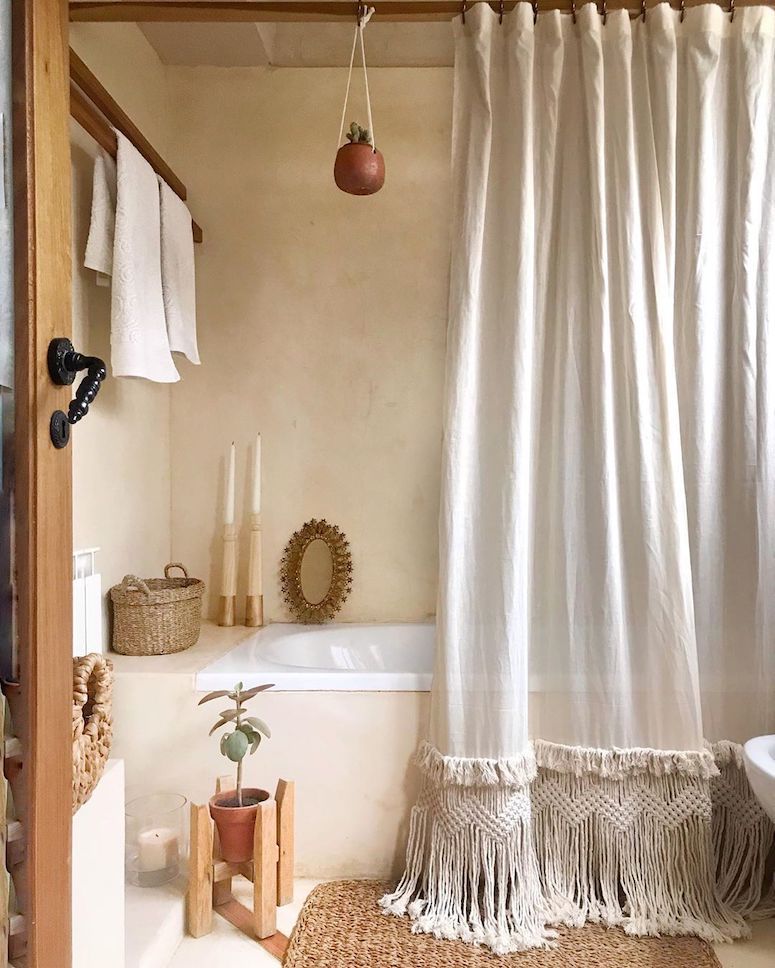 Taking a bath is a relaxing activity that requires privacy. Install a curtain for your bathtub, so it is easy to pull the curtain when taking a bath. Many bathroom curtains have aesthetic patterns, colors, and are made of waterproof material. Moreover, having this curtain, makes the fresh fragrance will circulate to your spa bathroom.
Creates a Showy Spa Bathroom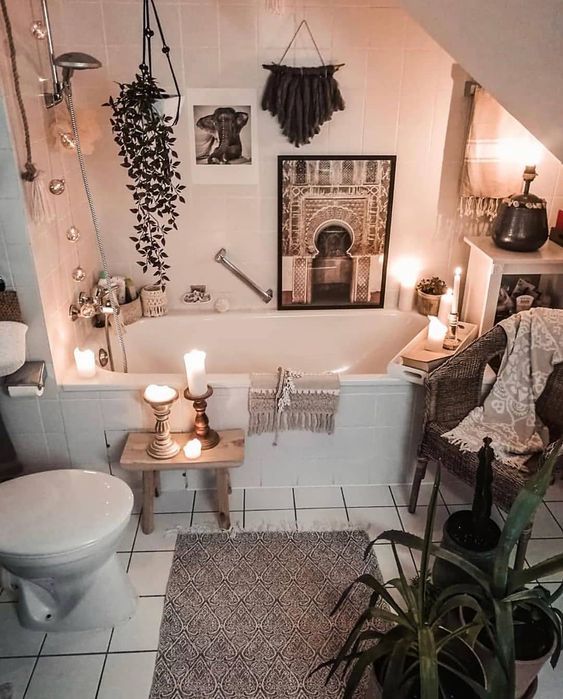 If you like to display some ornaments, this idea is good for you. Arrange some ornaments in a bathroom is not easy. You need to consider the size of your things and the space in the bathroom. Add a small table to put your candles on, while the toiletries look simple to arrange in the corner of your bathtub. You can hang some yellow lights, Scindapsus plants, and other hanging ornaments to get a crowded look. Maybe you like to enjoy seeing these ornaments when taking a bath in your spa bathroom.
Greyish Spa Bathroom for a Calming Atmosphere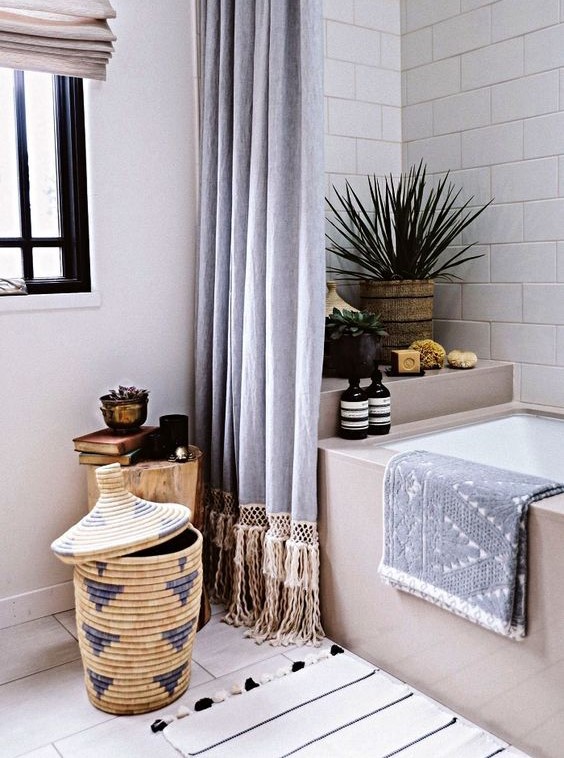 The color of the room brings a different impression. Using bright color for your bathroom theme makes it looks calming. This color emerges a clean and neat impression. The bright colors are easy to combine with other colors. Thus, you can add macrame accent, aesthetic patterned rug, ornamental plant, and wooden accents in your spa bathroom. These combinations of colors are relaxing your tired mind in the bathtub.
A Simple Bathtub Caddy for an Elegant Look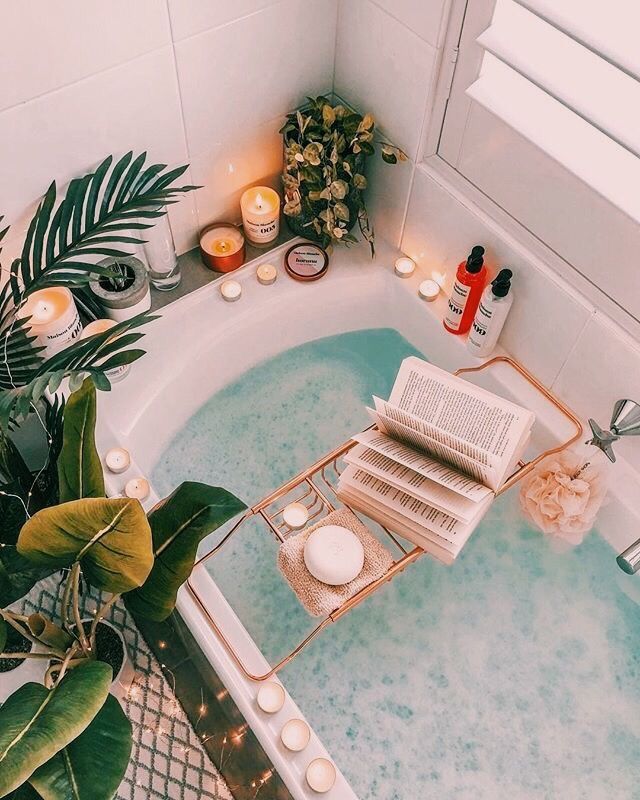 Some bathroom designs have no storage near the bathtub. It gives no choice except you should install a small table inside it, but you can replace it by using a bathtub caddy. This furniture is simple for people who like minimalist accents. You can read the books, drink fresh juice, eat some cakes, and arranging your toiletries upon it. It is a must-have piece of furniture to use when having spa time.
Romantic Lighting for a Relaxing Moment in a Bathtub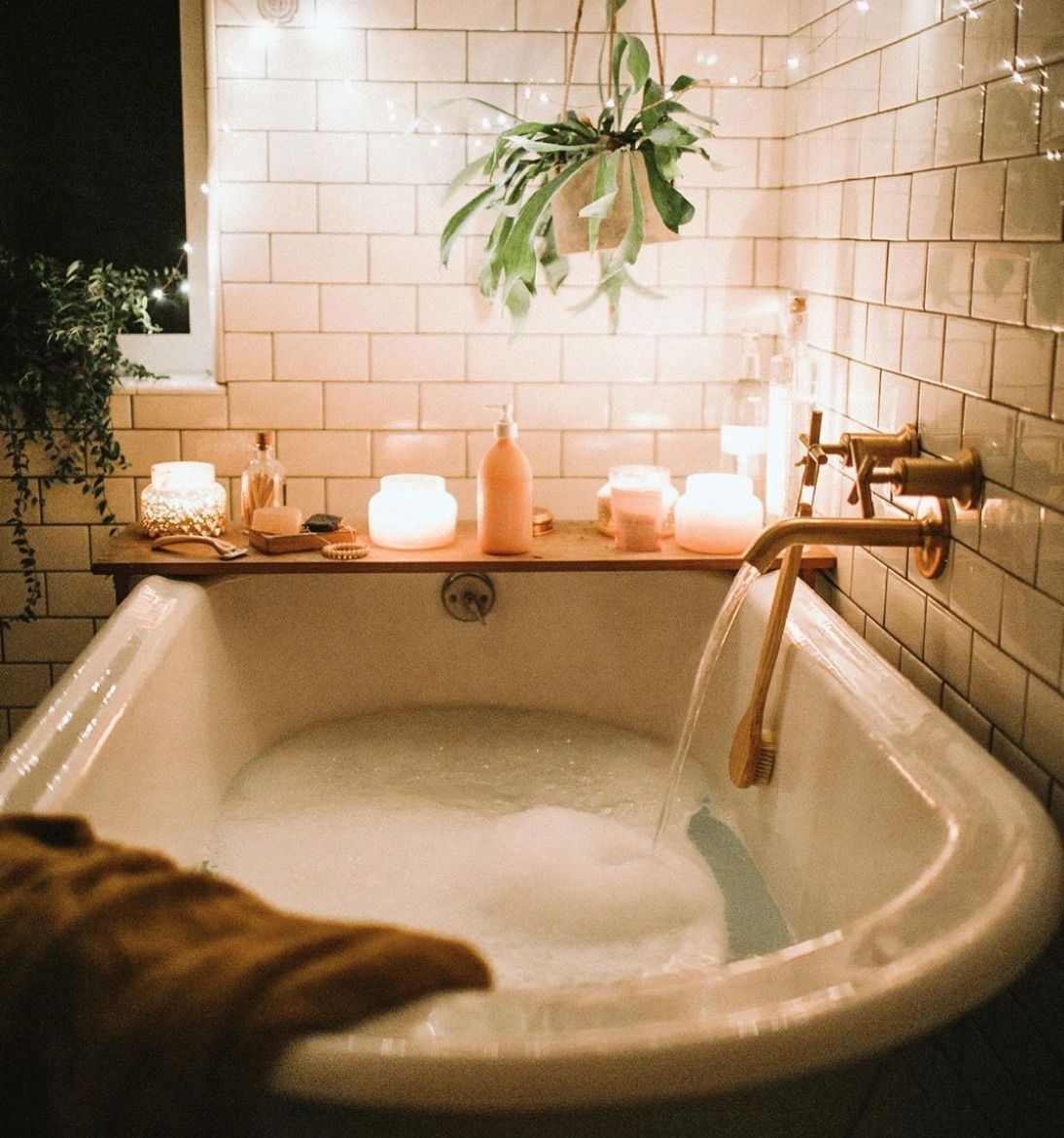 Most people nowadays use lighting to enliven the atmosphere in a certain room. You can apply this method to makes your spa bathroom more alive. Use some yellow string lights to draw your bathroom wall, so you can turn off the ceiling lamps. Create a more romantic atmosphere by having some candles near your bathtub. The lights reflect on your furniture and toiletries. It makes them look elegant.
Bring More Natural Accents in Your Spa Bathroom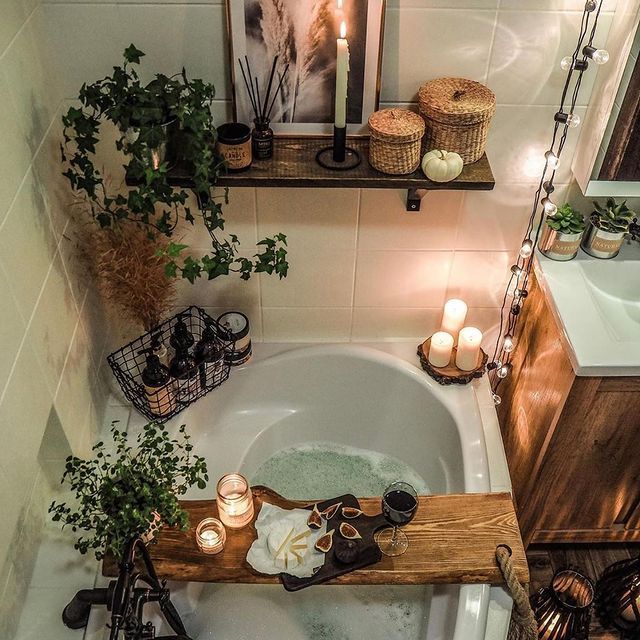 You will see the wooden accents in rustic home designs. You also find other natural accents such as stone, rock, and ornamental plants in that design. Applying these accents in a bathroom will bring a natural atmosphere inside this room. Besides, you can mix and match the wooden accents at some points in your spa bathroom. Some wooden accents, ornamental plants, and wicker baskets transform this room to get a natural atmosphere.
Thus our discussion about Relaxing and Satisfying Spa Bathroom Design Ideas for Your Home. Designing a spa bathroom at home is not difficult. You can use the decorations that make you feel comfortable to take a bath. The keys are room fragrance, freshwater, and lighting. Even you can use natural light from a window if you have one in your bathroom. You can use the ideas above as your inspirations to design a comfortable spa bathroom. Relax and calm your mind in a satisfying spa bathroom. May you stay fresh and healthy. Happy decorating!