Druhomes.com – A pet house is a small house for pets at home either outdoors or indoors. Commonly, people have cats or dogs as their pets. Maybe, you ever see a pet house in someone's house. The pet house has a special design to adjust your pet to get a comfortable home. Besides, the pet house brings a different impression to your interior design. It can be additional furniture to beautify your home. Designing a pet house needs creative ideas because it is a mini home for pets, then it should adjust the pet's needs. That way your pets can be more comfortable and happier with the place you provide for them. For that, in this article, we will discuss Stunning and Comfortable Pet House Design Ideas for Your Pets. Let's discuss!
Geometrical Pet House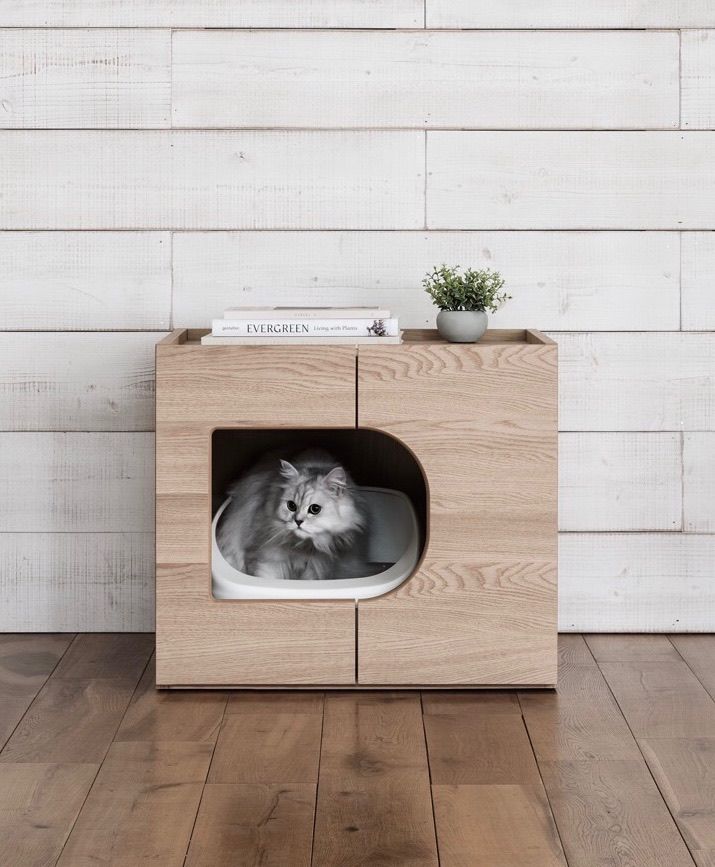 Designing a pet house is not easy sometimes. It needs to choose an attractive design but comfortable enough for your pets. Using geometrical shapes is an easy shape to form. You can use recycled materials such as cardboard and a wooden plank. These materials are easy to arrange as rectangular or cubical shapes.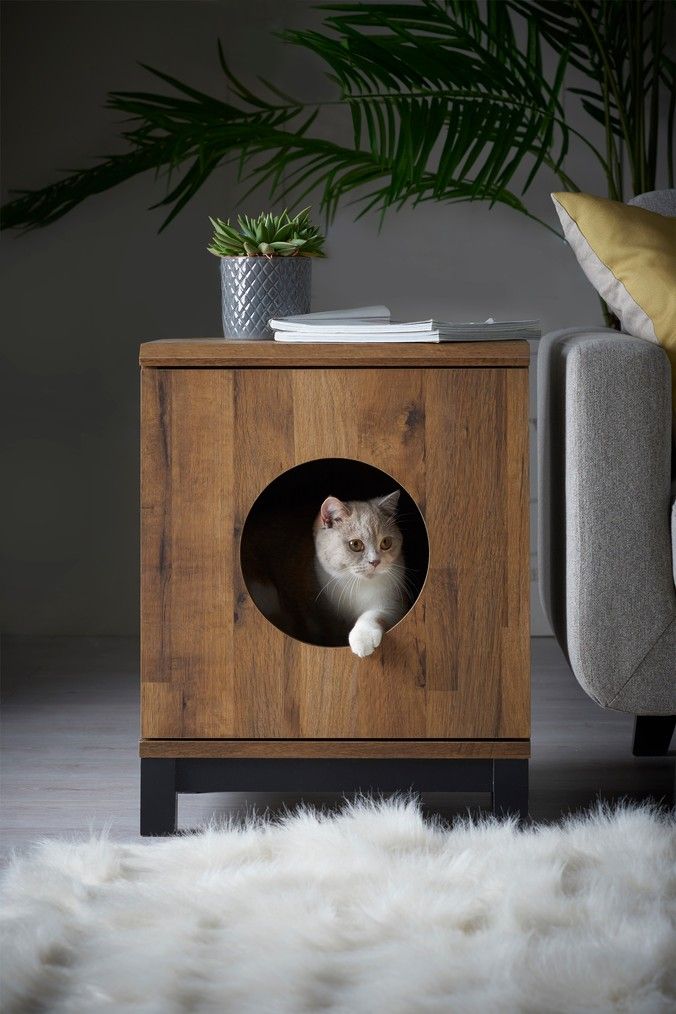 Add an attractive hole for your pet to get inside it. To make it more interesting, varnish your pet house by using natural brown color for wooden material. Since it has a geometrical shape, you can apply a wall sticker to cover this pet house. Thus, you don't need to repaint the pet house. Moreover, the wall sticker offers many attractive designs.
Corner Pet House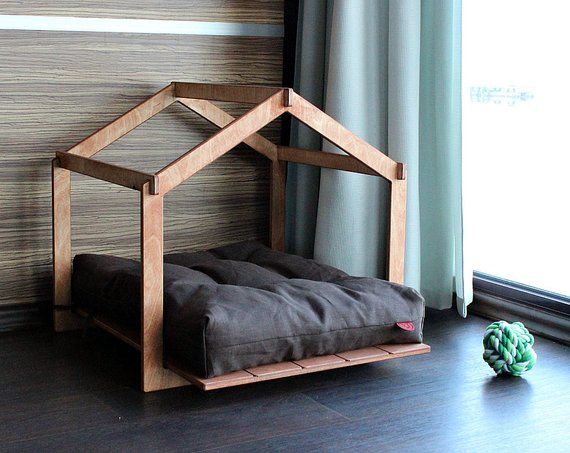 Make use of your corner space by installing a pet house in this spot. It offers you a strategic spot for your cat or dog to look out the window. Install a skeleton pet house with a comfy bed that will lullaby your pet to sleep tight. This design is compatible with a minimalist design in your room. Besides, it looks stunning if you use the same theme for your pet house.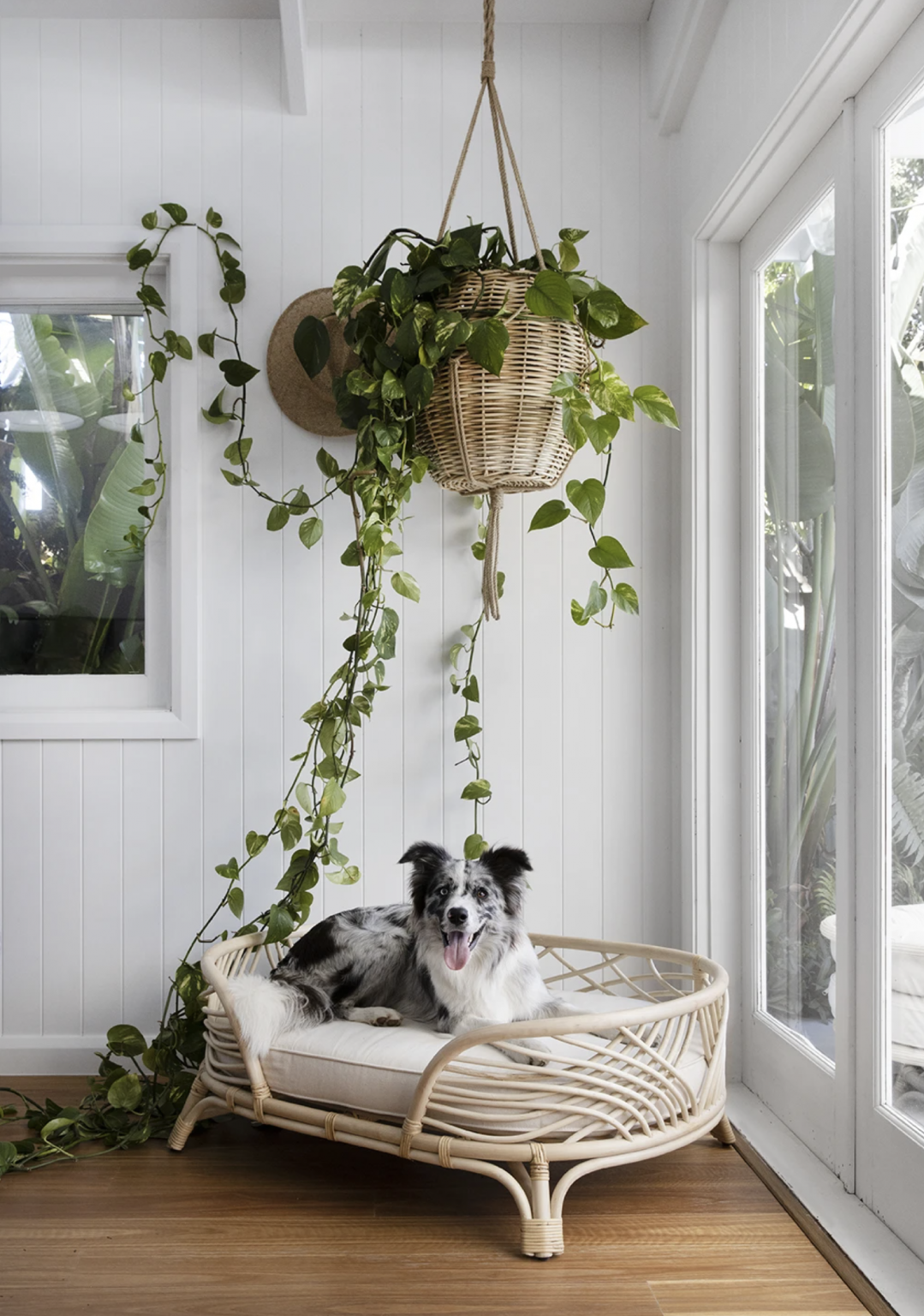 Hanging some ornamental plants in your room looks fresh and natural. Even in your pet house, an ornamental plant transforms the design to look fresher. If you have a whitish room, hang a green plant to create a contrasting effect in the corner. Since it has a natural accent, you can use a wicker basket for your pet house.
Pet House in a Living Room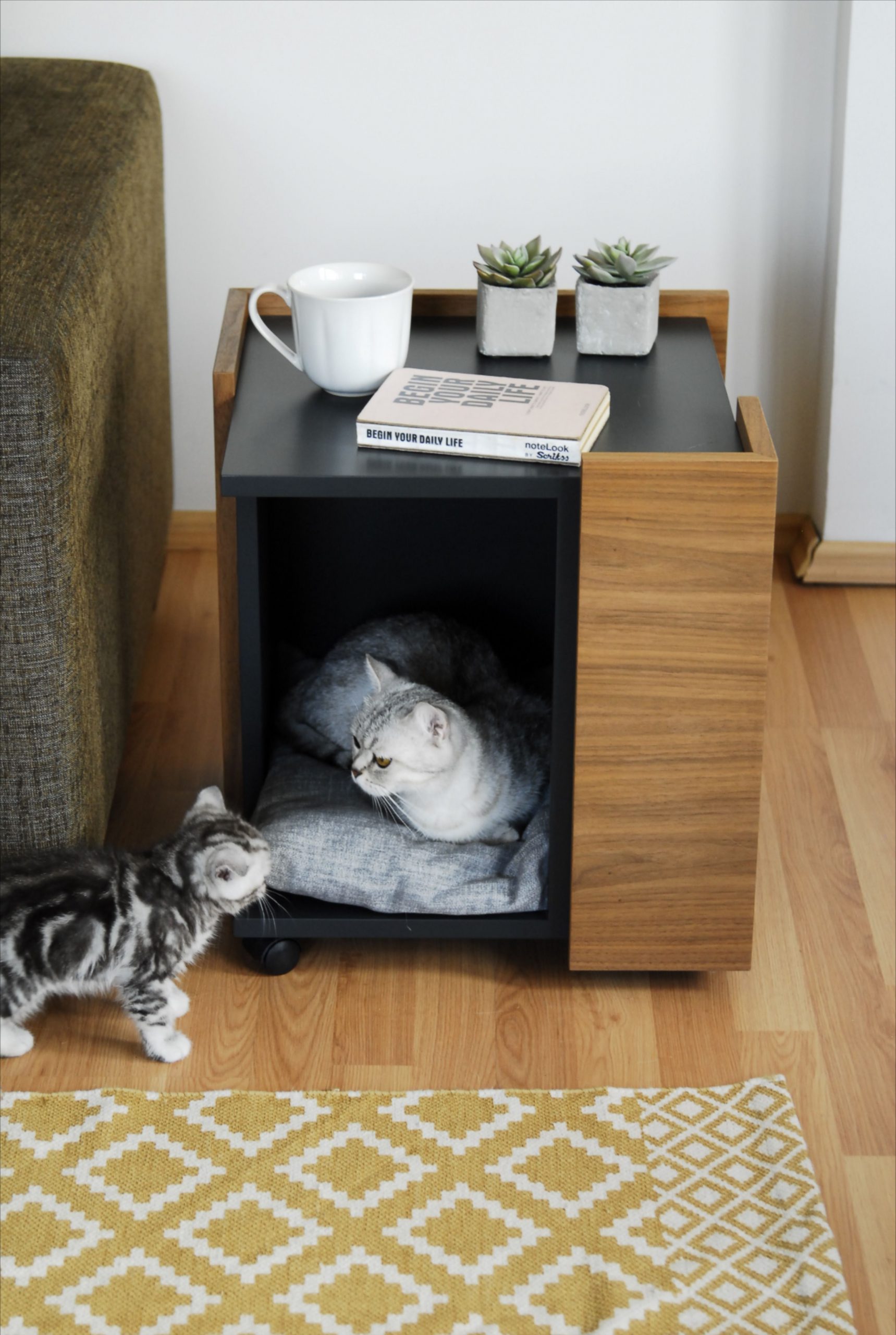 Cat and dog are cute animals to nurture at home. Even some people do something special for the pets such as creating a pet house in a living room. This pet house has a simple design. Use your mini cabinet as a pet house. Add a comfy pillow to the bed. It gives you a stunning design without interrupting your living room interior.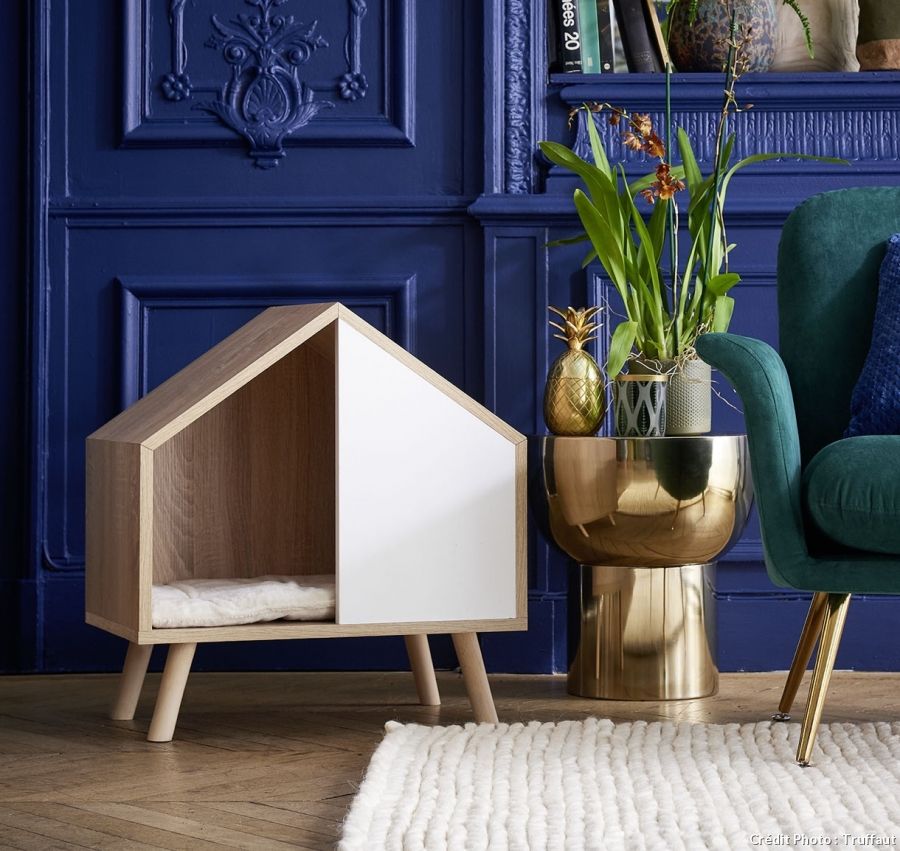 Bring more elegant accents by installing a wooden pet house. Wooden material invigorates your living room with natural patterns. You may choose the wooden material in a certain shade depends on the impression that you want to appear. Soft brown color strengthens the luxurious impression if your living room has a glamor design.
Pet House Under the Stairs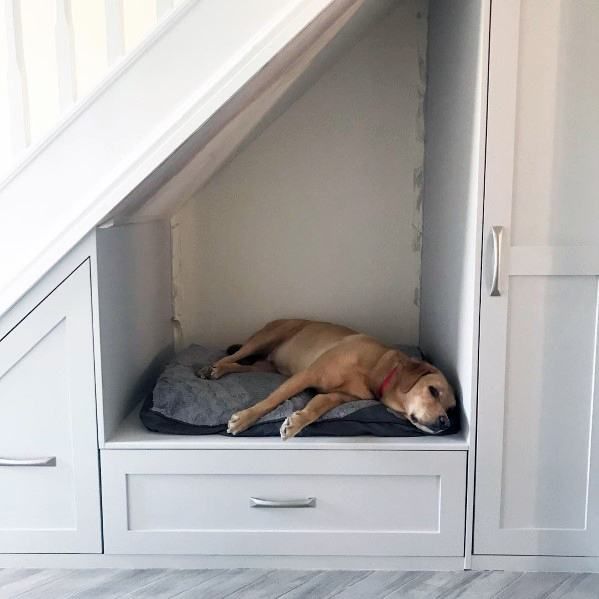 Space under the stairs offers myriad functions for you. This spot is strategic to use as additional storage. Some room designers use it as storage, workspace, washing room, and even a pet house. This space is enough for your pet to sleep. Create a square space for your cat or dog, then give storage around this bed. It makes this space more efficient as a multifunctional room.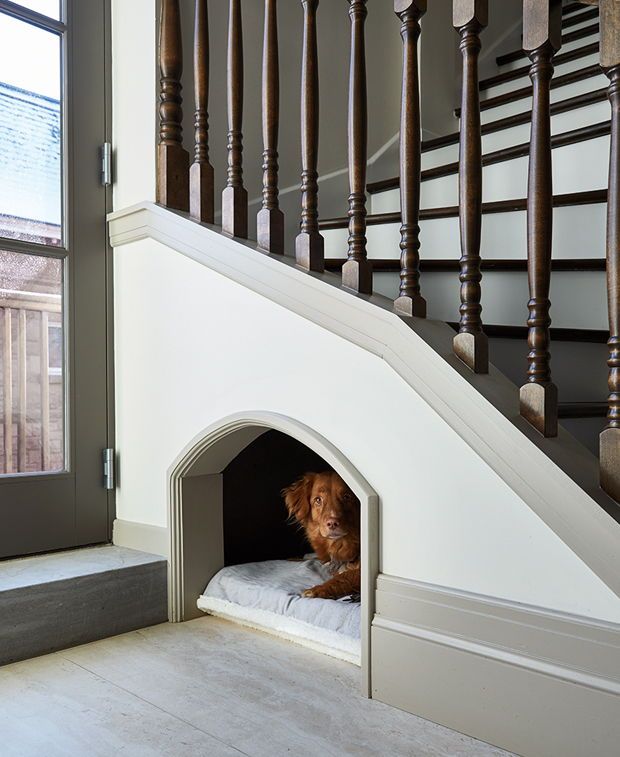 Sometimes, you may hear the dog barks loudly, it means they see something. Thus, you can design your pet house near the door, in case your dog will alarm you when something happens or someone visits your home. This position is beneficial for your dog to see and hear something near the door.
Pet House in a Bedroom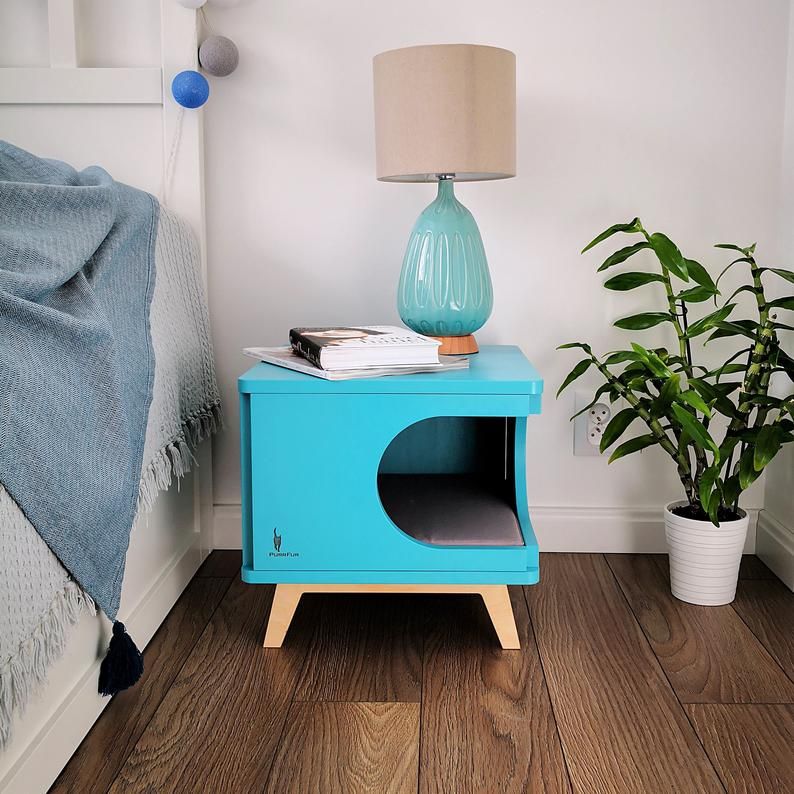 People who love their pets usually bring them to their bedrooms. Even though the bedroom isn't a room for a pet, but you can build a mini house for your pet. By having a pet house near your bed, you need no worry about checking your pet. Install a geometrical pet house with a cabinet-like in your bedroom. This design is easy to decorate and useful as a table set too.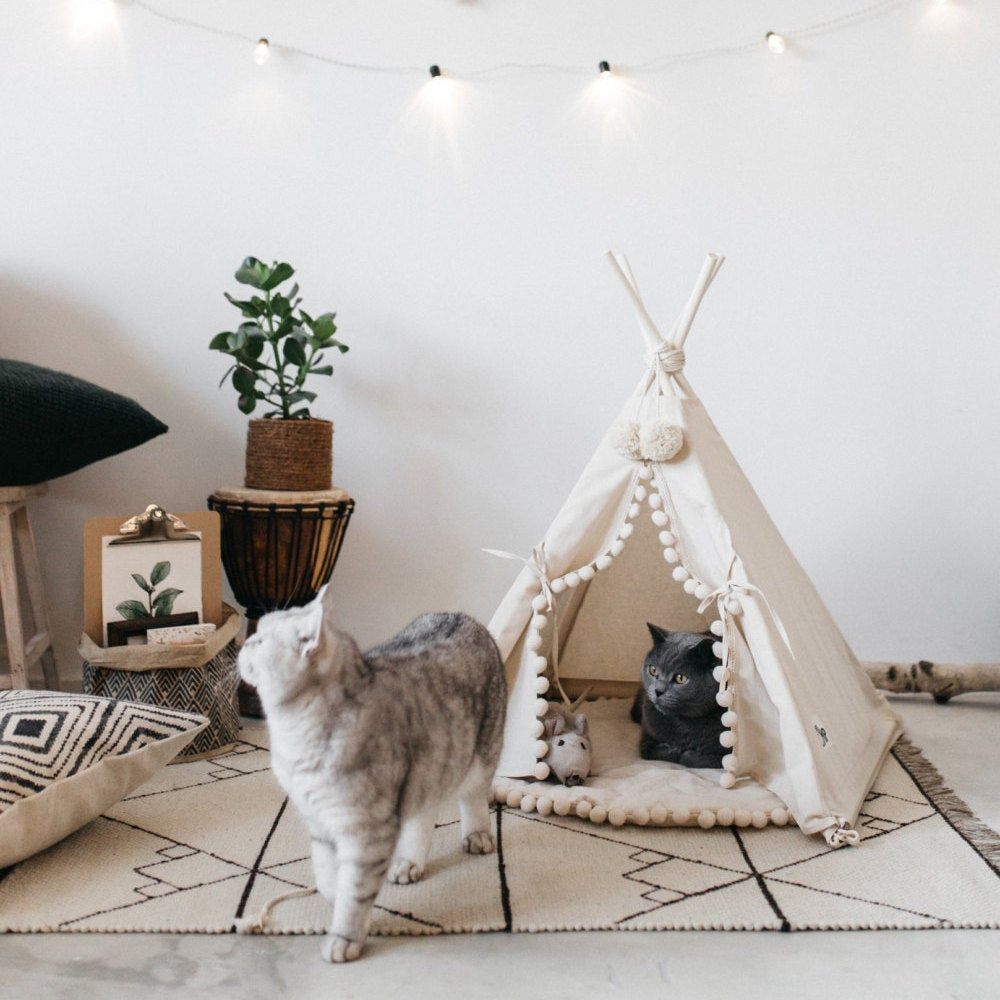 Another design is a mini tend. It is a mini cute design that looks attractive to enliven the cheerful atmosphere in your bedroom. Moreover, it looks like an indoor camp for your pet. Even you can lay near the tend by installing an aesthetic rug under the tend. Add a comfy bed for your pet and another pillow for you to play with your pet. This design is one of the modern designs for a pet house nowadays.
Thus our discussion about Stunning and Comfortable Pet House Design Ideas for Your Lovely Pets Pet. Having some pets at home brings happiness for some people. Even they give a special home for their pets. A pet house is a mini house for a cat or dog to sleep and take a rest. Some people build a pet house outdoors and others prefer to take it indoors. The design of a pet house influences your pets to feel happy and comfortable. Thus, the ideas we have mentioned above are useful for you to design your pet house. Hope you get the best design for your pet. Good luck!