Druhomes.com – A luxurious loft house design is an attractive concept to build some rooms in a simple residence. The interior design of loft houses is various and depends on the room size. Usually, a loft house has two floors. The first floor consists of a living room, kitchen, bedroom, and bathroom. The second floor has no concrete walls to cover and build a room. This second floor is nice for the bedroom and workspace because it provides fresh air and scenic landscape from above. Thus, the loft house adjusts your need to get an aesthetic home in an open space design. Even you can mix and matches some furniture and accents in your loft house.
Designing your loft house in a luxurious design makes it more stunning. We want to show you some designs of the loft house's interior that will catch your attention. Loft house emerges in the Industrial era. The loft house design adapts the simplicity and multifunctional design from the Industrial style. Nowadays, loft house becomes more popular to decorate in various designs. Even the luxurious loft house looks more modern and far from Industrial style. Let's see the design of the luxurious loft house below!
Mid Century Style with Modern Touches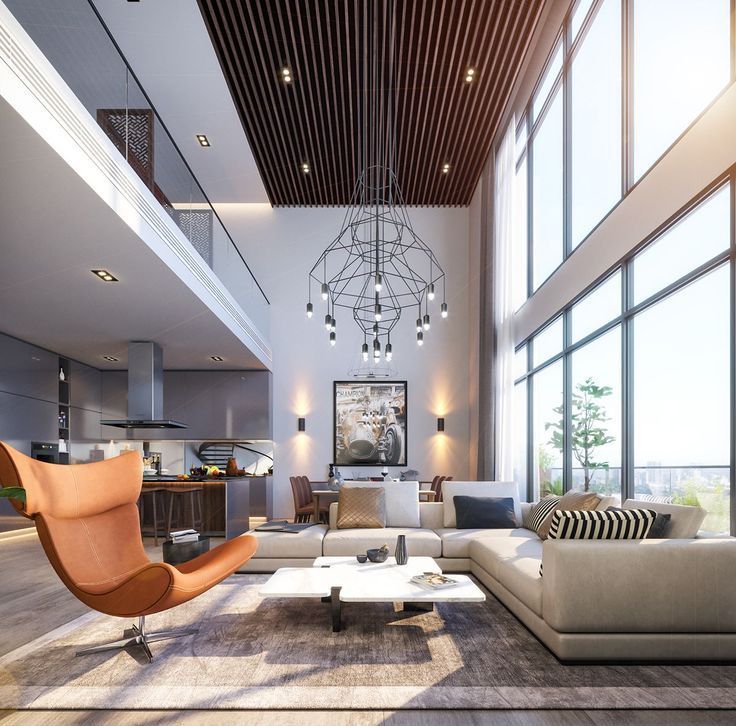 Mid-century design is a classic design that uses brown accents to emerge from the time past impression. Combining this design with a modern touch will make your loft house looks stunning. You can display some contemporary accents like old frames, antique lamps, chairs, and a rug. These items are interesting to add a mid-century atmosphere to your loft house. Even this design may look more stunning if you put comfy geometrical couches and maximalize the natural sunlight. The structure of the mid-century design is nice to develop a new design with a modern touch in it.
Luxurious Loft House with Grey Theme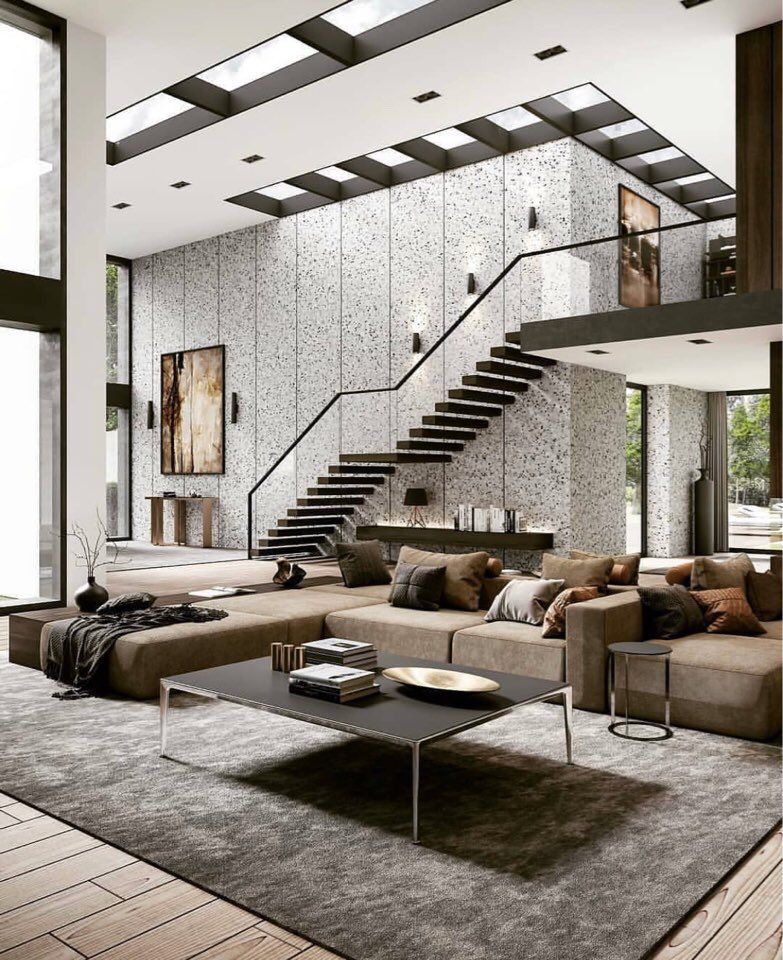 Most luxurious interior designs apply a neutral theme to get an elegant decor. Modern people like to use the grey color because it is easy to combine with the black and white color. The loft house looks stunning to get a grey accent in every corner. The combination of white color and grey spots are unique to get a luxurious impression. This color theme is compatible with brown furniture such as light brown couches and rugs. It also looks elegant to display a large frame on the wall. The large accents make a loft house looks expensive. When design the grey loft house, don't forget to give black accents in every room, such as black stairs, skylight, door frame, and window frame. Thus, this room consists of four main colors; grey, white, black, and brown.
The Transparent Glass Material for an Uncluttered Design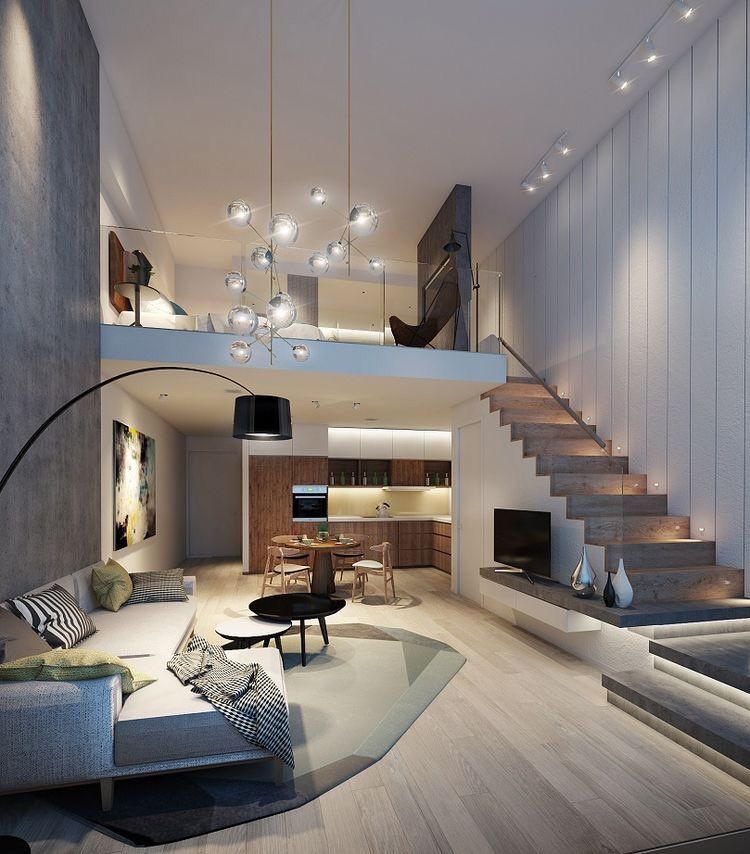 The transparent glass material is popular to use in many buildings. Glass has a transparent appearance that creates a vanish distance in the interior. You may often see the use of glass doors, glass wall, and glass stairs are beneficial to create an illusion of no glass. Thus, the glass things reduce the patterns in a loft house and make this room looks larger. Besides, another accent to build in a loft house is how the lighting draws an aesthetic impression in every corner. The small lamps in a different spot create layered lighting. It also helps you manage the light to turn on in each room.
An Elegant Industrial Design with Black Accents
Talking about an elegant interior design is an exciting topic to find the most attractive design to apply in a loft house. The industrial design has an elegant vibe to draw attention to this house. Since the loft house emerges during the Industrial era, then Industrial design will do good for a loft house interior. You can apply many black accents such as long black curtains to divide your bedroom, animal leather rugs, black walls, and chairs. Put these black accents on the brighter colors. You can add Industrial ornaments like dried grass and a wooden coffee table design.
Modern Luxurious Interior for Loft House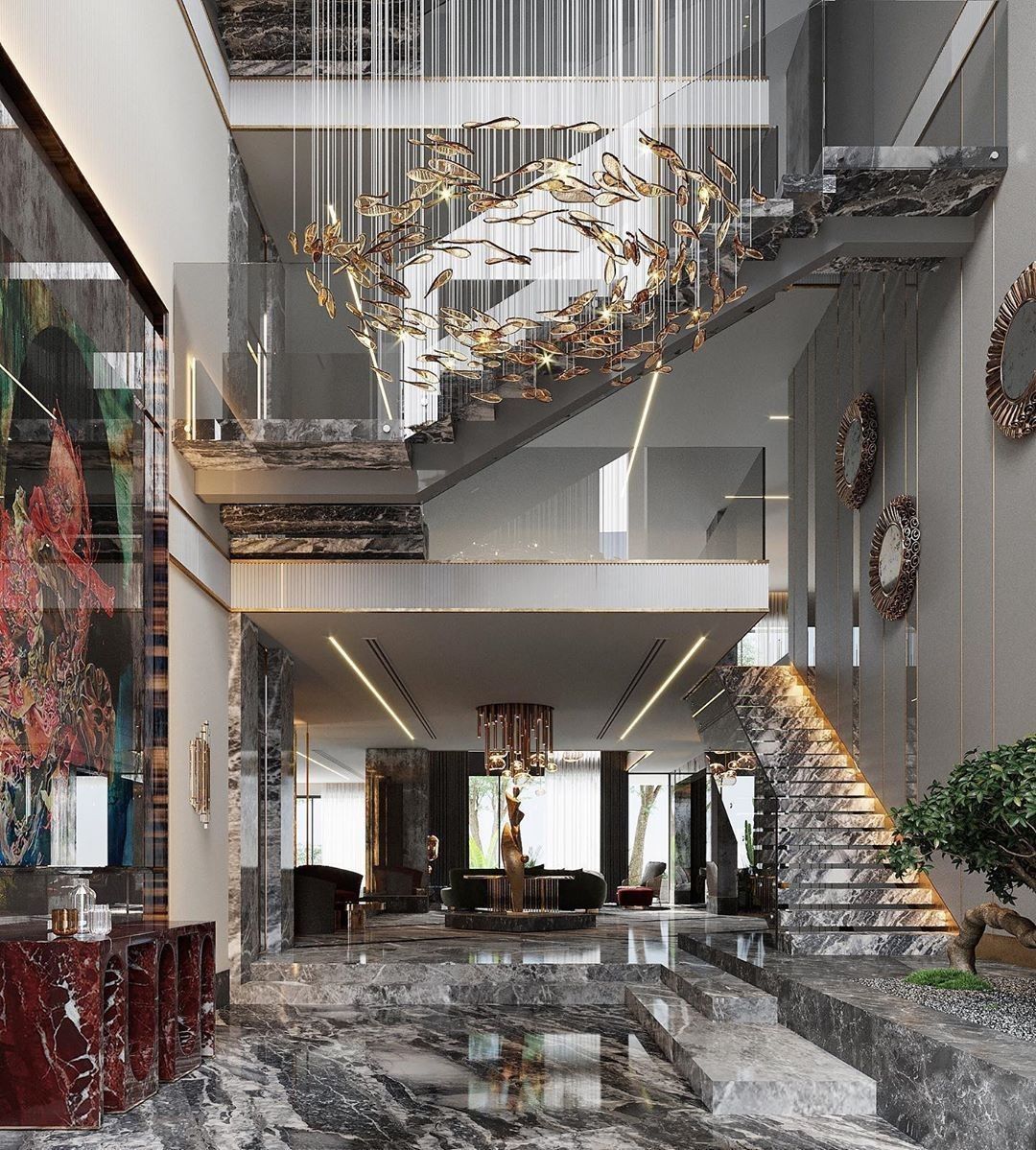 A big house with myriad luxurious accents is stunning to catch on the eyes. The modern design has a striking impression from its materials and patterns, like on the marble floors and stairs. You will see the absurd grey patterns on every marble stone. The key to getting a luxurious design is applying golden accents in some spots. It usually uses geometric shapes to create cleanliness in golden colors. Moreover, add more transparent glass for the stairs' holder can arouse the luxurious atmosphere. The yellow lightings are also helpful with this elegant ambiance.
Considering Brown Palette to Get a Classy Design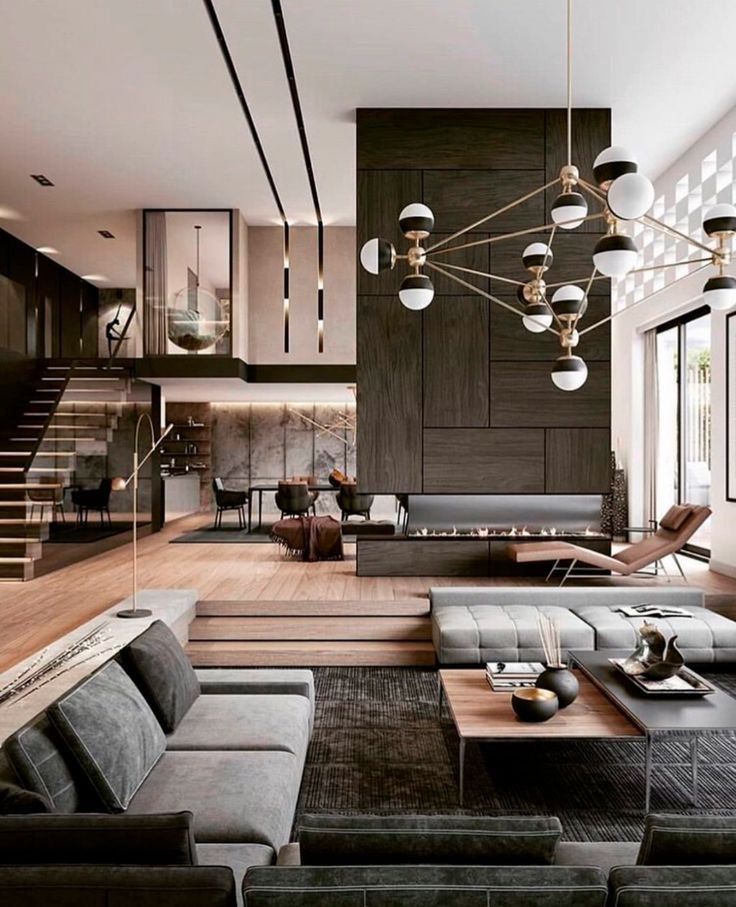 Loft house is identical to a big mansion and other popular houses in the past decades. Some people like to decorate their loft house in a neutral palette. The combination of natural colors in the same hue brings a calm impression. The light brown floor is nice to pair with a dark brown wall, while the light grey couches are stunning on a dark grey rug. You will find another pair of colors in the same hue. Besides, the black accents in a loft house create a romantic ambiance when it gets yellow lights. Most designs use ceiling lamps to enlighten the stairs.
Bring the Industrial Era in a Masculine House
Black and brown leather are a nice combination of Industrial design. These colors arouse the impression of the Industrial era on every accent. The black pipes, pendant light, stairs, and even the wall and ceiling will pick up the color of an Industrial building. If your loft house has a glass wall, it provides natural light at noon. Then you don't need to install many lamps. The black wall and ceiling have a natural impression to reduce the natural light from outside. You can give 2-3 big lamps in a certain spot like the bedroom and kitchen. To give a different accent in this blackest house, arrange some brown leather couches in your living room. Add a coffee table and display some cushions on your couches.
Thus our discussion about Luxurious Loft House Design Ideas: An Interior with Stunning Accents. Loft House is a simple design for people with a busy day at home. This house has easy access to any room and adapts an open space room. Thus, you can see another room directly from your living room. A loft house is nice to build on narrow or large land. The interior design will adjust the house size. Even the luxurious impression can emerge in the smallest house. The ideas above are some examples of loft houses in a luxurious design that may inspire you to build or rent a loft house. Hopefully, you will get the most comfortable loft house. Have a nice day!