Druhomes.com – A window seat is an attractive place to enjoy and doing relaxation. This seat is near the window, and you will find the window seat takes a window sill to get a nice spot. Enjoying a cup of tea, reading a good book, and listening to music will be nice and so relaxing your mind while sitting on the window seat. You can get a fresh breeze, warm sunlight, and an outdoor view through the window. It helps you to get inspiration to relax. If you want to decorate a window seat at home, we have some stunning ideas to create a comfy window seat. Designing a window seat gives you many benefits. It is an interesting and comfortable seat to install near the window. Some benefits of creating a window seat at home:
It is a place to relax your mind
It gives an outdoor view while sitting on the comfy seat
As an additional sofa for you while doing work at home
It is a beautiful and functional seat
As an emergence bed to take a nap
A window seat is a comfortable place to sit and enjoy a cup of tea. It brings a fresh nuance as you sit on the train or bus near the window. Usually, you see this seat below a window. Here, we will give some creative and attractive window seat ideas. Let's discuss!
Neutral Room with a Comfy Window Seat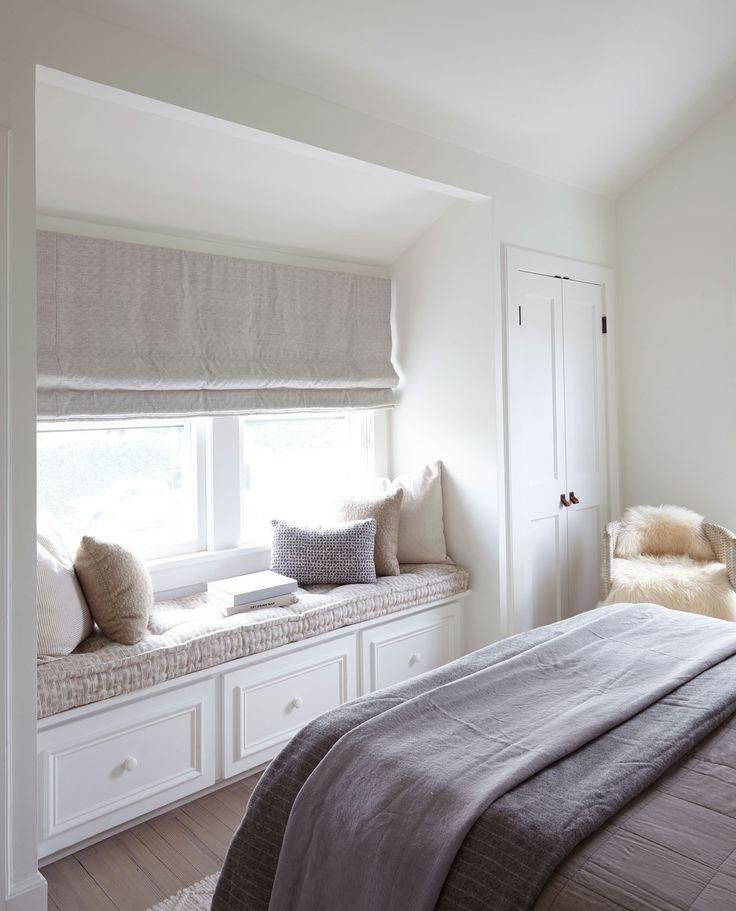 Most neutral rooms use a calm paint color. Some calm colors are sage gray, blush, sky blue, pale yellow, soft green, tan, and classic white. The classic white color is an elegant color for your Room. Even you can create a cozy little window seat with this theme. Put a comfy seat and some small cushion on the two edges. It gives you a brighter atmosphere in the Room.
An Elegant Window Seat in The Walk-in Closet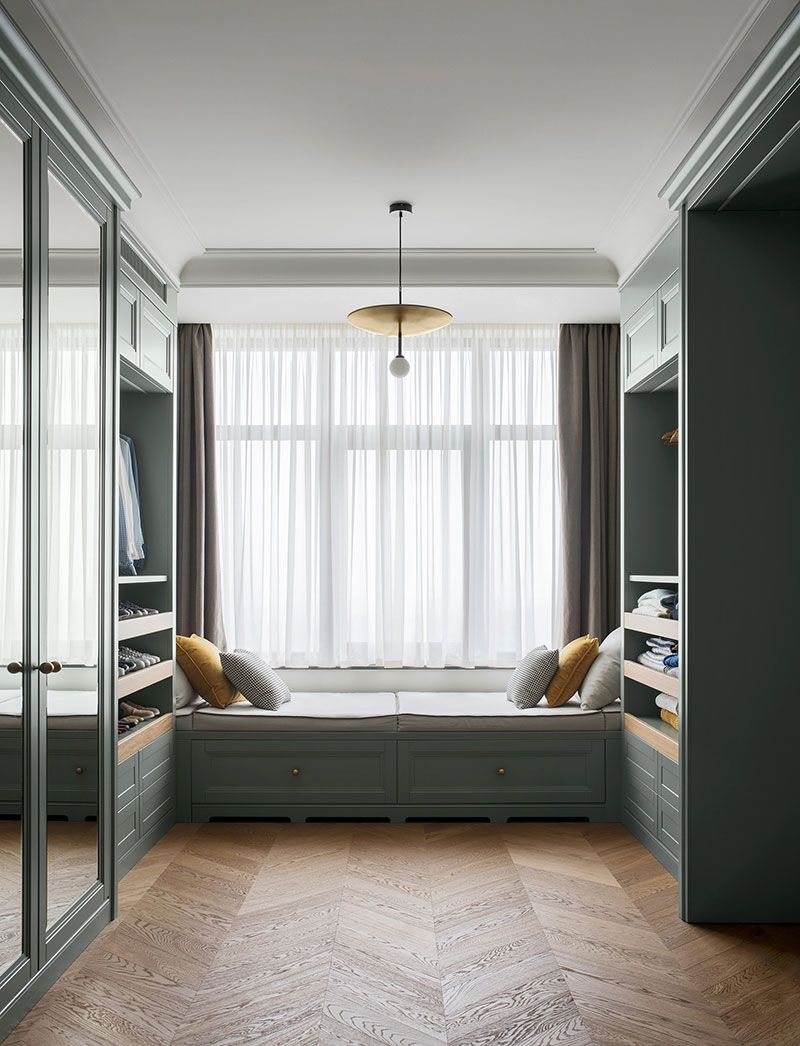 Suppose you have a special room such as a walk-in closet. You can use one side wall by installing a window seat. It gives a useful seat while you change your clothes and get tired. This seat is beneficial to make your room more comfortable. Add some small cushions with different colors and patterns. Use gray paint colors to make it looks elegant. Yellow and monochrome cushions are catchy to decorate your window seat.
A Simple Window Seat with An Airy Decor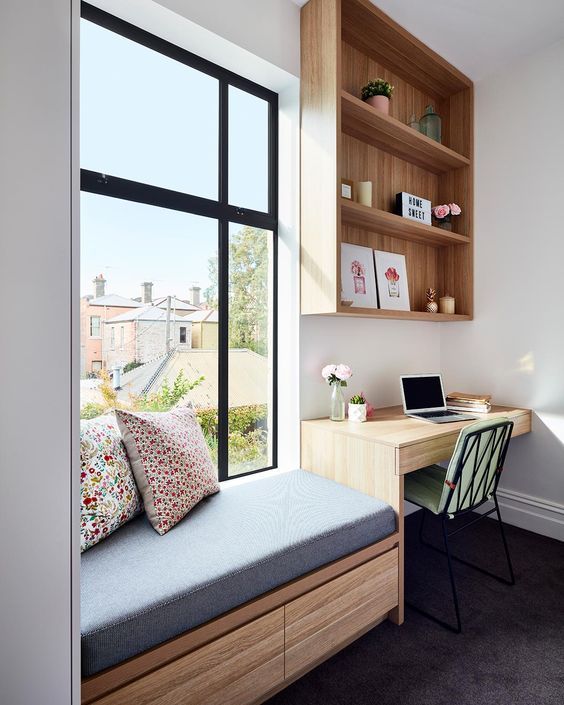 Having a limited space is not a big problem to have a window seat. Even you can decorate a simple window seat near your workspace. A small workspace with a slim table sometimes makes you tired and bored. Add a small bench with a comfy seat. Don't forget to add two small cushions to sweeten the plain seat. The floral patterns are attractive to decorate this window seat.
Shabby Chic Window Seat
It is another design of a window seat with a workspace. This design adjusts your shabby chic Room in blush and soft pink colors. Create a comfy backrest by arranging some small cushions on the seat against the wall. Use a contrasting color for the cushions and your window seat. The shabby chic Room looks stunning with white color.
A Natural Ambiance with Window Seat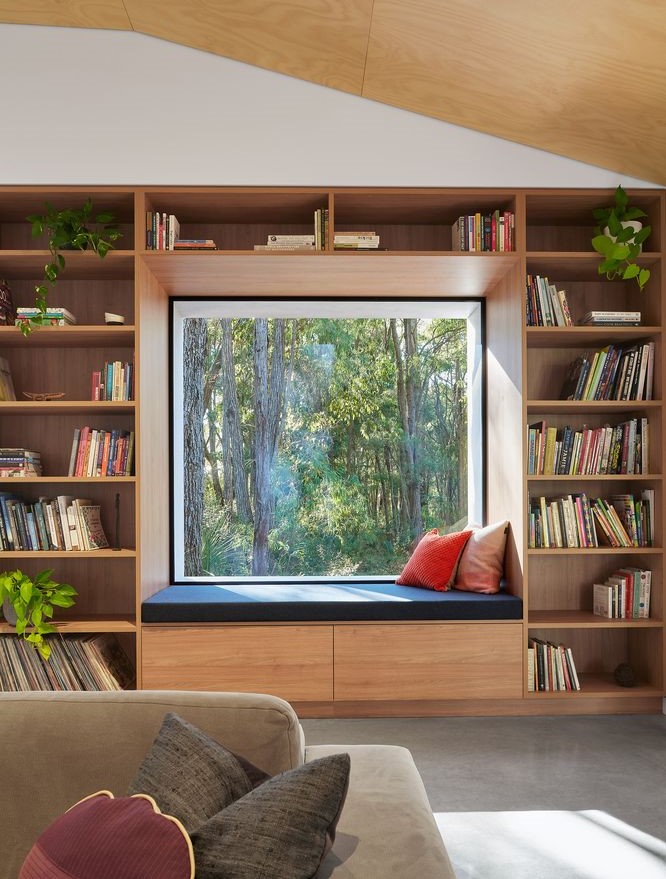 If you have a garden in your home, it will be an interesting view to see through the window. Even you can create a window seat between your bookshelves. Wooden material for bookshelves looks neutral and calming. Use other wooden accents in your room for a consistent theme. The colors from nature will invigorate the atmosphere in your room. Your window seat is an attractive element that looks good in a natural ambiance.
Clean and White Room for a Window Seat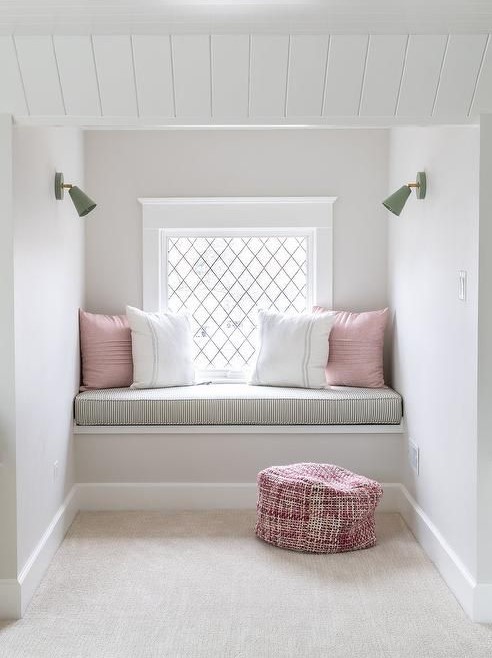 The white Room looks interesting to combine with other colors. This color creates a clean line in the Room. Use some soft colors for cushions that will blend naturally. Put four chairs in two different colors, wear the pillow covers for two cushions. It creates two pairs of attractive cushions in one seat. The white color calms your mind and inspires you.
Minimalist Home Library with A Window Seat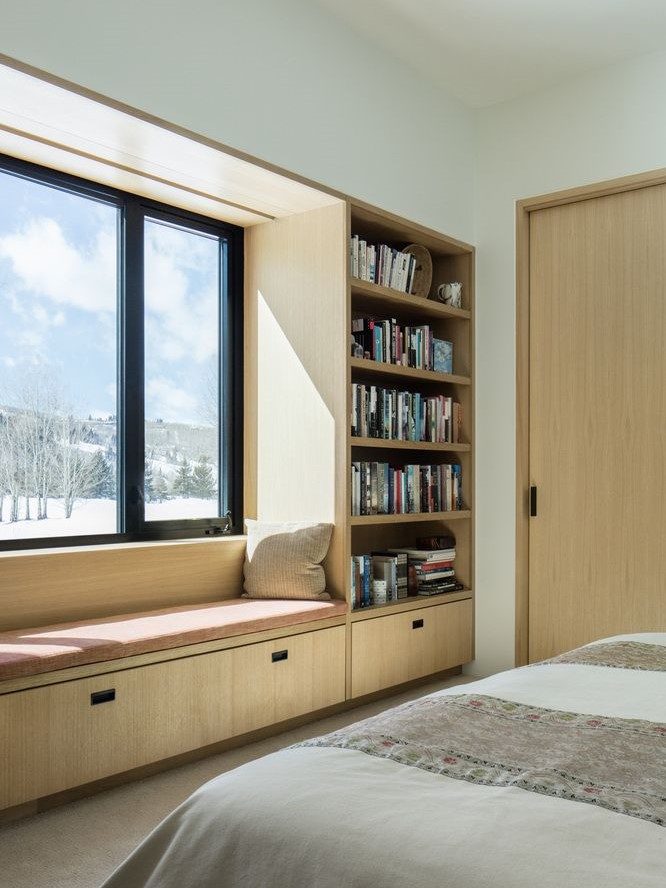 Applying a minimalist interior design is amazing for most houses. It looks calming and comfortable with a clean and neat window seat. Usually, it uses neutral colors for the interior design. Install some storage under the window seat. Choose the wooden bookshelves in a bright color to enliven the natural ambiance.
Window Seat in A Calming Blue Room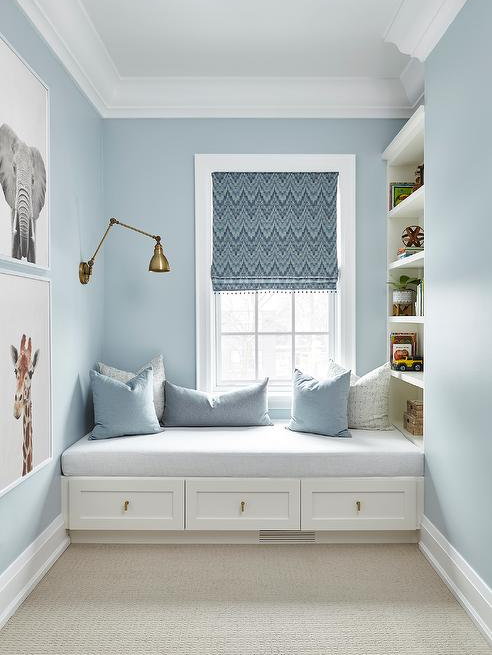 The sky blue color is a neutral color that can bring a peaceful mind. The blue color has a calm impression. It is more stunning to combine with white color. Add an accent by installing an artistic blind curtain. It creates an interesting decor when you shut the curtain. Moreover, the window seat is more attractive to use the same color as the curtain.
An Elegant Window Seat in a Neutral Entryway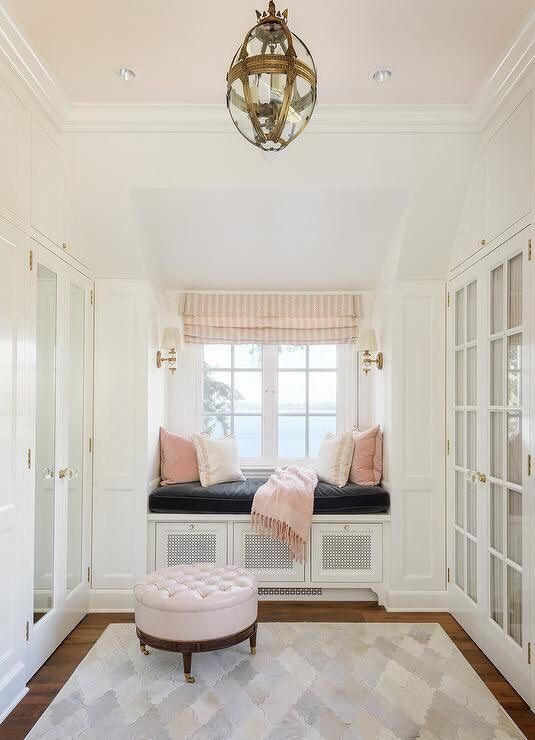 Some big houses have a window seat on every floor. Usually, this window seat is on the end of the entryway. This window seat provides natural sunlight inside your home. Decorate your window seat with a neutral curtain. Choose interesting small cushions with the same color as the curtain. Choose the dark seat to make an accent on your window seat.
A Small and Comfy Window Seat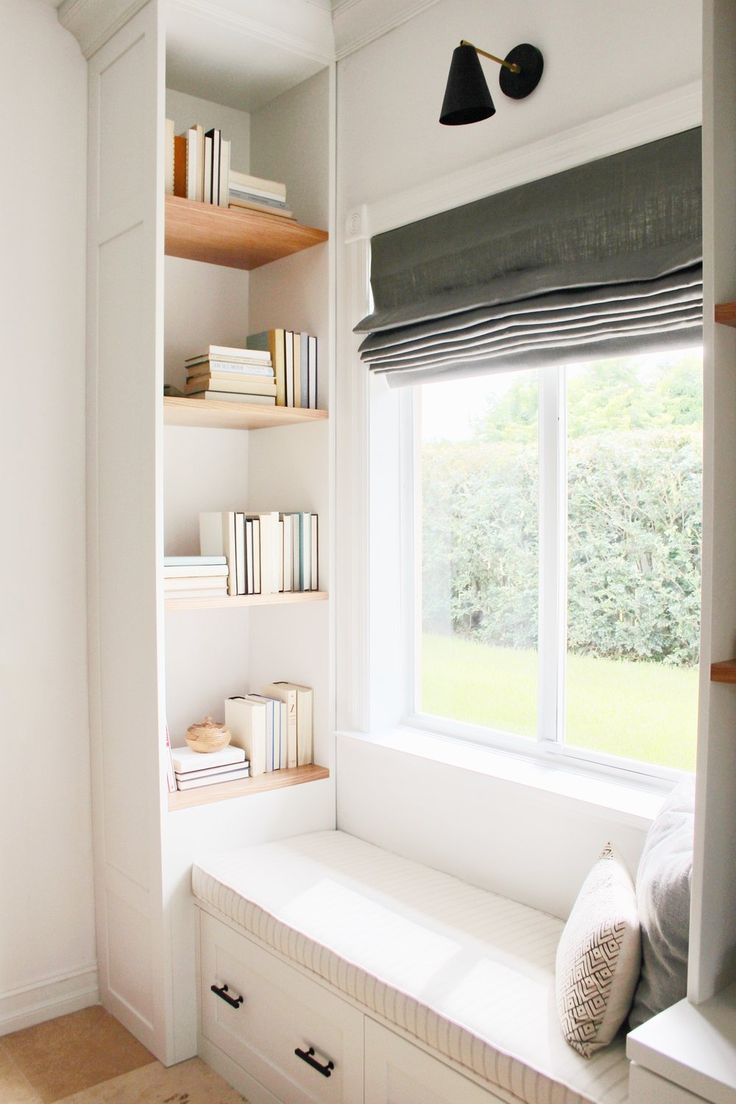 Having a small house is easy to design. You can decorate a window seat even in a small space. Put a small comfy seat to make a comfortable window seat. To create a spacious impression, use a white paint color for the entire room and your window seat. Pick up some accents in black colors. Put some storage to save books, so you can enjoy reading the book in your window seat.
Thus our discussion of Creative and Attractive Window Seat Ideas for a Cozy Home Interior Home. By using the right window seat design, you can create the look and atmosphere of the interior of your home that you want. In addition, you can also use a window seat in your home according to all your needs in daily activities or mobility. A window seat is an interesting place to install in a room. You can create a window seat with an attractive design. If you want to get more inspiration about window seat decor, we hope the ideas-as above are beneficial for you. Happy decorating!