Druhomes.com – A Walk-in closet is another type of wardrobe to save your clothes, bags, and shoes. If you ever see a large beautiful walk-in closet design on the internet, you might wonder how to design an attractive closet. Even arranging some wardrobes against the wall is a common design for a bedroom's wardrobe. By using the right design and concept, you can create a pleasant look and atmosphere in your bedroom. In addition, you can also use a walk-in closet design according to your expression and character. Therefore, we will give you some ideas of interesting walk-in closet design ideas. The design of wardrobes in a bedroom should adjust the need for storage. It depends on how many clothes that you want to save in a wardrobe. Here, we have some ideas for a walk-in closet to install in your bedroom. Let's discuss them one by one!
A Simple Walk-in Closet Design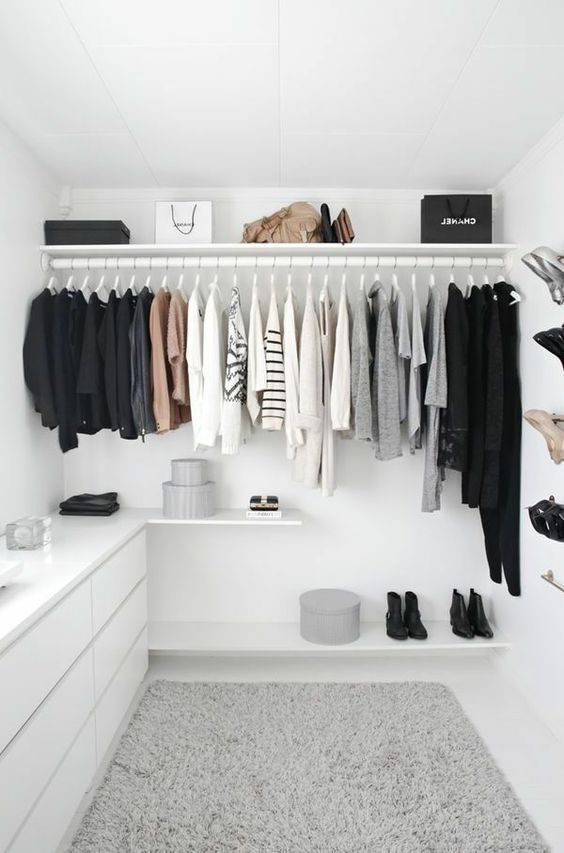 Designing a simple walk-in closet makes your bedroom looks neat. It has an aesthetic design to decorate your bedroom. It is functional furniture to install in your room. You can move the clothes by hanging them in the open wardrobe. Add some floating shelves to save your shoes, hats, bags, and other items. To strengthen the simple design, use white paint to cover all the walls.
Installing More Rooms for Your Clothes and Stuff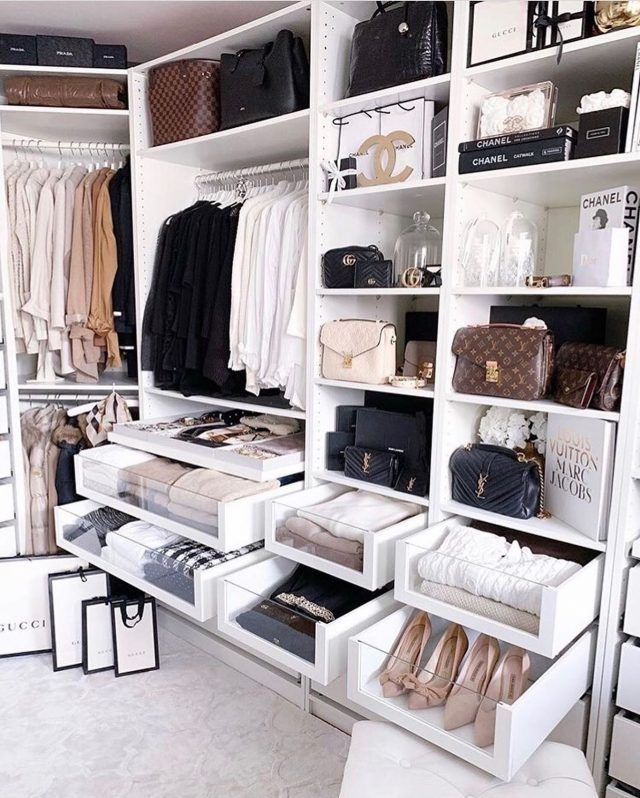 A pull-out wardrobe is interesting. You can have more storage to save various types of clothes. This design is easier to organize your small clothes like underwear, shoelaces, hand gloves, and tie. Even you can save the skirts, pants, and jeans. You can classify more items for each storage. The drawer makes it easy to take when you need the item. Thus, you will get a neat wardrobe even though you have many clothes.
An Interesting Design for A Small Room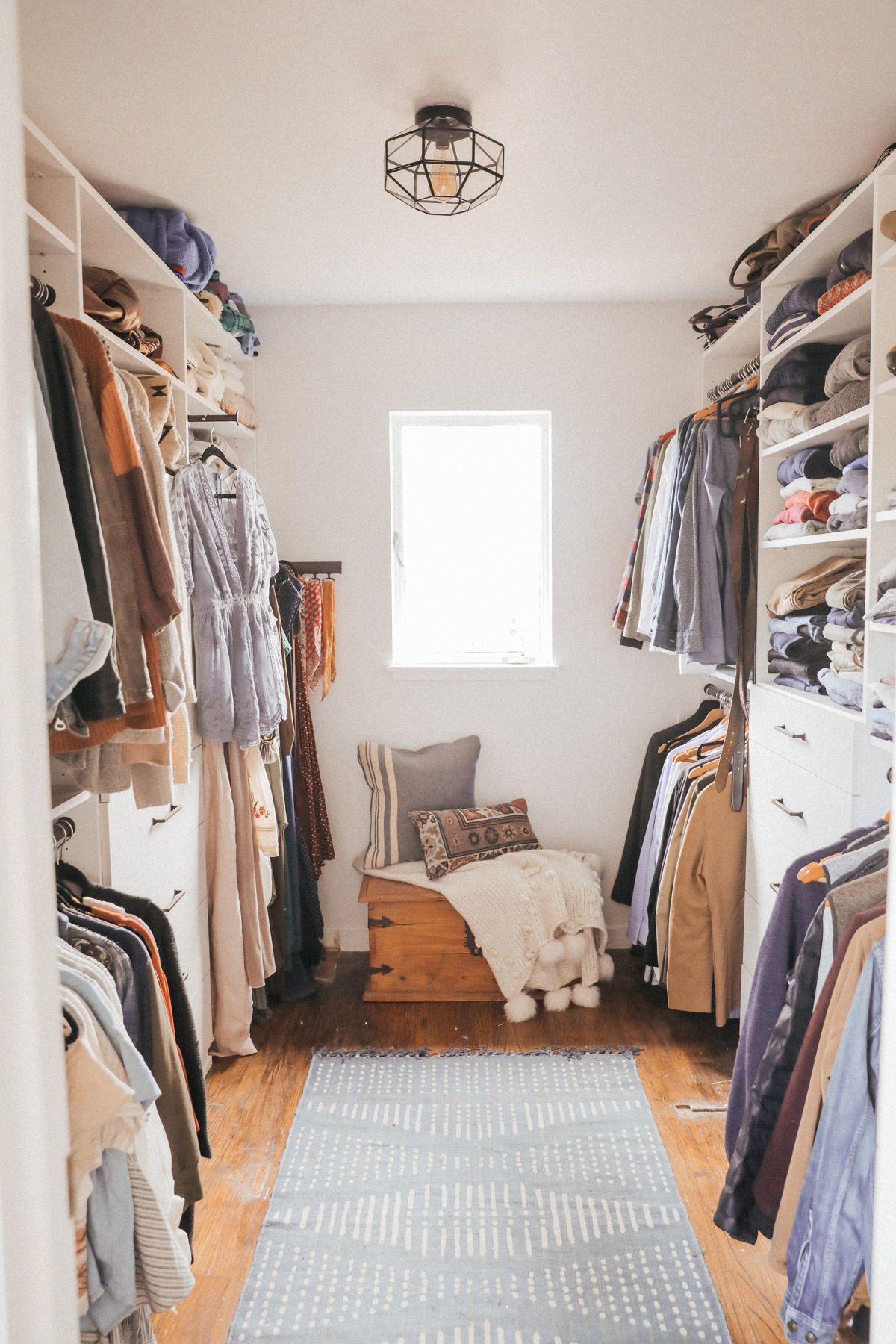 Living in a small room is not a disaster. You can use this small space to arrange all your clothes. It offers a new layout by arranging the hanging clothes, shoe rack, bags, and other small stuff inside the drawers. It gives a simple room and a neat design. Since this is a small room, it is better to use white color for the walls and storage. Hang your clothes and save them in storage based on the classification. The colorful clothes create attractive accents to the white room.
Design A Corner Walk-in Closet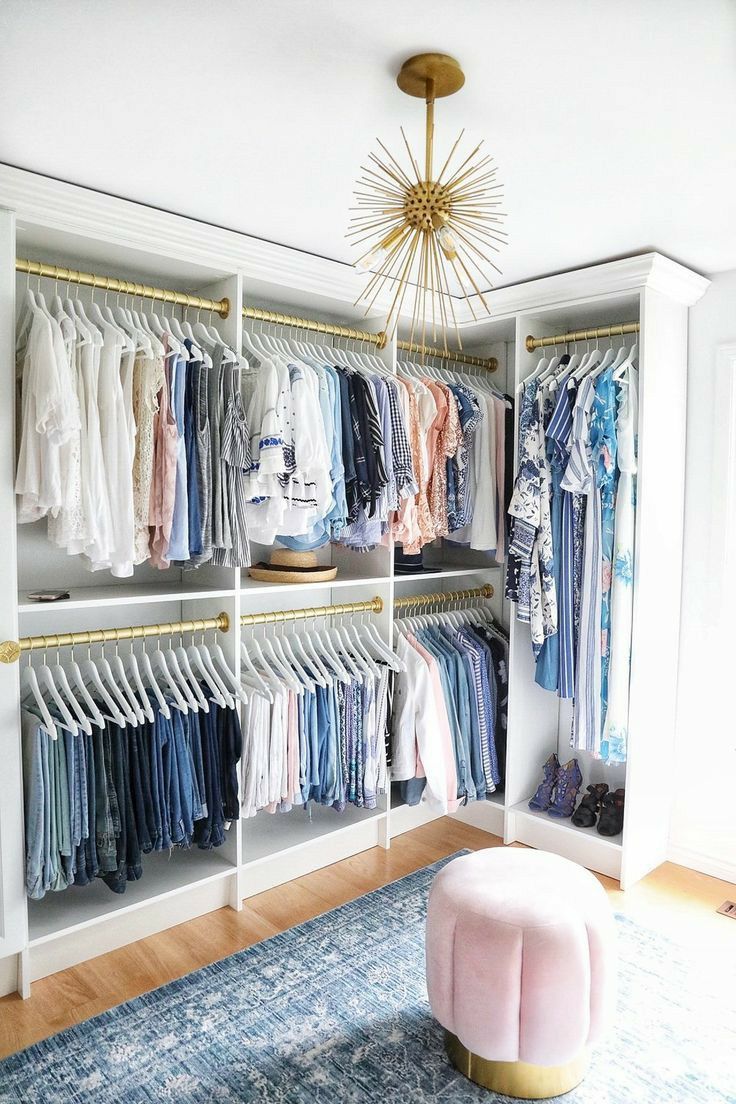 If you want to have a special wardrobe to save many clothes, you can create a walk-in closet in your bedroom. This wardrobe adjusts any bedroom. Even the corner space looks nice to be the walk-in closet. Since this design is to simplify the layout, you can hang all clothes to save more space. The hanging clothes keep them look neat and attractive. It gives easy access for you to choose the clothes in your wardrobe.
More Drawers for Various Types of Clothes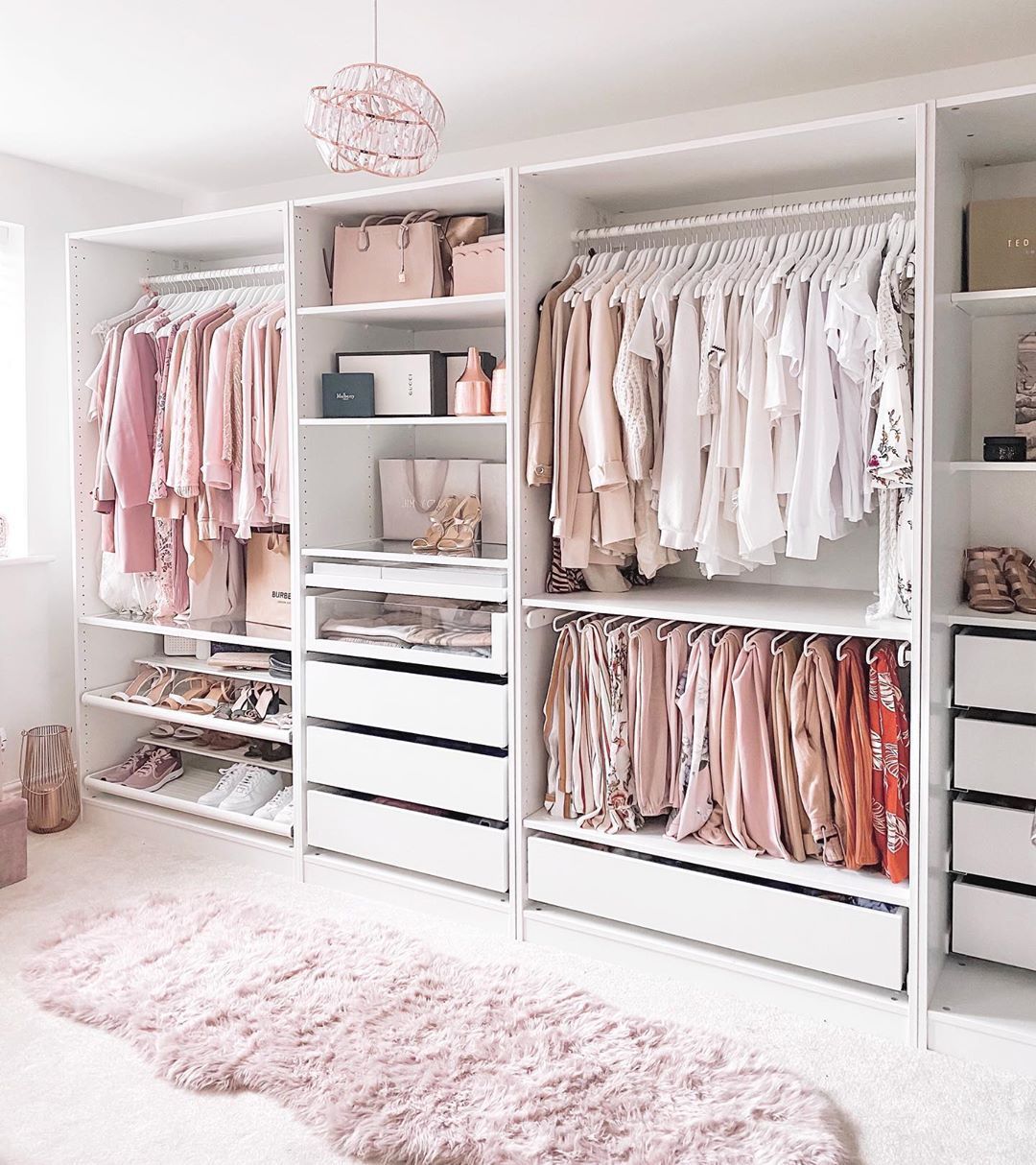 Classifying the clothes in every storage is a practical way to keep your wardrobe neat. It looks attractive to arrange your clothes in the storage for each type. Having more drawers in your wardrobe is beneficial to classify them based on their function, colors, models, and size. So, it is easy to take them out whenever you need them in a rush.
Luxurious Design for Walk-in Closet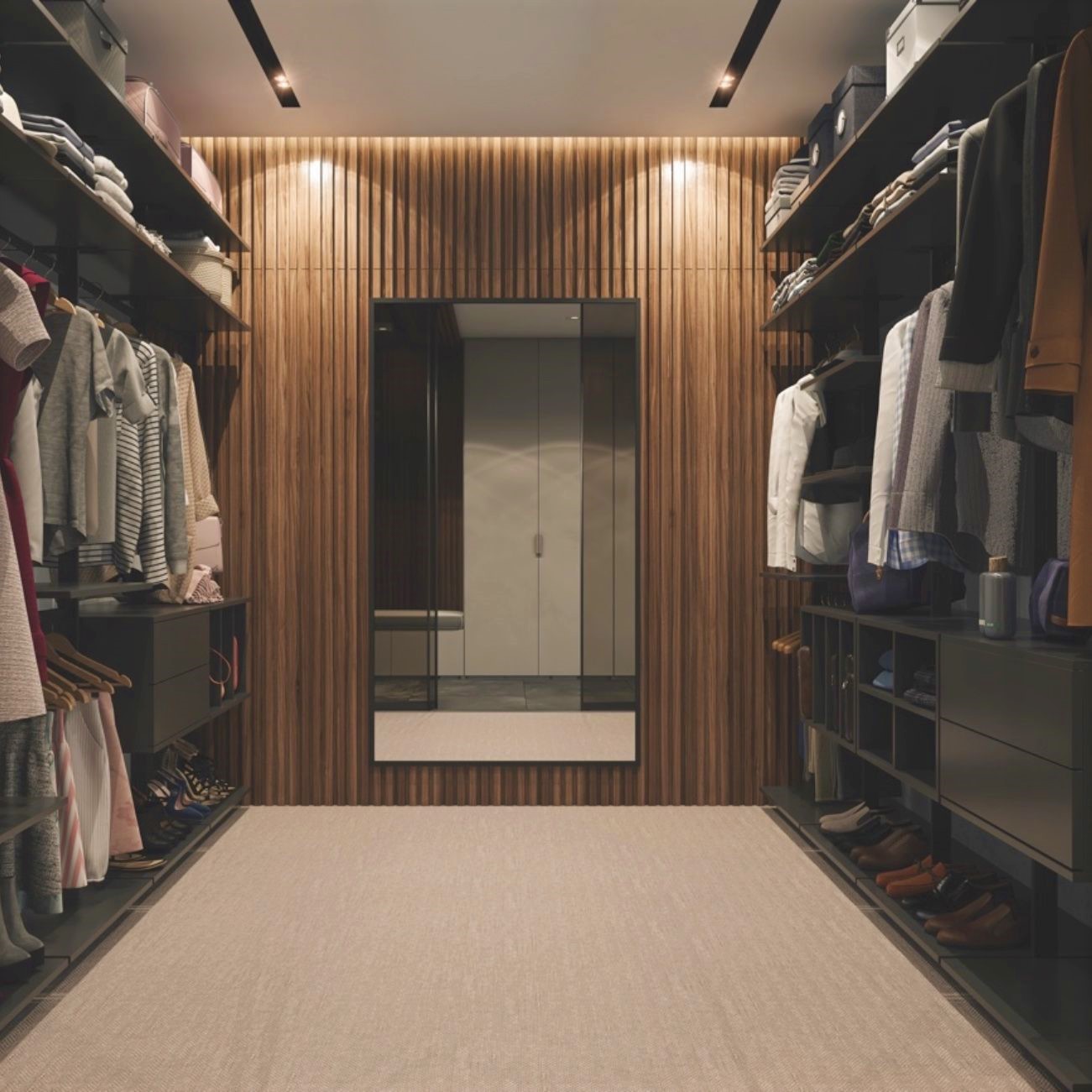 A luxurious walk-in closet depends on the design and material to make your wardrobe looks luxurious. To make a luxury wardrobe, you can pick one room to save the collection of clothes, bags, and shoes. Moreover, use the glossy furniture to create an elegant impression. The storage with black glossy surfaces is the best choice to make it stunning. Install two ceiling lamps with dim yellow light for a dramatic atmosphere.
A Neat Layout to Organize Your Clothes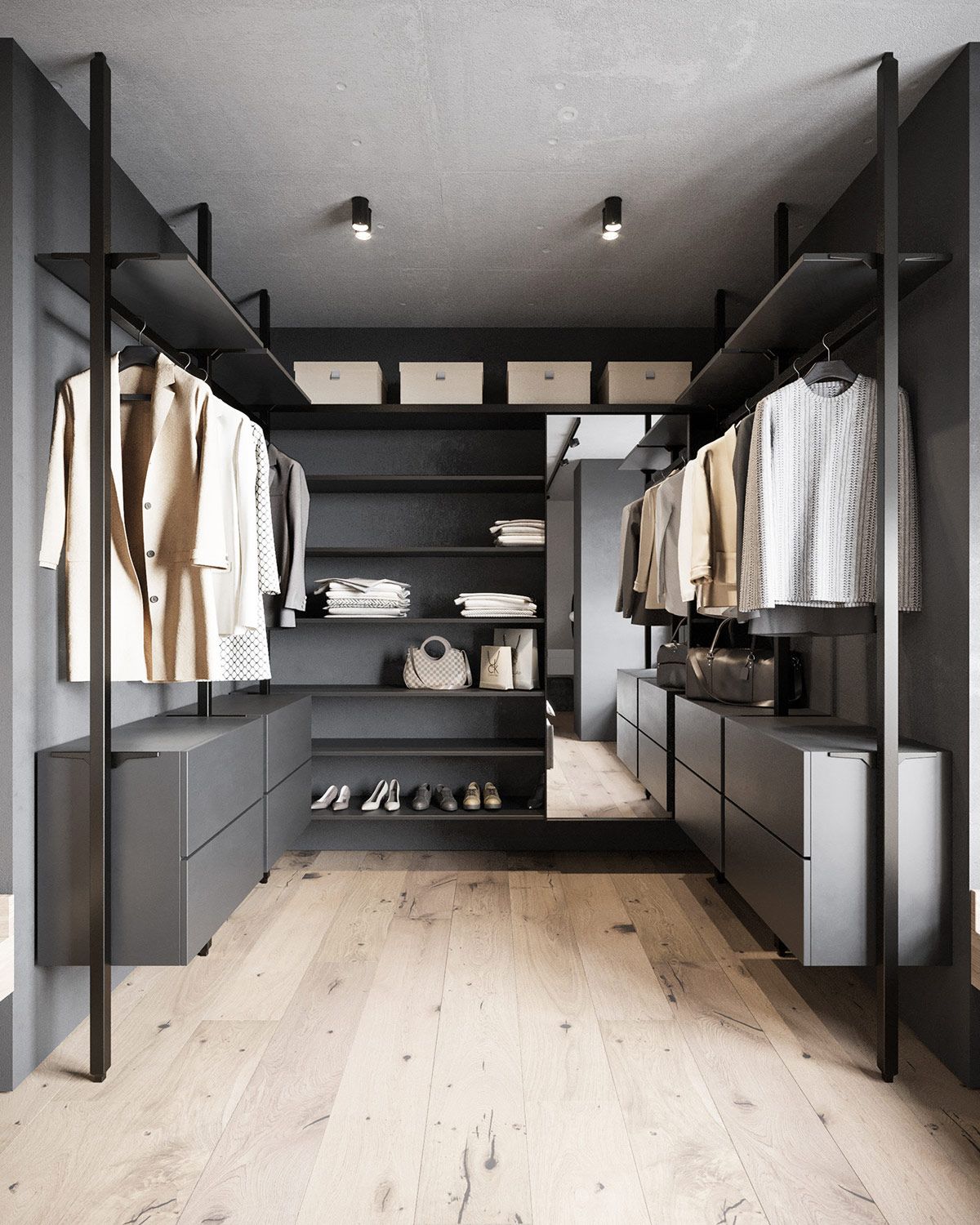 Do a neat arrangement for your clothes is important to declutter the messy look. It is also beneficial for easy access to take your clothes. Organize your clothes by classifying the items for each storage. You can hang the blouse and coat to keep them neat. It makes your wardrobe looks neat. Even you can use a sliding door with a mirror to make it simple and spacious. Grey and beige color is a nice choice for this design. Add some spotlights for an elegant impression. You can apply this design to a minimalist home interior.
Design a Private Walk-in Closet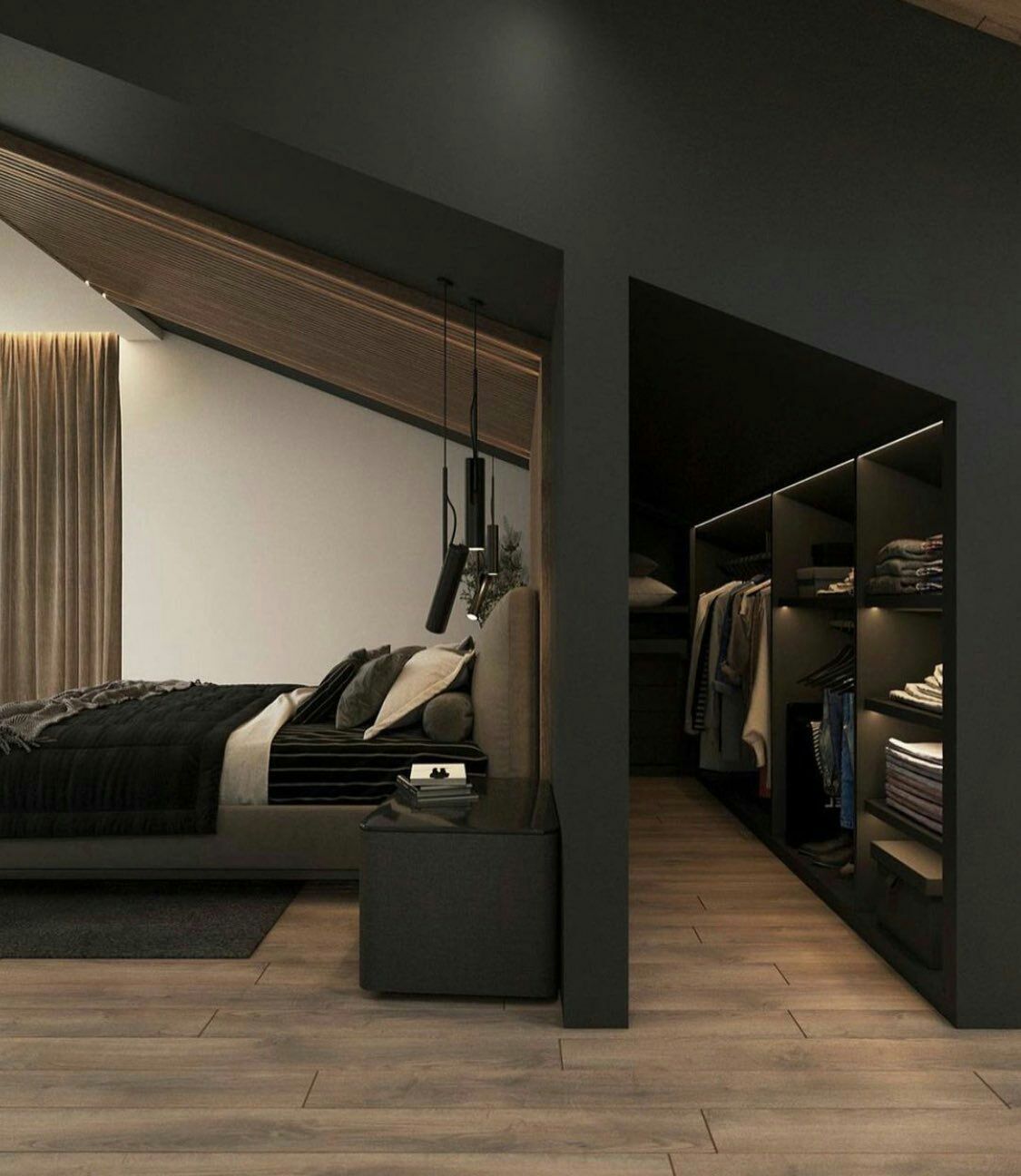 Some people have room to change their clothes. It is a room for the walk-in closet. This room has some storage or wardrobe to keep the clothes neat and clean. You can design a special room for the walk-in closet. This room offers privacy to save all collections. It is better to have the clothes' room adjacent to your bedroom. The distance makes it easy to arrange and change clothes without making your bedroom looks cluttered.
Walk-in Closet as A Partition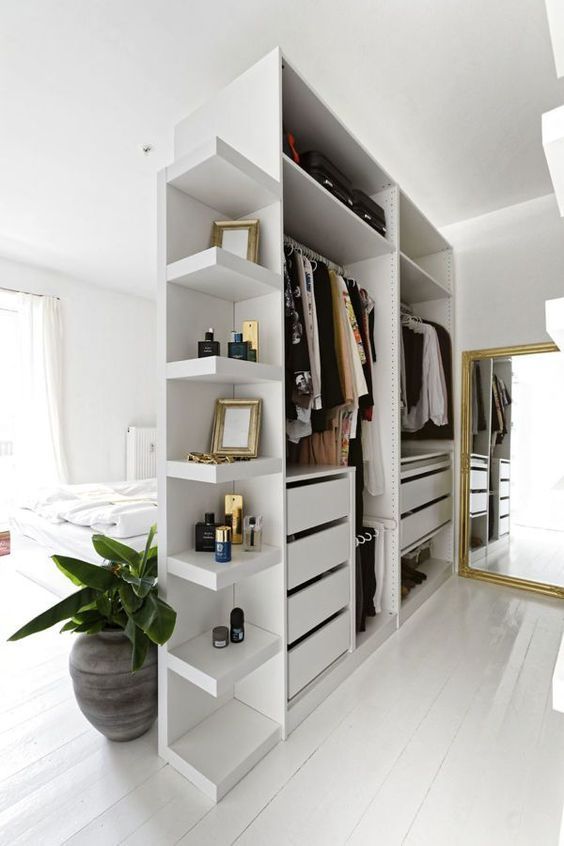 Living in a small house dares you to optimize the space and furniture. You can use a partition to make a wardrobe. Since the partition has two faces, you can use another side to create a wardrobe while the second side is to save your books. This partition will separate your bedroom and create a semi-permanent room for a walk-in closet. You can decorate it with a wall mirror, frame, perfume, deodorant, and other stuff that you use before going outside.
Walk-in Closet with Curtain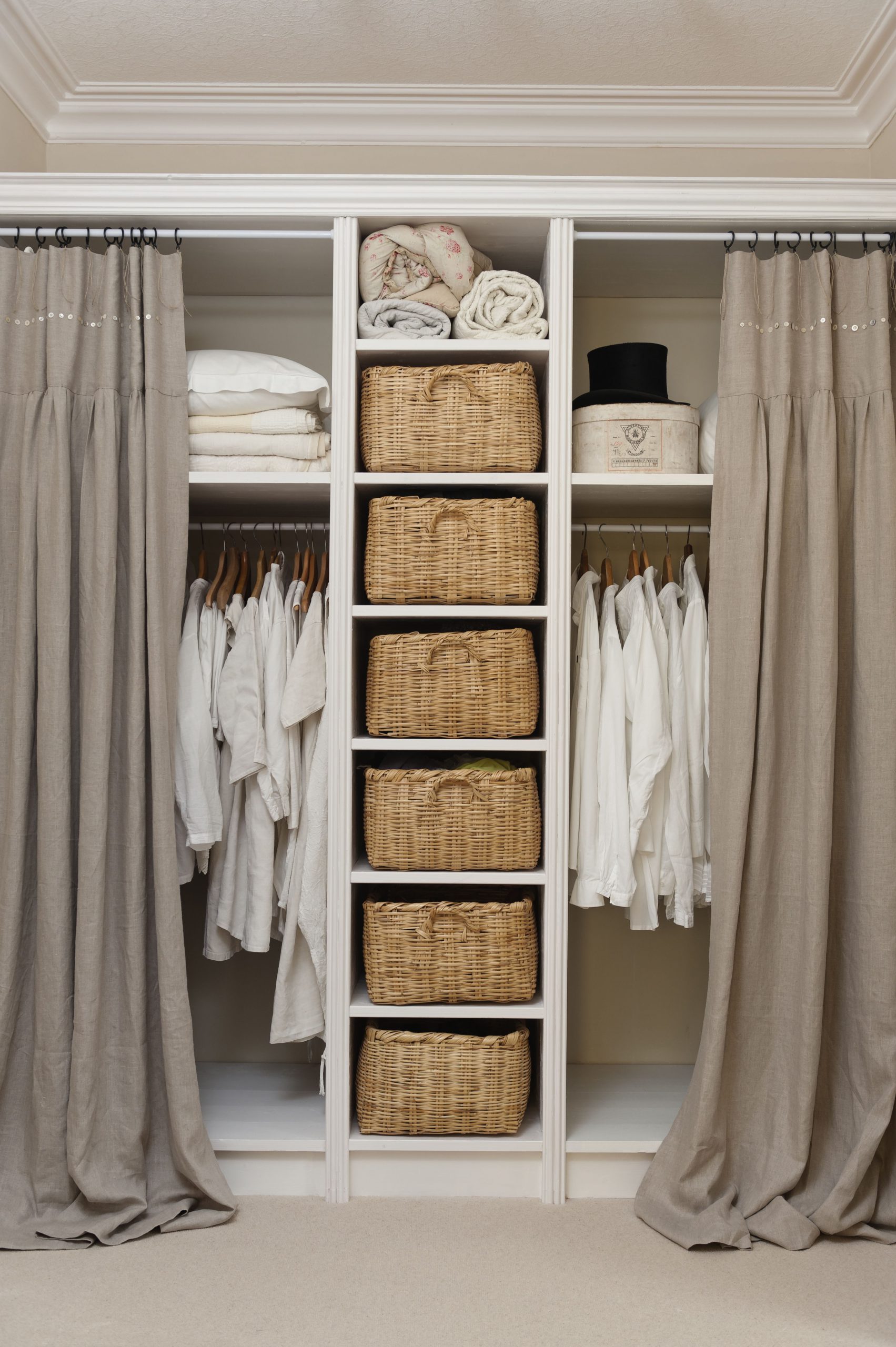 A curtain is a beneficial thing to install in the window. It is a simple decoration to transform the room layout. You can use curtains to cover your wardrobe. Even for the walk-in closet, the curtain looks attractive to hide the wardrobe. The walk-in closet looks stunning if the curtain has a catchy color to the room's color. If your bedroom has a white color, you can use a soft brown curtain.
Thus our discussion about Interesting Walk-in Closet Ideas to Install in Your Bedroom. The wardrobe in a bedroom has many designs to adjust the room. It depends on the room size, color, and impression to build in the bedroom. The walk-in closet is an interesting design for the wardrobe in your bedroom. You can arrange all clothes in some storage, make a neat design, and draw a plan to organize the clothes. If you want to make a walk-in closet, the ideas above are helpful for you to plan an attractive design. Happy decorating!