Druhomes.com – A concrete wall is an attractive decor for interior design, especially in a living room. The concrete wall has an industrial vibe and brings an elegant impression to the room. If you ever see an elegant room, but the wall shows off the concrete surface, then it is an industrial wall style. Some people like to let their exposed walls with a concrete look. It strengthens the Industrial ambiance and brings a different nuance to the layout in the living room. It is also a simple choice to save money rather than paint the wall with a certain color.
If you want to see the look of a concrete wall, there are lists of Industrial concrete walls for the living room. The concrete wall is a popular interior design in every decade. This concrete wall looks amazing for any room size, classic design and easy to combine with earthy tone accents. Here, some ideas for an Industrial concrete walls in a living room. Let's discuss!
Concrete Wall and A Leather Sofa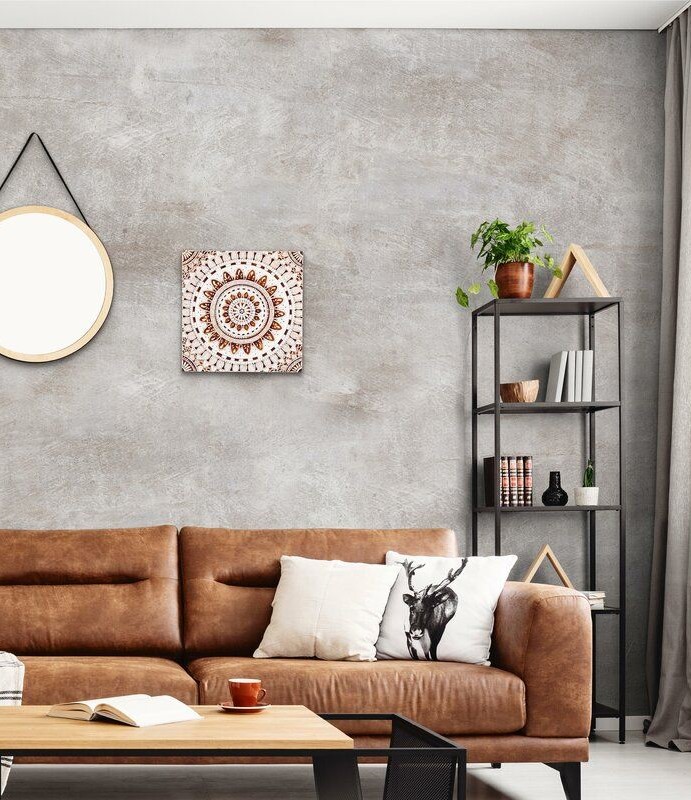 Design a concrete finishing for the wall in your living room is not the wrong choice. Even in the real look, a concrete wall makes your room looks classic. It arouses the classic ambiance of the contemporary era. A leather sofa is a classic item to pair with a concrete wall beautifully. It looks stunning to blend with neutral palette accents in the room. Other earthy tone colors are catchy to put near the concrete wall.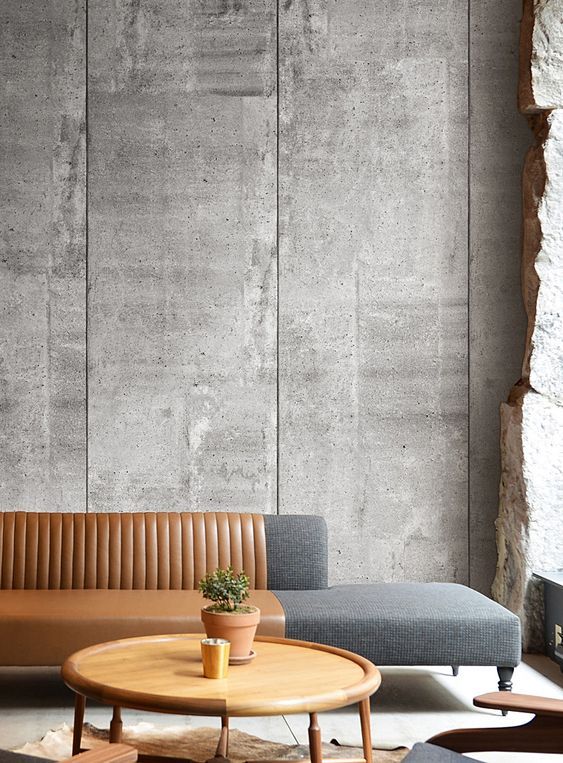 An elegant leather sofa with a different upholstery can bring a strange look to your living room. The gray upholstery from microfiber is easy to clean. It creates a strict transition of two different eras from the Classic to Modern style. The industrial concrete wall looks aesthetic to get more natural accents such as a wooden coffee table, animal leather rug, and stone wall accents. This living room has some accents, but t is fine to let the wall bare without any ornaments.
Draw an Industrial Concrete Wall Near the White Ceiling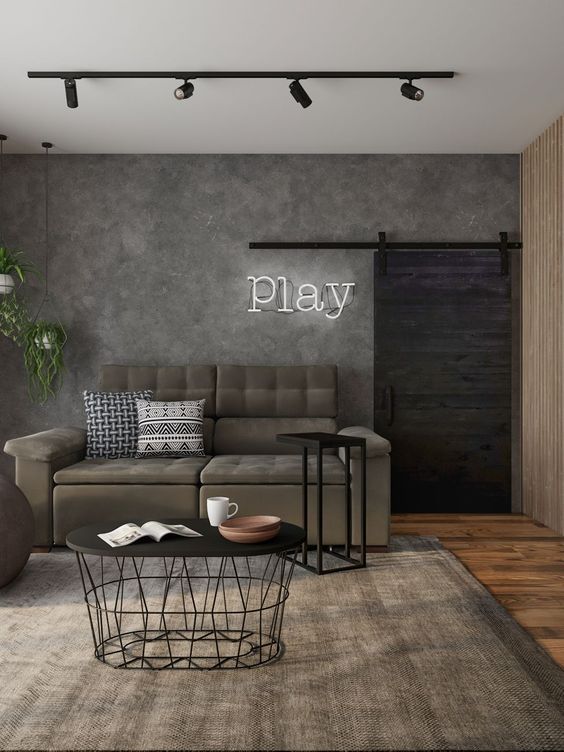 Considering the colors in a living room is important to build a certain impression. The white color has a clean and calm impression. Then you can pair it with a concrete wall. The concrete wall has a natural gray color that looks clear to enliven an elegant ambiance. Add more dark accents to the white ceiling by installing some spotlights. The concrete wall will reflect the lights and warm the atmosphere.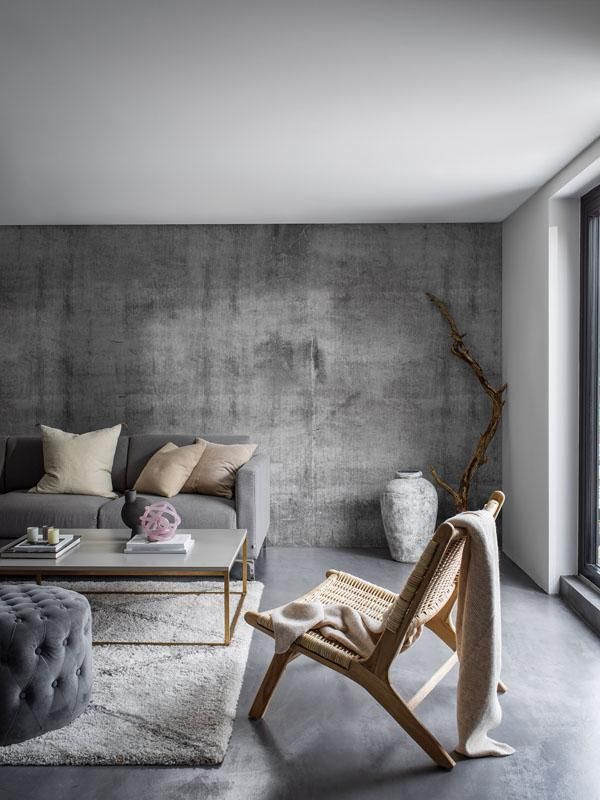 It is interesting to have one sidewall with a concrete look. Even though that wall is not the real look of concrete, but you can cover it by using tiles with concrete patterns or concrete wall paint. Your living room looks clean and neat. It has a good proportion between gray and white colors. Pick up more colors of nature by arranging the wicker chairs and gray sofas. Thus, your living room is more than Industrial design.
Decorate The Concrete Wall with Some Furniture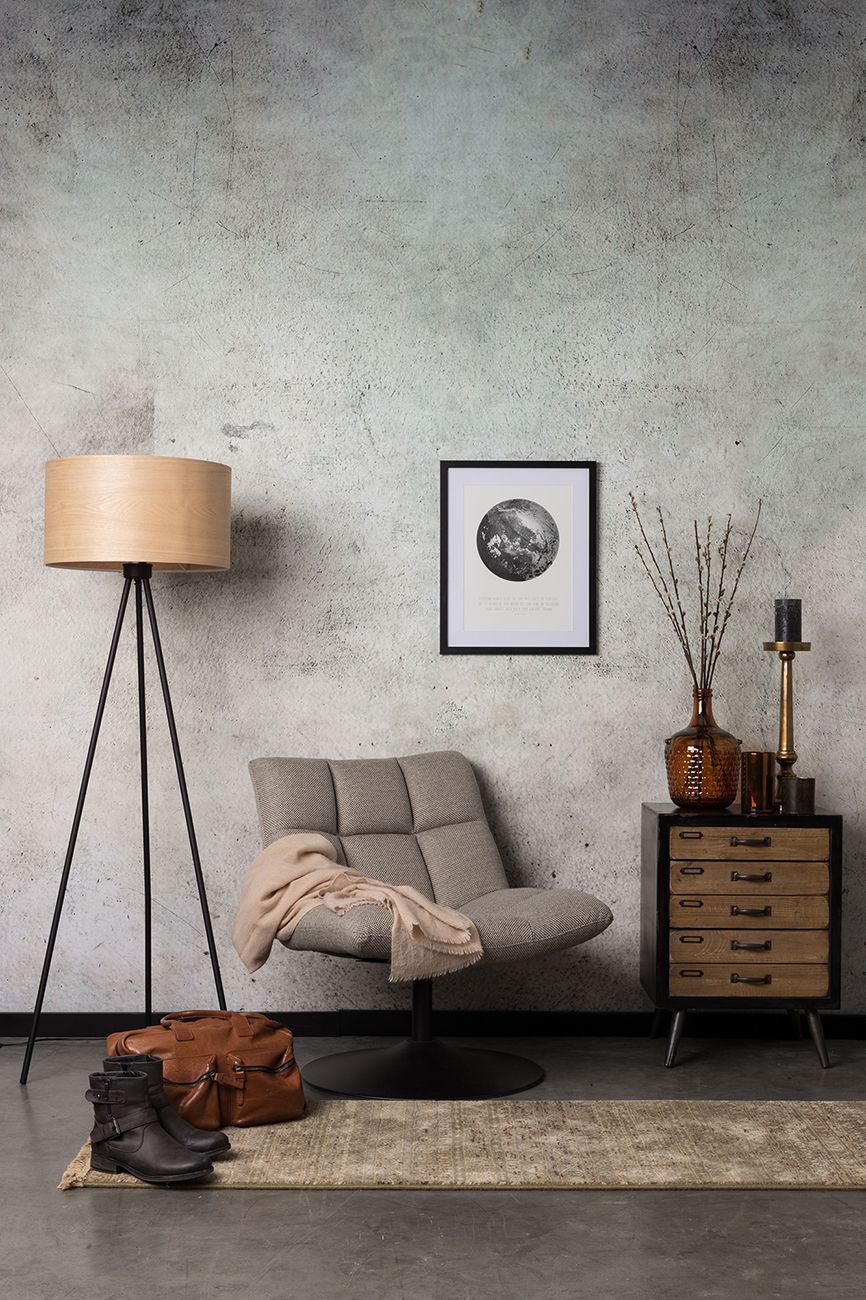 Arranging some furniture against the wall is the common layout you can find in a living room. It is a simple layout to arrange furniture and give spaces to the foot traffic. Sometimes, it needs good planning, such as considering the furniture size, function, and appearance. Arrange your sofas or chairs against the wall. Maybe it looks classic, but quite simple to manage the space.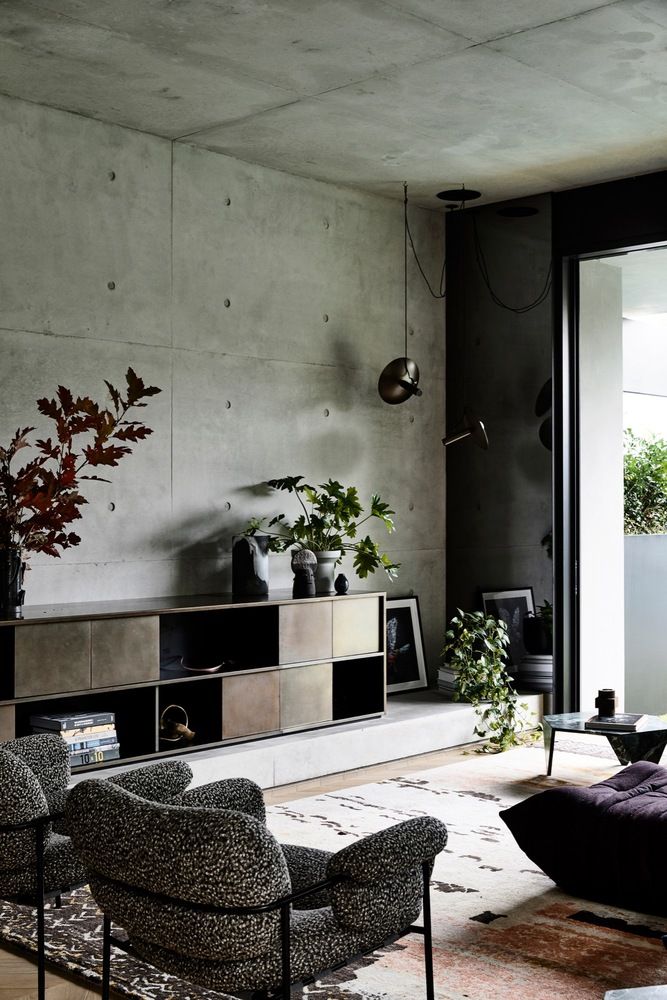 Usually, people have storage against the wall in their living room. Put a small cabinet with black and brown colors will draw an aesthetic look in your room. You can display some ornamental plants to give greenery accents. The green leaves look impressive to put near the concrete wall. You can have several photographs on the cabinet that are catchy to decorate your concrete wall.
Create a Dramatic Look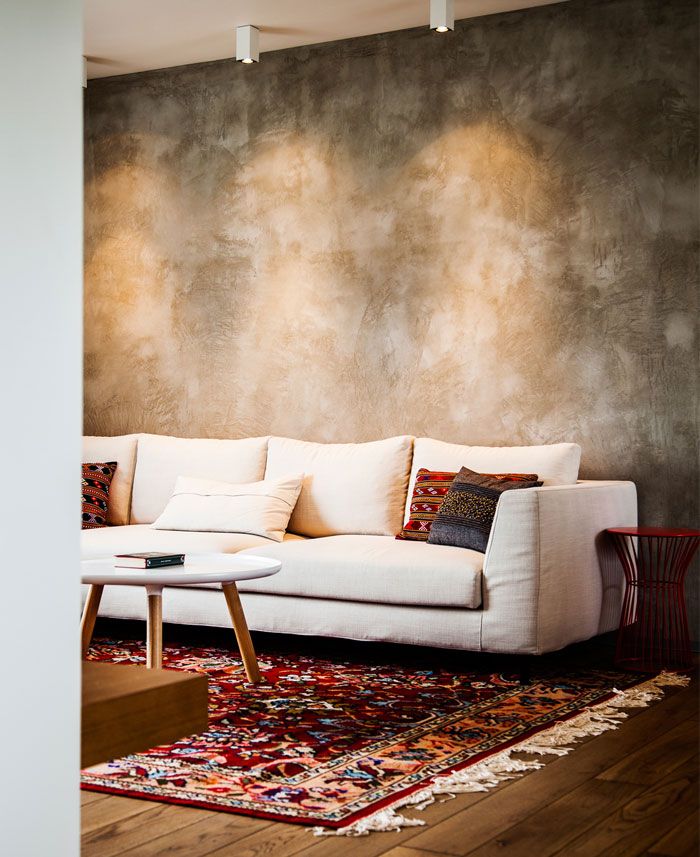 The gray concrete wall looks interesting and gives you space to explore the decoration. Take it as a clean canvas. You can give some colors on the wall. Don't use the paint but the aesthetic spotlights. These lights have a dramatic ambiance to enlighten the concrete wall. The gray concrete wall has a perfect color to bring the natural gray shadow to the wall. It emerges an interesting impression in your living room.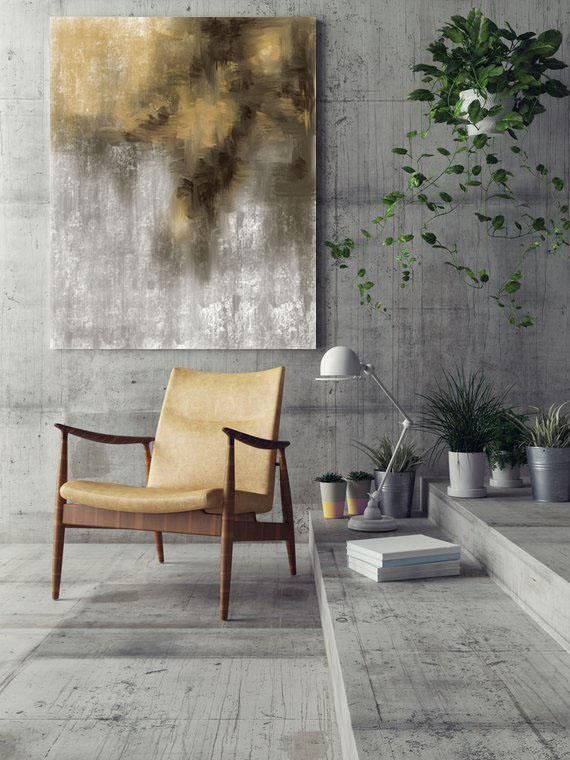 Besides, you can create a dramatic nuance by installing an aesthetic painting. The absurd painting contains some dramatic colors. It reflects the impression that you try to build in your living room. Pick up the gray concrete color to use in the painting. Moreover, pay attention to the texture of your concrete wall. If it has some patterns, you can custom a painting to show the same line.
The Aesthetic Effects on The Concrete Wall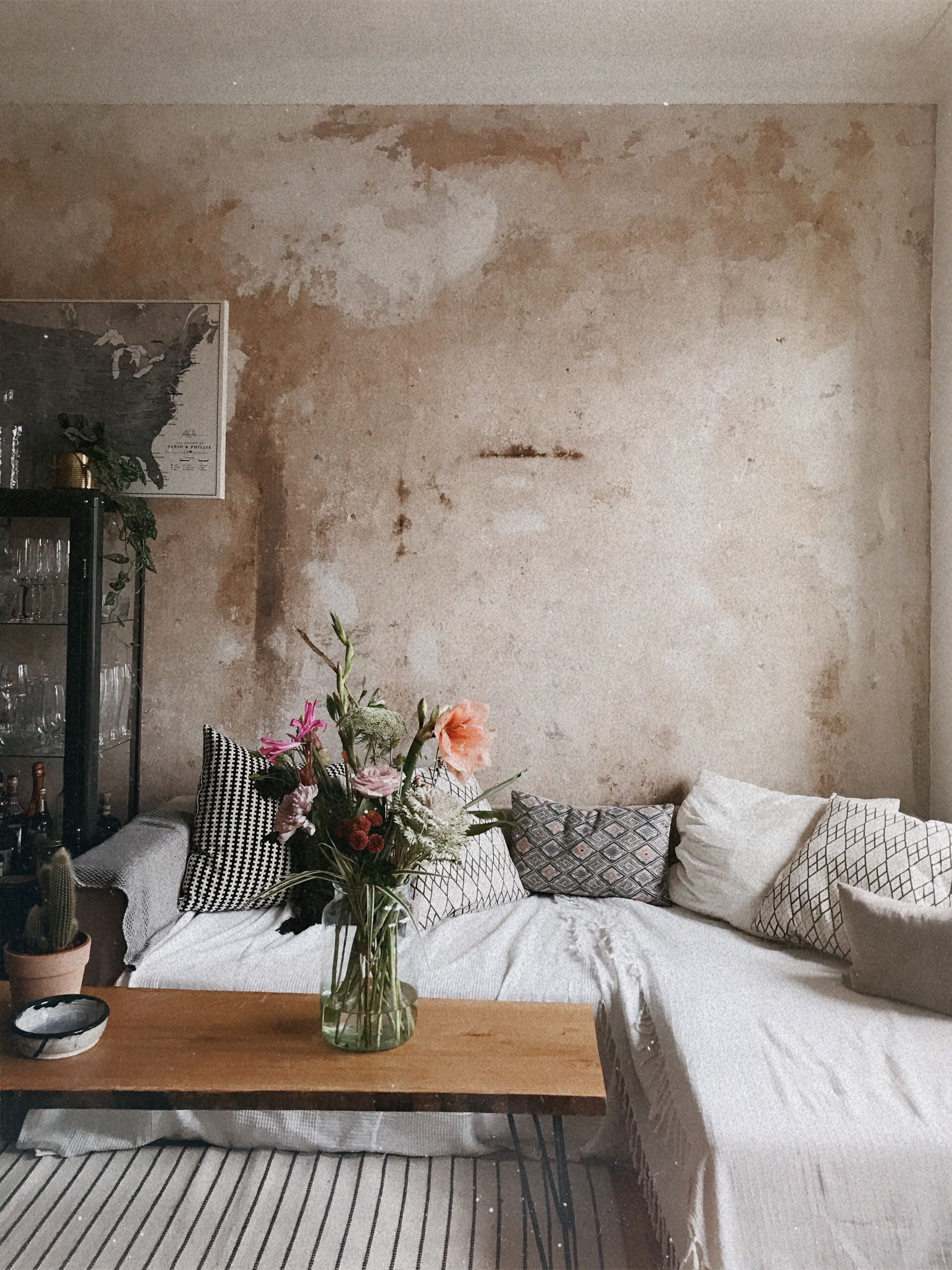 Some people like to get a unique design in their living room. Maybe you ever see an Industrial concrete wall in an old design. The design of concrete walls with brown and dark spots, even the scratches are everywhere, still looks stunning. This design is interesting to apply in your modern living room. Even though the wall looks old, but it is nice to combine it with bright furniture.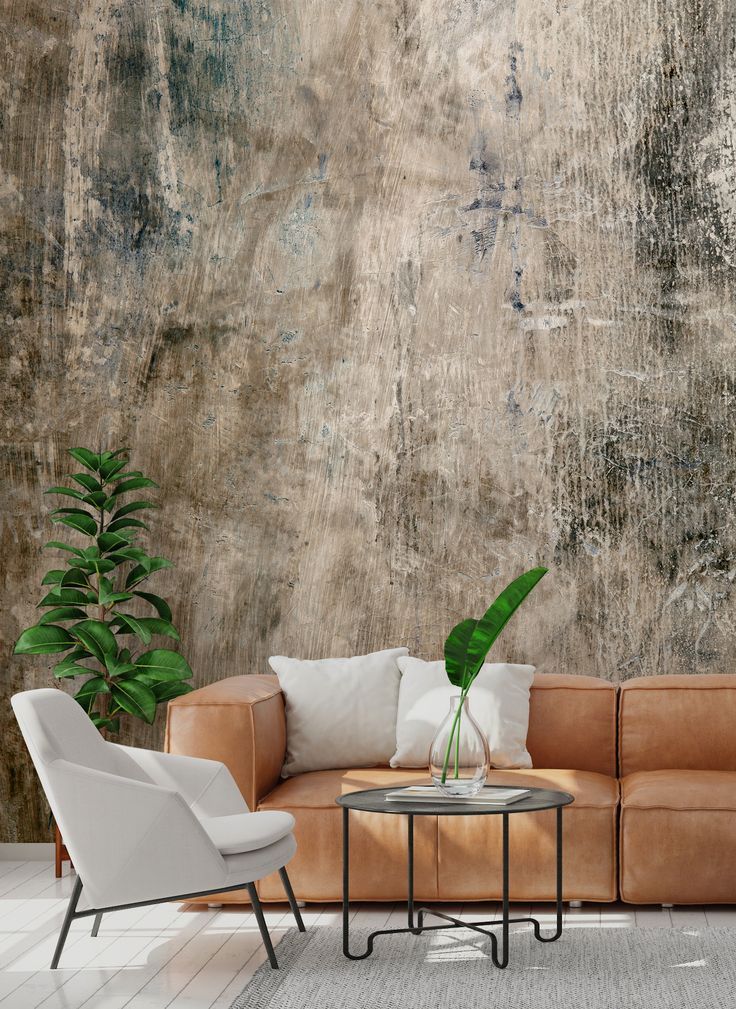 You can ask an expert wall painter and custom to paint the concrete wall as such. To emerge an Industrial accent, arrange some leather sofas against the wall. Put a black coffee table and a single white seat. This furniture creates a different look in your living room. The leather sofa completes the aesthetic concrete wall.
Thus our discussion about Stunning Decoration of Industrial Concrete Walls for Living Room. The concrete wall becomes a nice option to create an Industrial accent. It brings an elegant look and easy to combine with other furniture. Designing an interesting living room with an Industrial concrete wall is not difficult. You can create the layout by arranging furniture against the wall, displaying few wall decorations, and growing indoor ornamental plants. By designing your concrete wall, we hope you get a stunning Industrial living room. Happy decorating!