Druhomes.com– Some houses in an urban area have limited space for each room, especially the bedroom. Even though it has a small space, but it is the most comfortable room to take a rest at home. The small bedroom should adjust the space to get an interesting design. Some elements that they need to consider from the room's size, furniture, and wall paint are important to put in the first lists. We will show several designs of small bedroom interior, especially in 3x4m room size. For that, let's discuss 10 Amazing Decoration Ideas for Small Bedroom Interior Design!
Three Things to Consider in A Small Bedroom
You can create a small bedroom that is comfortable and beautiful for you to use every day. There are several things that are important for you to pay attention to and determine. Therefore, here are three important things for you to consider in creating a small bedroom. Pay close attention to the three things that we will discuss so that the interior of your small bedroom is more comfortable and beautiful for all your activities and your daily mobility.
The size of a bedroom determines the decoration that you want to apply to this room. You need to note the width, length, and height of the room. The width and length are important to know the bed type to put in your bedroom, while the height is useful to manage the air circulation in the room, whether you need to install a ceiling fan, install AC, or just open the window. Moreover, you can draw the design of your bedroom on a canvas. Make some notes on the room's size and where you want to put the furniture.
Relate to the previous point. You should consider the furniture that you want to put in your bedroom. Determining the furniture is about choosing furniture that you need the most, so don't put unnecessary things because it makes your small room narrower. Install wall storage with many rooms are useful to save some items and make your bedroom looks neat.
Decorate a small bedroom need to use bright wall paint. You can use white, sky blue, soft green, and soft yellow paint to get a spacious impression. It is a little bit tricky to choose the wall paint for a small bedroom. To make it more alive, you can pick up some accents in your bedroom in the same tone colors.
Amazing Decoration Ideas for Small Bedroom
A small bedroom requires a nice design to make it looks spacious and comfortable. You can determine the interior design, decorations, and furniture that you use in the interior of your bedroom. With the right concept and combination, you can create a comfortable and beautiful small bedroom interior for your daily use. In addition, your bedroom will also be a fun place for all your activities. Here, several ideas for a small bedroom to get an amazing design. Let's discuss!
Interesting Backsplash in The Wooden Furniture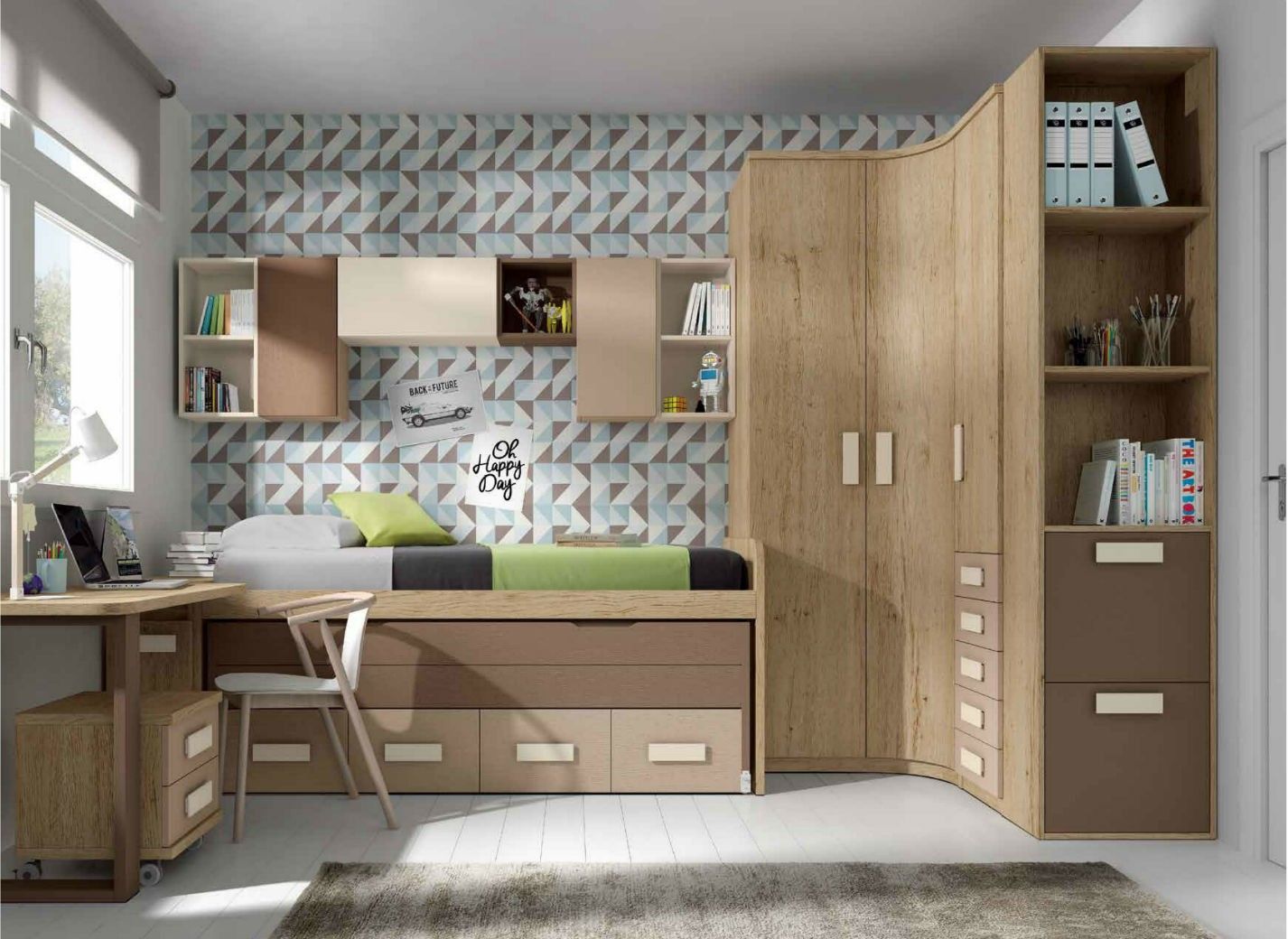 If you get bored in a small bedroom, you can add an interesting backsplash. Choose the striking accents on the wall and create a different look on the wall. Add an interesting backsplash on the wall that you will often see when doing daily activities in a bedroom. The backsplash looks more stunning if it has a colorful pattern. The color of the backsplash will blend with the neutral theme in a bedroom.
Japandi Design for A Spacious Look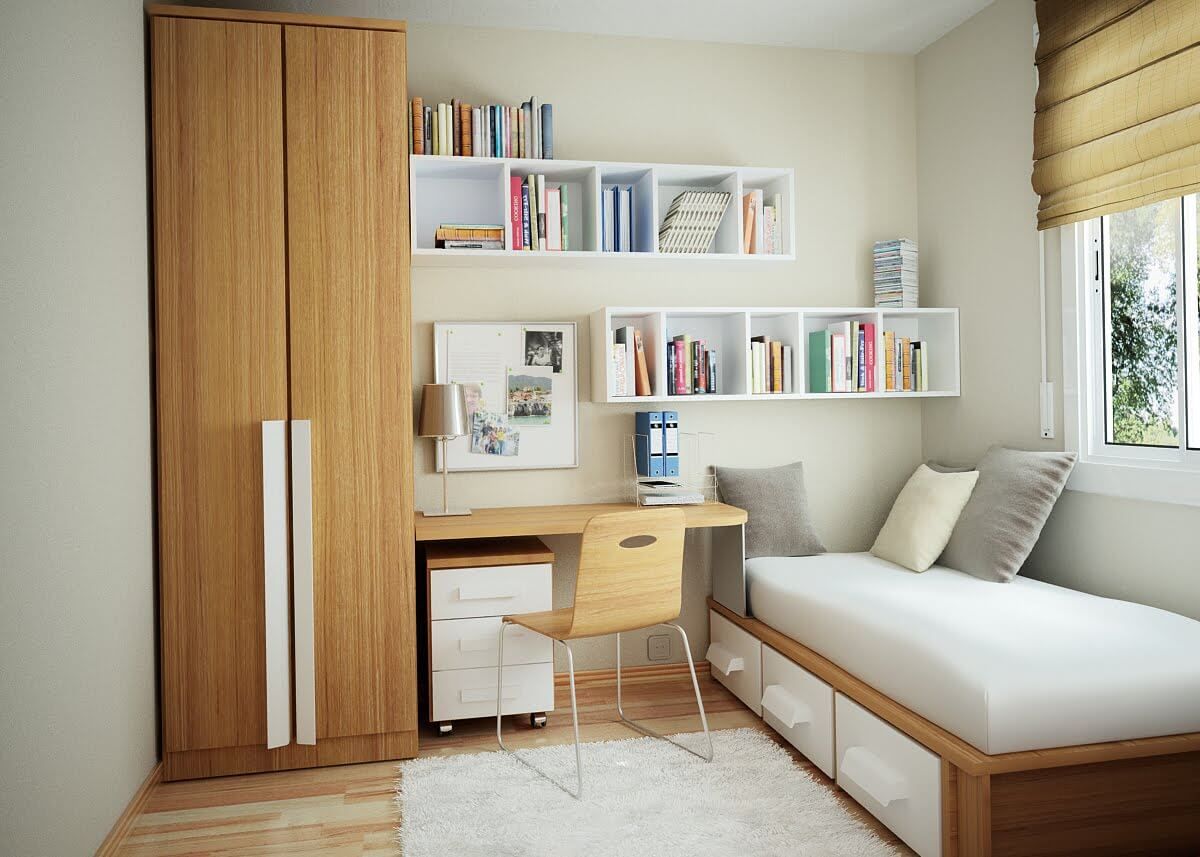 Most Japandi interior designs use a neutral color. This design has a spacious impression and makes the room looks calm. The dominant accents in Japandi design are wooden accents with soft brown colors. It shows off the natural patterns of woods. The white color is the right choice to pair with Japandi wooden accents. Thus, this design is doing well to decorate a small bedroom. Pick another soft color, such as beige and white cream.
Optimize The Wall Storage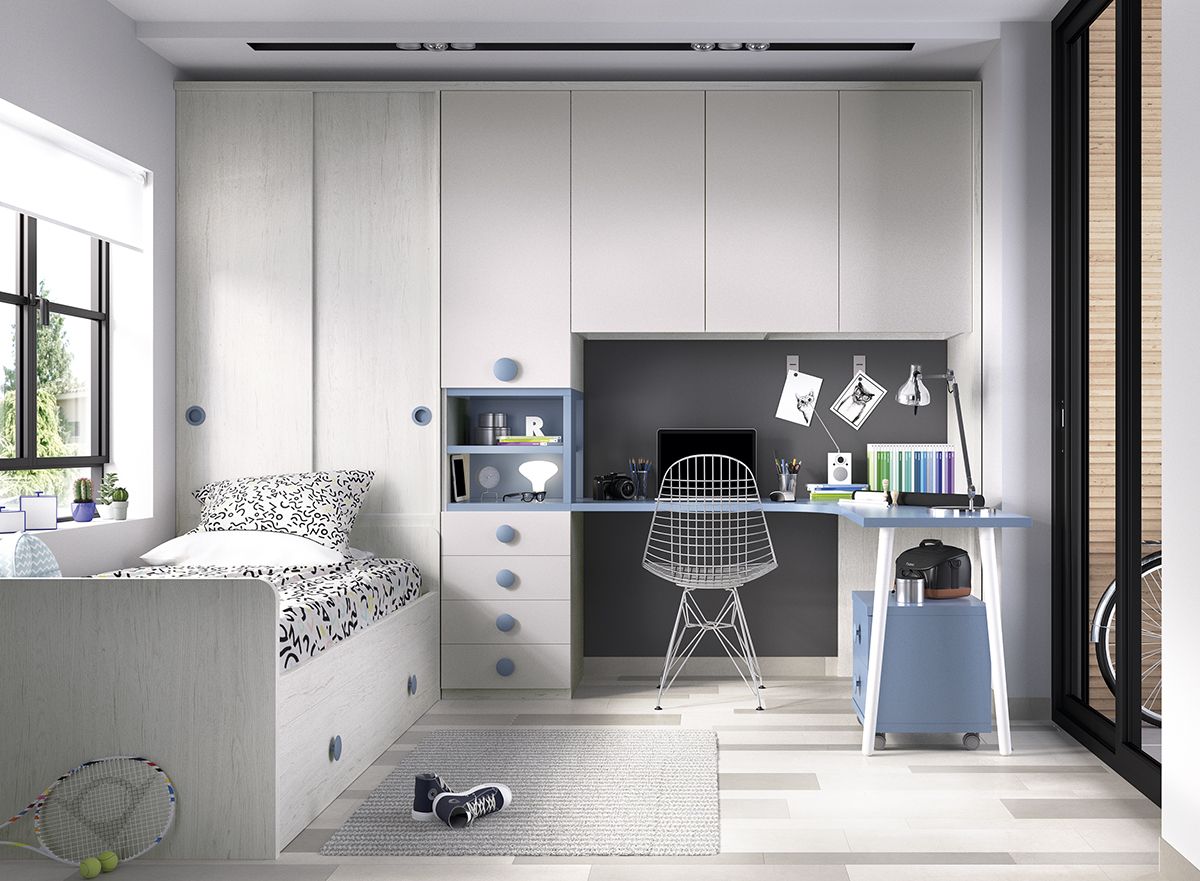 The key to making a small bedroom looks neat is arranging the things in storage. Even though your bedroom is small, but it is possible to install wall storage. The wall storage has an efficient space on the wall to install some shelves. You can add mounted storage on the workspace and wall wardrobe as the headboard. Make use of a wall that will not consume lots of space in your bedroom. This storage still gives the foot traffic for you.
Bright Room with A Neat Organizing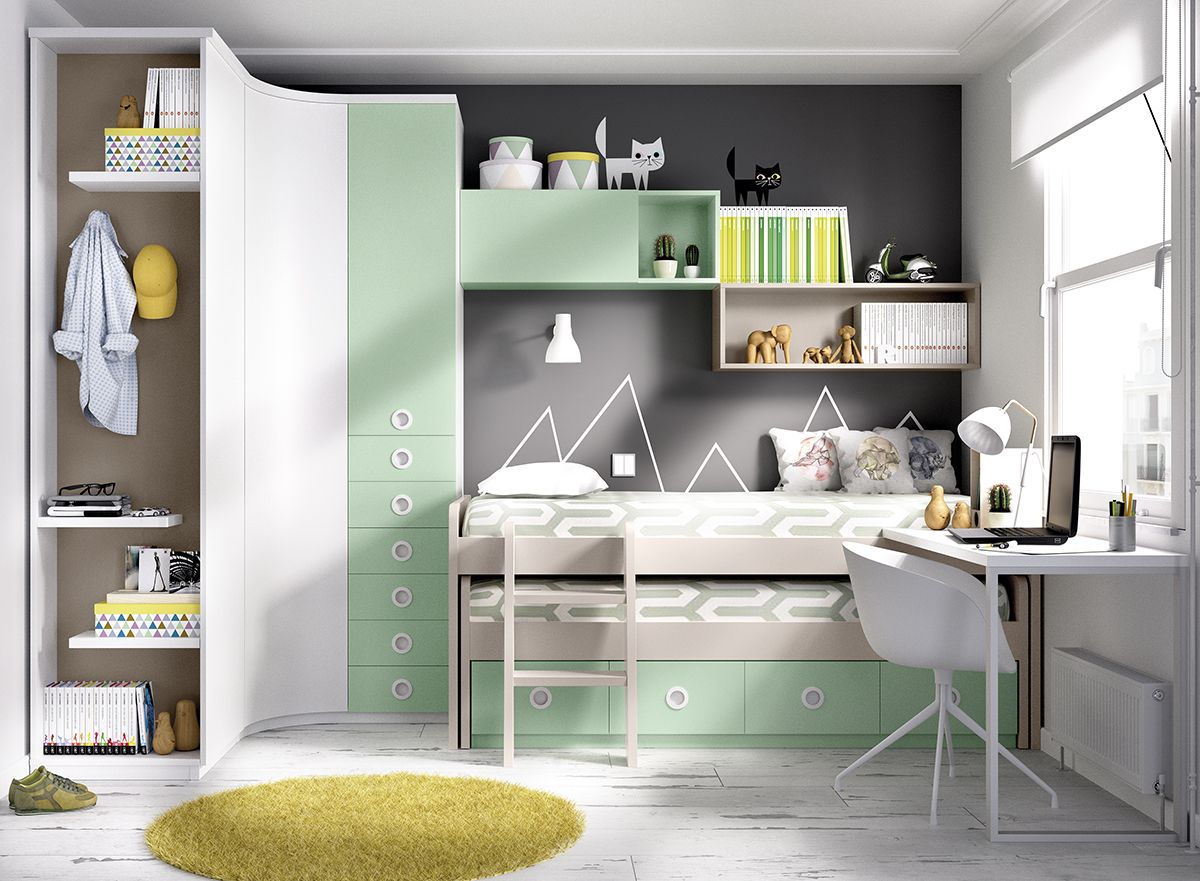 The neat organizing can relate to the storage in a small bedroom. A small bedroom requires neat organizing for all items in one room. It challenges you to be more clever in a small bedroom. Even you can arrange the small items n the doorless storage. You can show off these things as attractive ornaments. The neat organizing in a small bedroom is more stunning if you pay attention to arrange the contrasting accents against the wall.
Gray Bedroom and Yellow Accents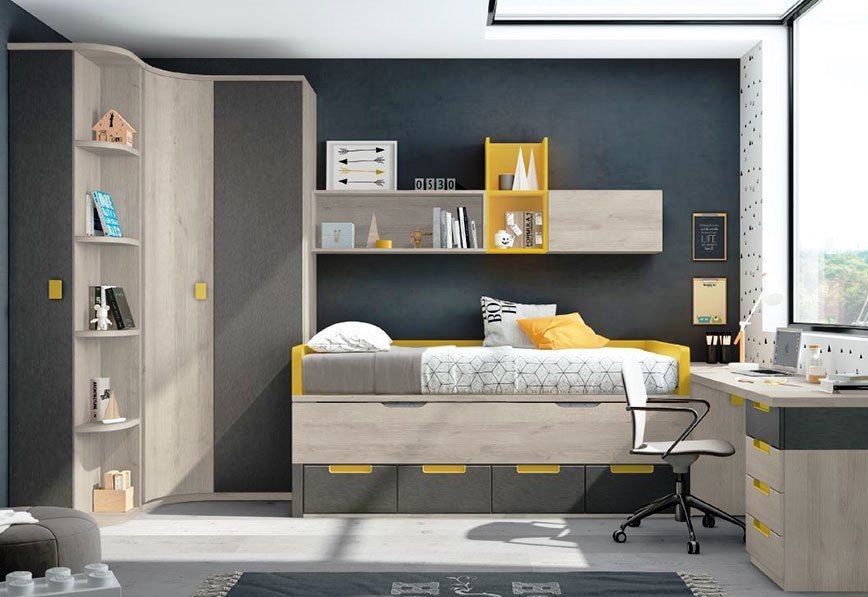 Sometimes, designing a small bedroom makes you confused. The color theme is a big problem to fix the small impression. Gray color is one of the neutral colors to decorate a small room. Some people think that it makes the room looks dull, but it is just how you mix the other colors properly. Pick the different shades of gray color, then create an interesting proportion. Add yellow accents at some points that will look striking.
Minimalist Bedroom and White Cream Color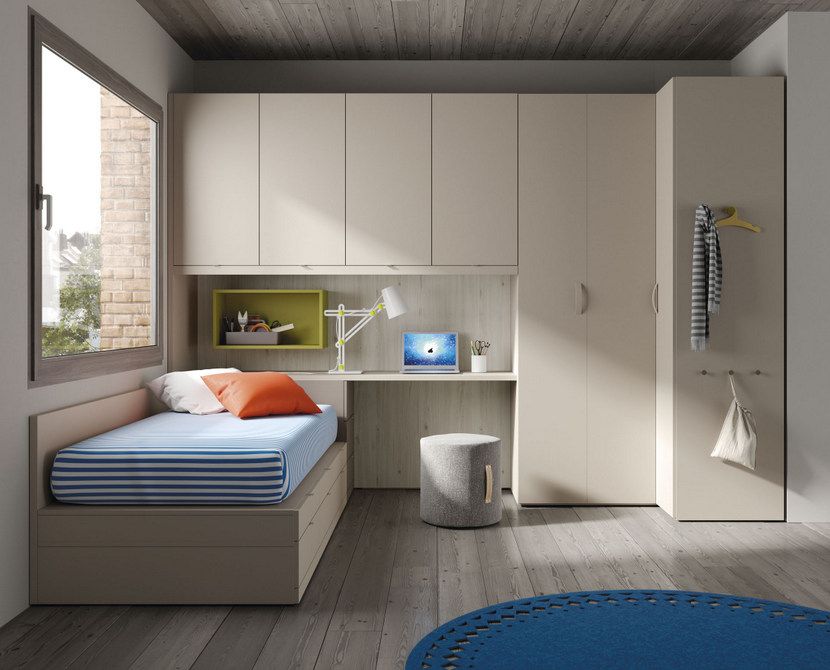 Minimalist interior design is a popular choice for home design nowadays. It has a simple design and an uncluttered look. Minimalist design is doing well in a small bedroom because it makes your room looks spacious. Most people use bright and neutral colors to make a minimalist interior more stunning. The neutral colors don't make the room looks crowded and busy. It creates an airy ambiance. Pick up the color of mountains by using white cream color for your small bedroom.
Using Striking Orange Accents to Enliven The Cheerful Impression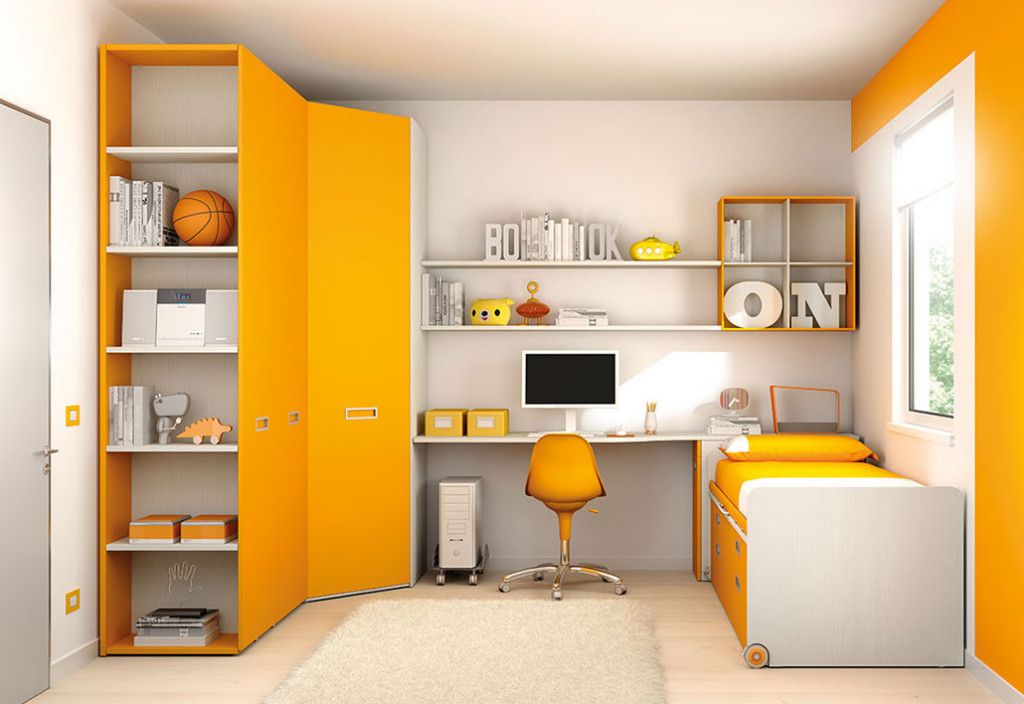 If you get bored seeing a neutral color in your bedroom, you can try to use orange accents. It makes your small bedroom looks different. It brings a cheerful impression. Your bedroom will be more energetic and even brighter. When you open the window, the orange accents will reflect natural light properly. The companion color for orange accents is white or bright gray color.
Earthy Tone Palettes to Match the Furniture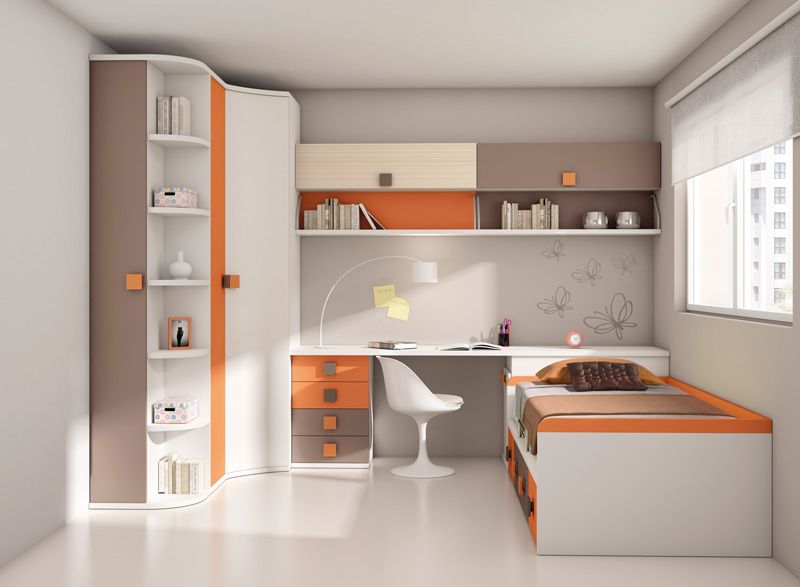 Rather than becoming dull, the gray color creates an attractive design in a small bedroom. Combine this color with other natural colors to soften the ambiance in this room. Terracotta, soft brown, beige, and white colors are attractive to enliven gray color in your bedroom. Match some accents in the different colors for each piece of furniture will create a consistent theme.
Monochrome Bedroom with Geometric Furniture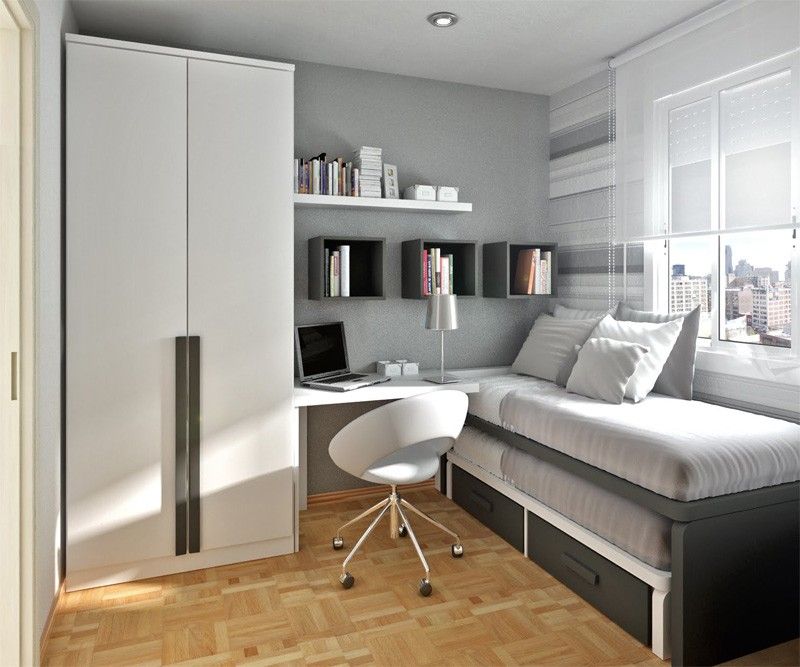 Being monochromatic is interesting. You can apply monochrome colors in a small bedroom to get a spacious look. Monochrome colors have a contrasting effect on the eyes. Thus they will look striking but aesthetic. The bright shade makes your bedroom looks larger. The natural light from a window is the best lighting for a monochrome bedroom in the afternoon. Take several shades to draw attention in a small bedroom.
Combine The Natural Palettes and Purple Theme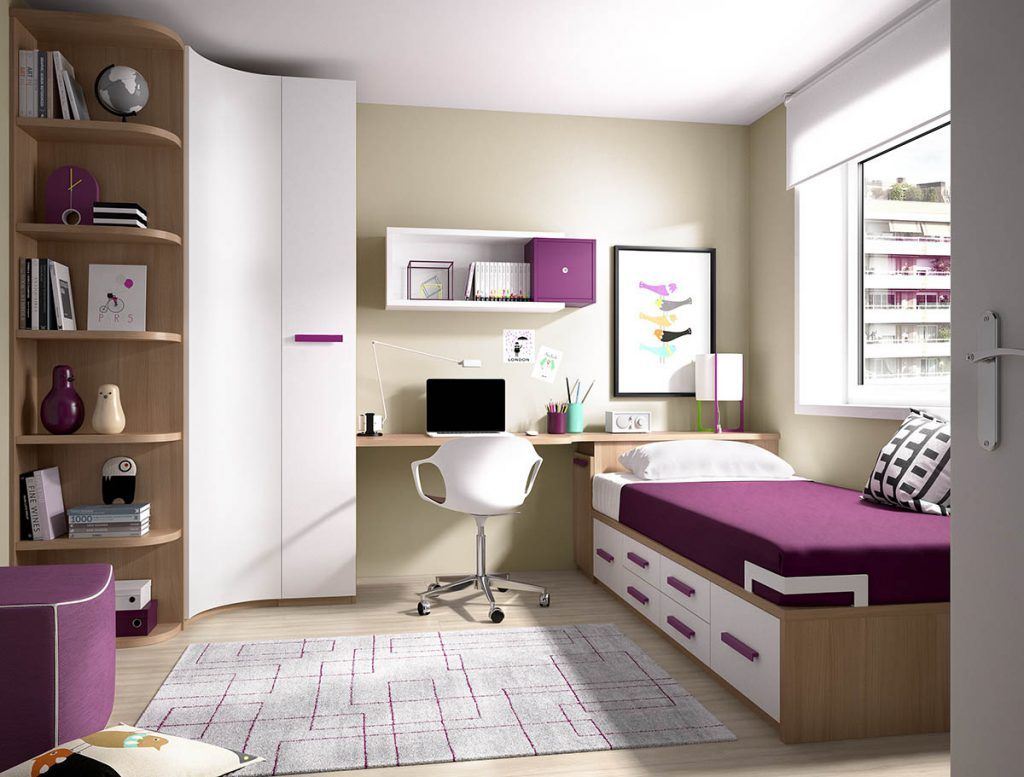 Look for something different forces you to pick a stunning color to combine in a small bedroom. Purple can be an eccentric choice because it has a calm impression. You can pick some natural colors to apply in the bedroom. White walls, wooden floors, wooden furniture create a proportional design to mix and match with purple color. You can use another accent to decorate your purple bedroom.
Conclusion
Thus our discussion of 10 Amazing Decoration Ideas for Small Bedroom Interior Design. Doing some decorations in a small bedroom is tricky for some people. There are many things to consider before decorating this small room. Playing with colors, furniture, and storage are the keys to designing a comfortable small bedroom. We hope the ideas above are inspiring for you to decorate a small bedroom. No matter what the bedroom size, a comfortable design is the most important thing to get a dreamed bedroom. Happy decorating!