Druhomes.com – A desk wall is a creative table that sticks on the wall. It looks like a mounted shelf on the wall. This table is slim and gives you many benefits, especially for a narrow room. It helps you to do work from home. The desk wall is stunning furniture to add more multifunctional items to your home. Even you can use it as a study space and workspace. The plain wall offers you more spaces to install wall storage as the company furniture for the desk wall. If you want to see a creative decor of desk wall, we have listed the brilliant desk wall ideas in this article. Desk wall can a good choice for some people to create a simple workspace. This furniture will do just fine on your wall because it simplifies the interior design. Thus, without any further to do, here are the ideas for you!
Mid Century Design with An Areal Rug to Mark The Space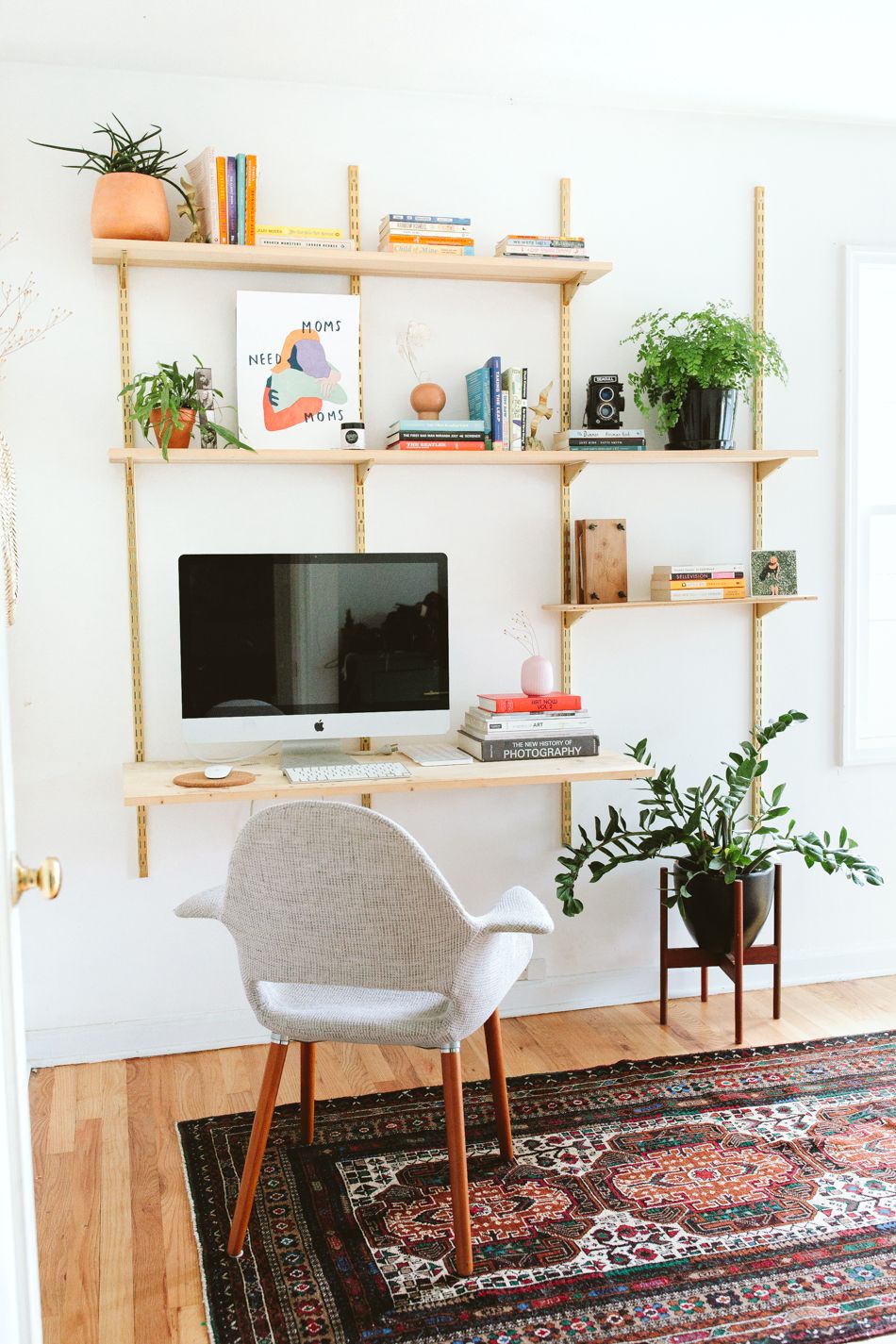 The mid-century design has many artistic items. You can find these accents in a classic mid-century room. The rug is an attractive item that you will often see in this design. Decorating a desk wall with a mid-century rug will make it looks classic and admirable. You will notice this workspace by seeing the artistic rug design.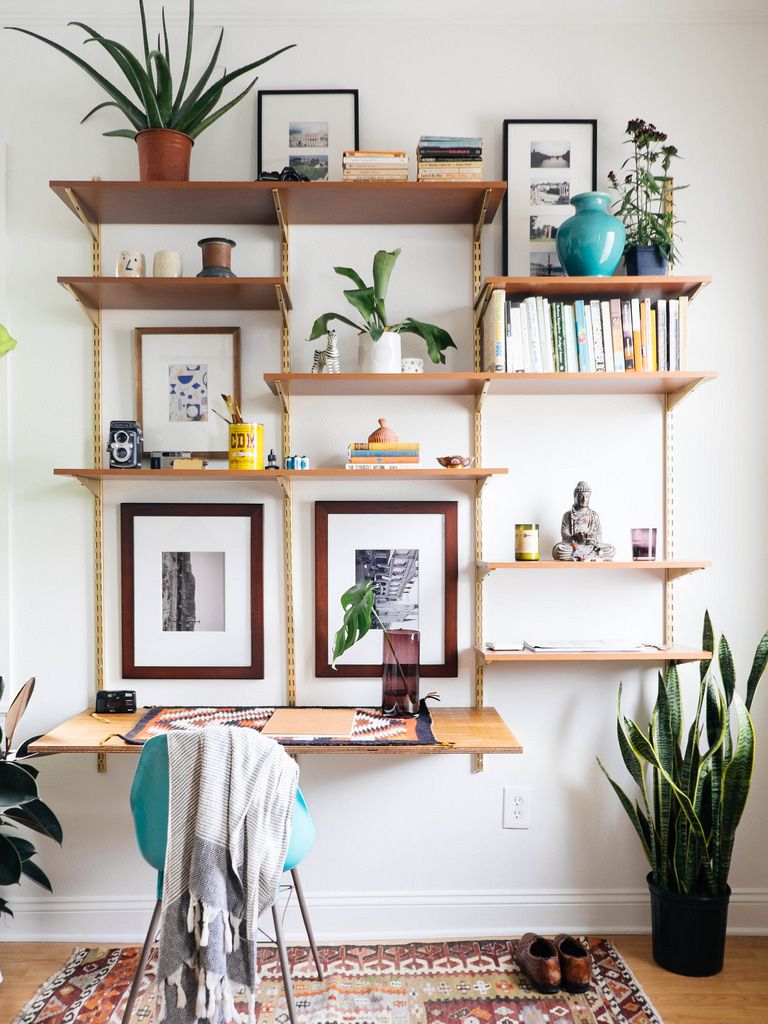 The desk is simple with natural brown colors to hold many things. You can use another classic item on the desk like a table runner with a showy design. Make it more classic by installing some deep green leaves plants like the ZZ plant or the faux plant. Match its pot with the tone color of the rug.
A Desk Wall with More Natural Accents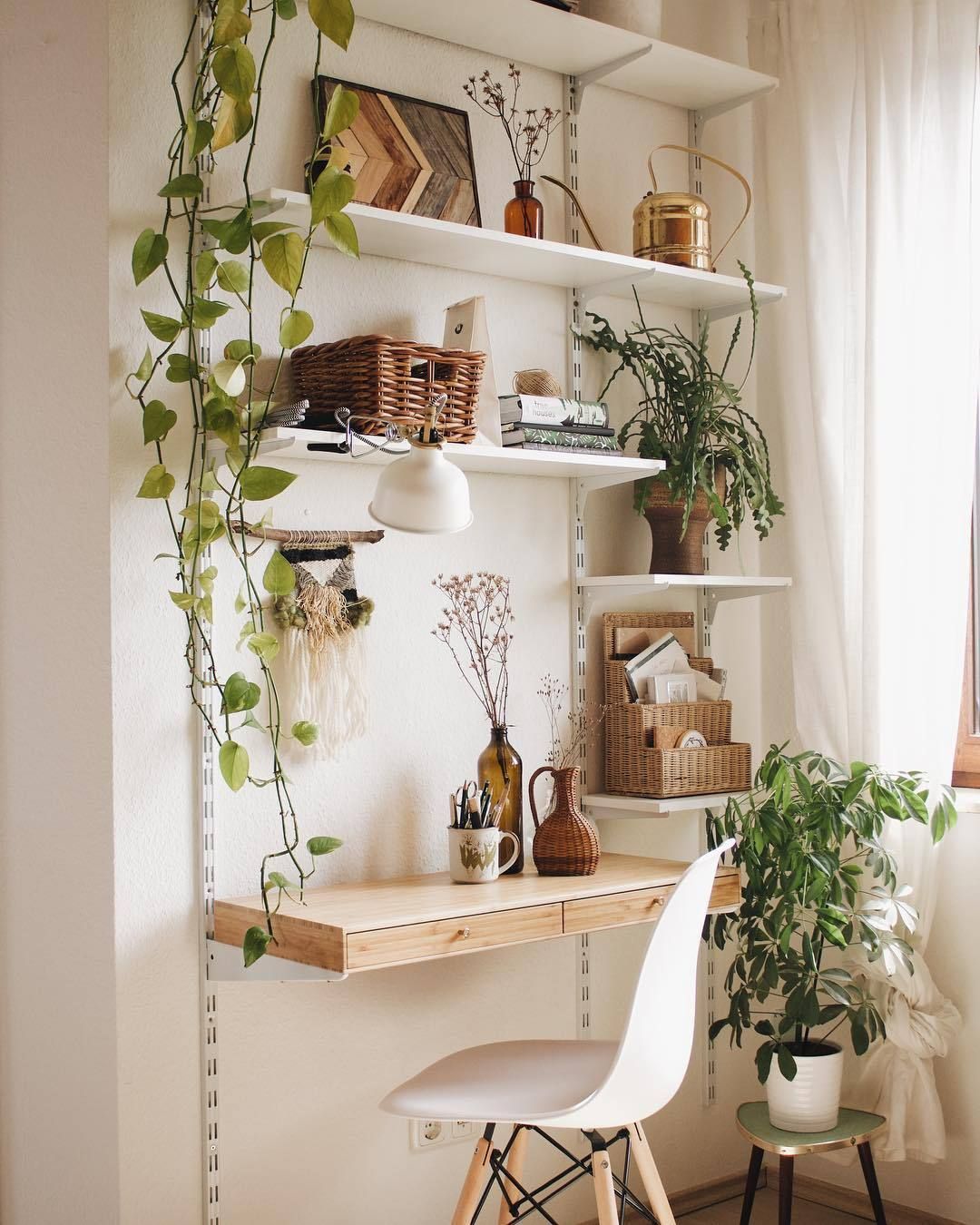 The natural accents on your desk wall will invigorate the ambiance. It helps you draw a fresh decor when sitting on the chair doing your work. Many items that you can pick. Flowers and leafy plants are stunning to decorate your desk wall. You can pick the stem, then put it into a glass vase. An amber vase looks attractive to bring a luxurious impression.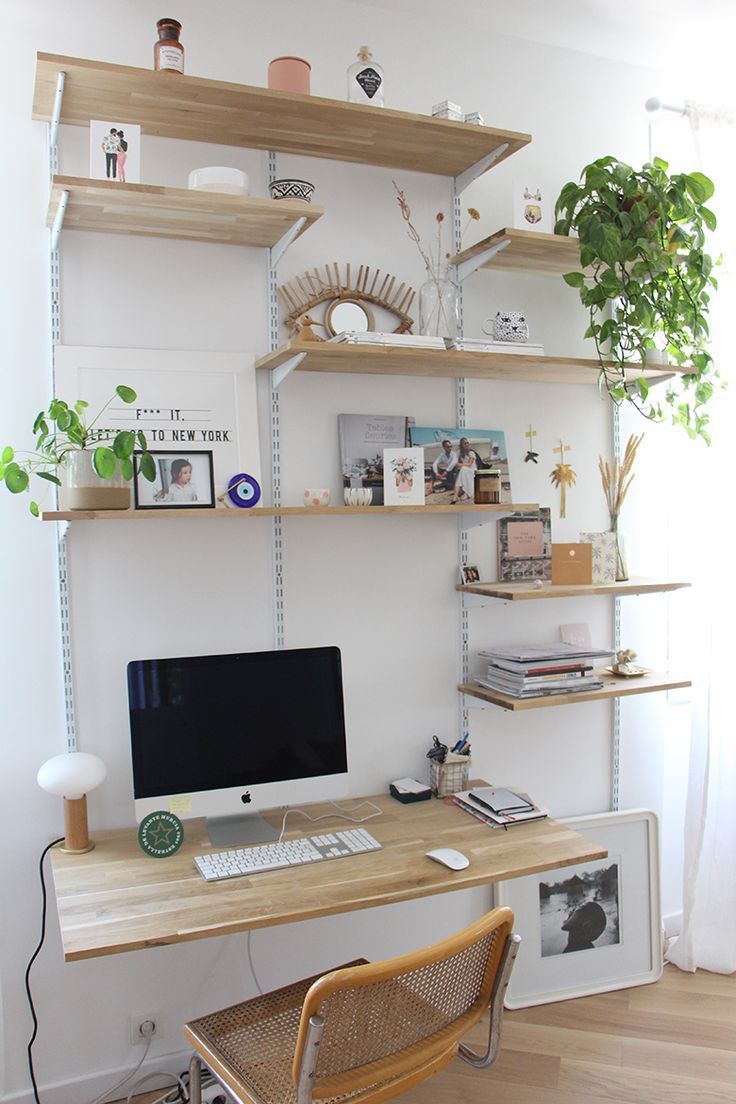 Another item is a cutting leaf of Monstera and Philodendron. It is an interesting leaf to add a green accent. The natural wooden color is more stunning to pair with evergreen plants. Moreover, you can display another ornament like a Bohemian mirror and small pampas grass. More items on the mounted wall will redeem your tired mind if you want to refresh for seconds.
A Simple Minimalist Desk Wall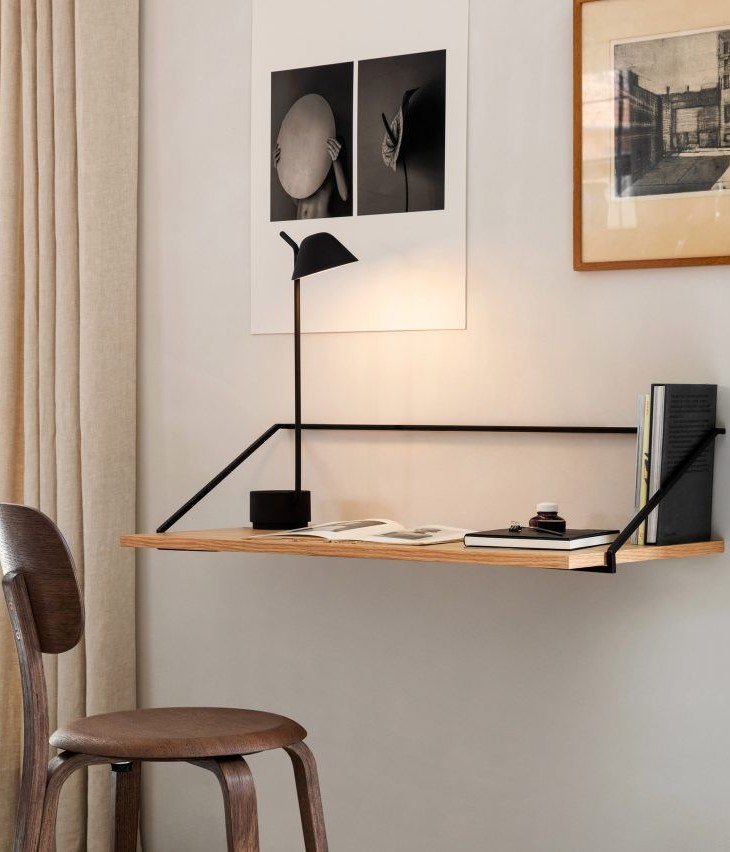 Minimalist desk wall is a simple design of desk to install on your wall. It has a slim wire holder on the wall. You can put some books and a small table lamp to lighten the desk area. Besides, it will be more stunning to match your interior design such as using black accents. It makes your wall looks clearer. This desk wall is lovely for those of you who love a minimalist design.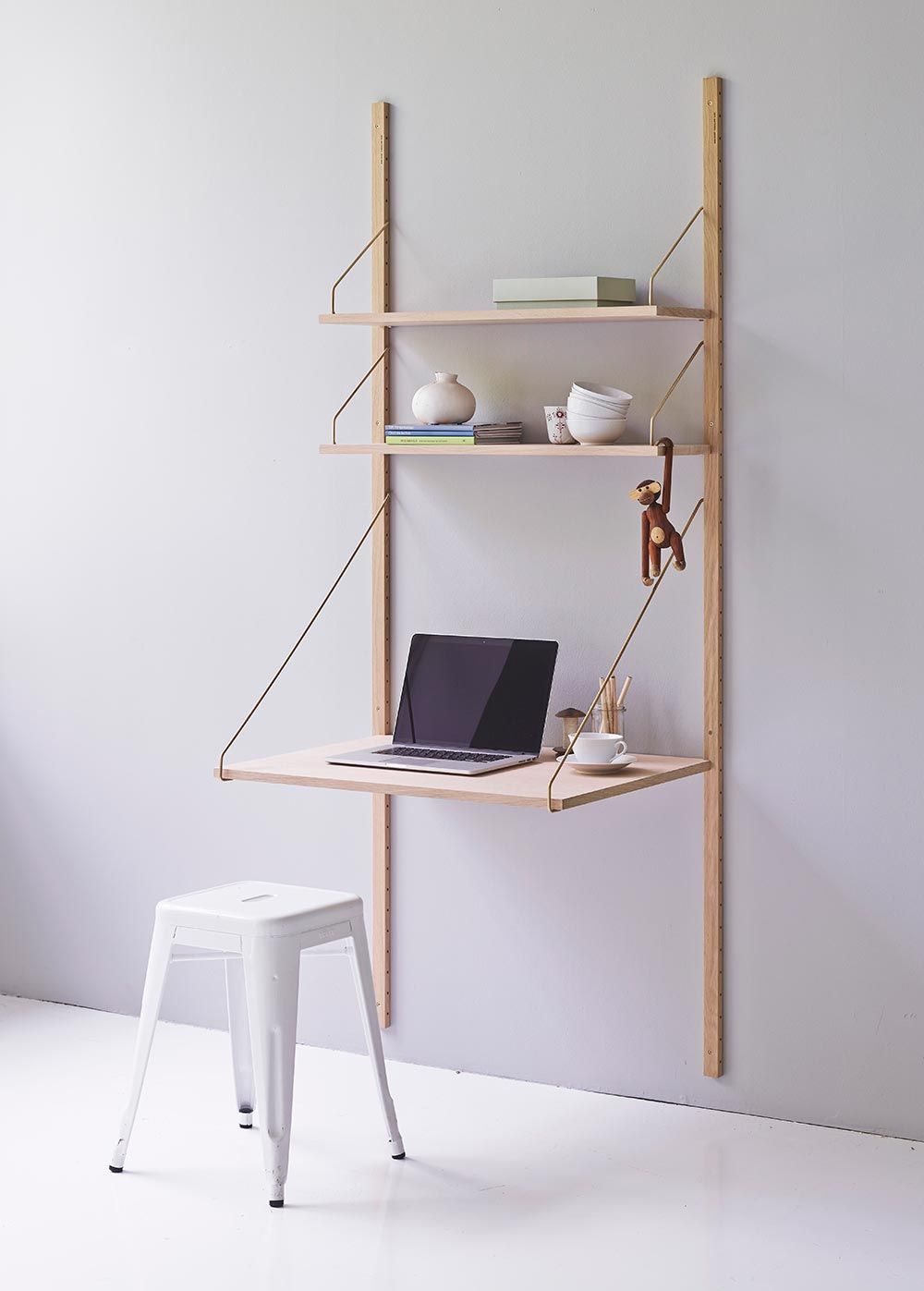 You can add more shelves on the wall and put other things to inspire you. Use a calm palette color for this desk wall ideas. It brings a peaceful impression with no clutter look. Choose a simple chair that you can put under the desk wall and create a simple decor. If you want to get a comfortable seat, pick a low-backed chair to match this desk wall.
Multifunctional Desk Wall Table with Storage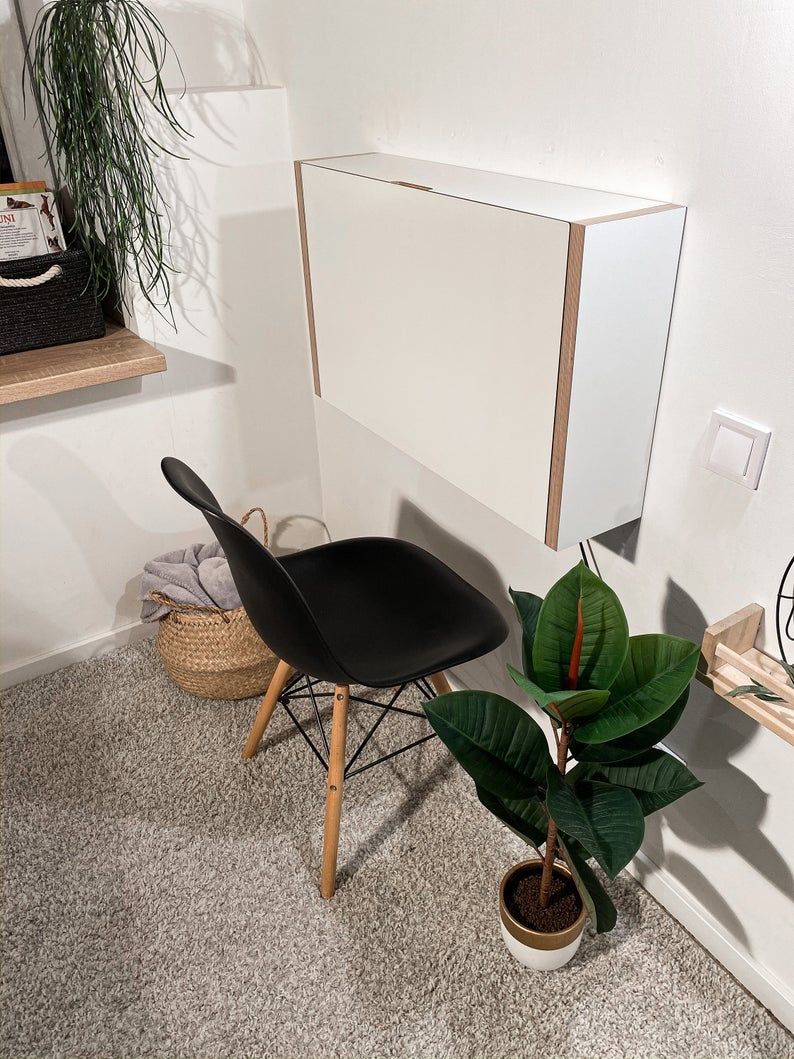 Installing a desk wall is more than ordinary furniture. It can be a multifunctional item in your home. It is a brilliant idea to transform it into storage, so you can keep the things on your table. When you shut the table, it reduces an uncluttered look on the wall. Besides, you can apply the same color for your desk wall with the wall paint. Pick a contrasting color if you want to create an accent.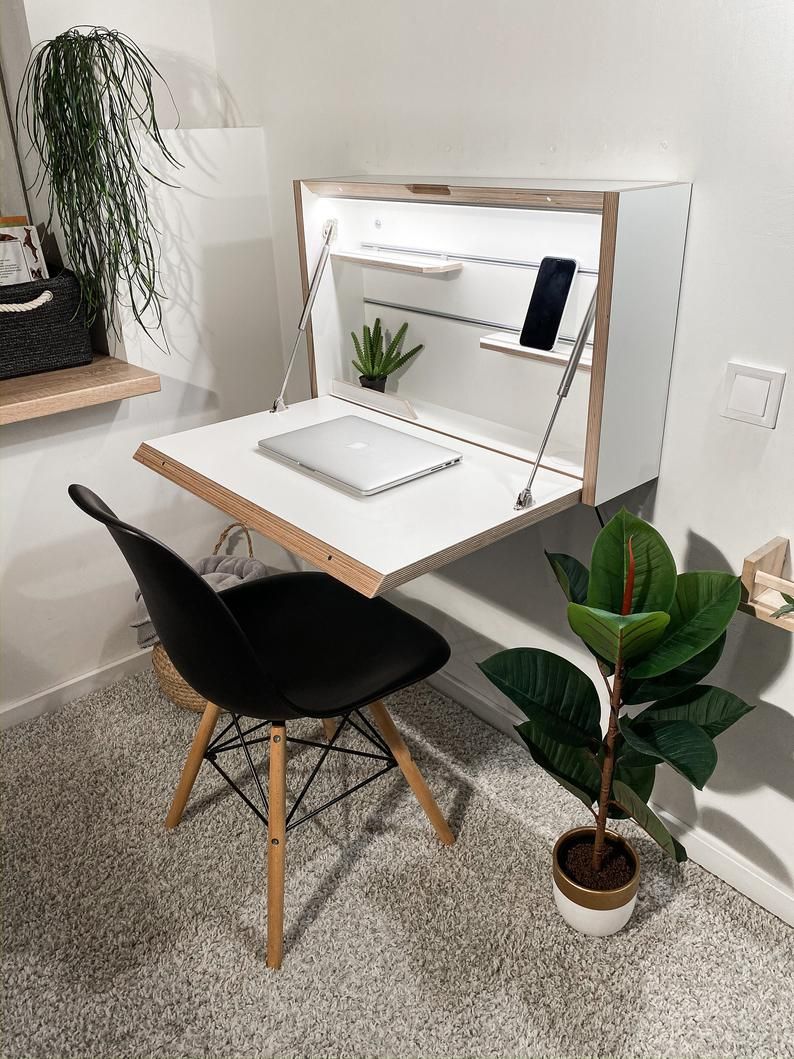 Make it simple by using two holders on the edges, so it is easy to fold. Design some mounted shelves inside the desk wall. A small ornamental plant and an interesting wall note are useful to draw an attractive design. Since it has a room, install two small lamps inside it. You can turn on the lamps when using your desk wall.
The Desk Wall on Your Corner Space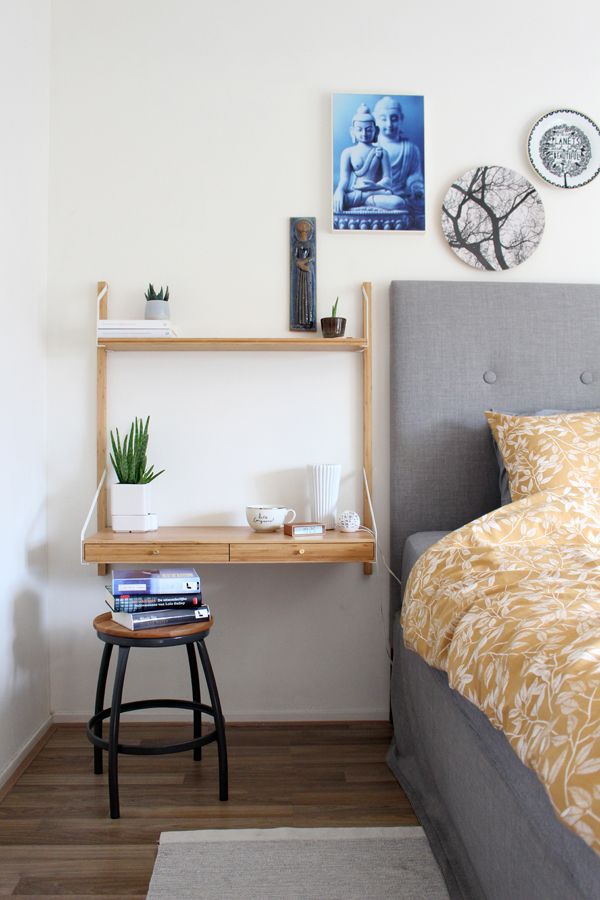 The corner space is a beneficial spot to install a desk wall. It looks simple and useful to transform as a workspace. Even you can design it in your bedroom as the side table. Choose a neutral color like soft brown colors. Put some small cactus to decorate the table. If you use wooden materials, you can create two slim drawers for extra storage.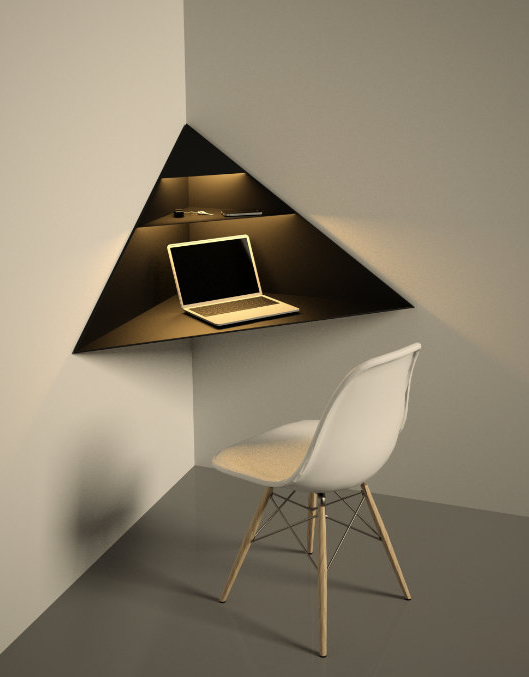 You can create a corner desk wall. The corner space offers a simple spot to explore creative design. Decorate the desk wall table by using a monochrome theme. If your room uses a grey paint wall, pick a darker color for your corner table. Install a tiny lamp on the table. The yellow light brings a dramatic impression to black or dark colors.
Thus our discussion of Brilliant Desk Wall Ideas for You to Install in Every Room Interior. By using the right designs and concepts, you can create the look and function of the interior you want in your home. Designing a desk wall gives you simple furniture. It is multifunctional furniture as the workspace and storage. The desk wall makes it possible to put a simple chair under the desk. It is easier to clean the floor in your desk wall area since this design is a wall-mounted desk. If you like to get a simple yet minimalist design, a desk wall is a nice choice.