Druhomes.com – Tissue paper is an important thing to install near the closet. It is an essential thing to complete your bathroom tools. A tissue paper helps you to keep the bathroom clean and healthy. Besides, this thing is also helpful to put in your kitchen. Since these rooms need to look clean every time, you should install tissue paper to guarantee a healthy room for you and your beloved family. You will need this tissue paper to wipe your wet hand or clean the dirty spill on your kitchen appliances. If you are a creative person with a bunch of wonderful ideas, you should read this article. We want to share some ideas of DIY paper towels that you can try to make at home.
The dirty place causes disease and lessens the aesthetic impression in a home design. As a human beings, we need to keep the environment healthy. You can start it by providing tissue paper in your bathroom and kitchen. Thus, we want to give you a solution to hang your tissue paper by using DIY paper towels. Here are a variety of interesting ideas for you to create neat and beautiful paper towels for the interior of your home, especially in the kitchen and bathroom that you have. Let's discuss!
Kitchen
The first place in your home to give DIY paper towels is your kitchen. You can create paper towels that best make you more effective in doing all your activities in your kitchen. Apart from that, you can also follow the various ideas that we will discuss in this article. Let's discuss various DIY paper towels that you can use for your kitchen!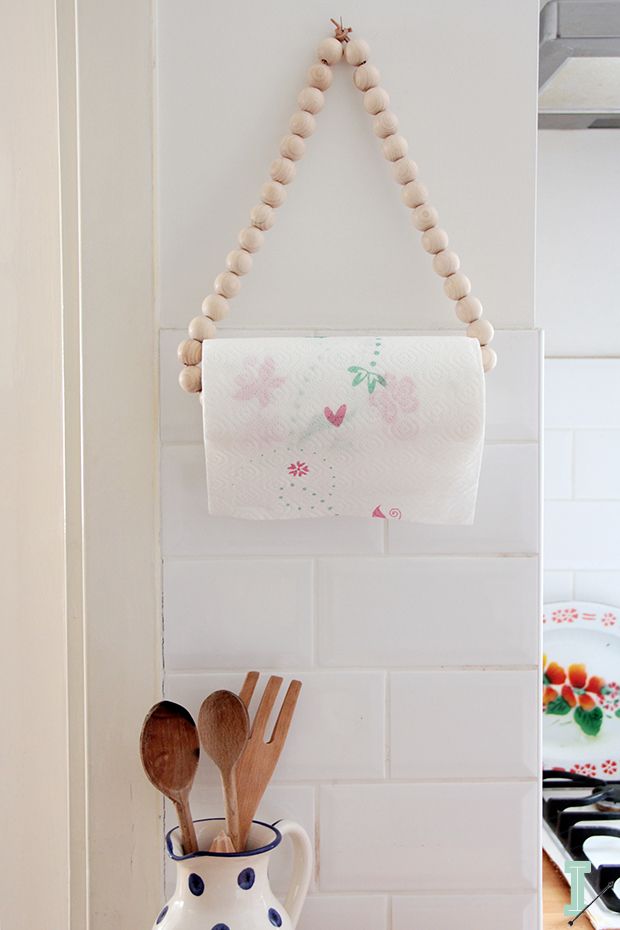 The beaded technique is a usual way to make a handcrafted ornament. The beaded ornament is useful for your home decor. Some people use it as a beaded curtain. You can try a creative idea by using this ornament to make a tissue towel. The beaded ornament will hold your tissue paper by its hole and aesthetically hang it on your kitchen wall. Also, the beaded items are available in myriad kinds of synthetic beads. So you can tie them in a different kind to make an artistic line.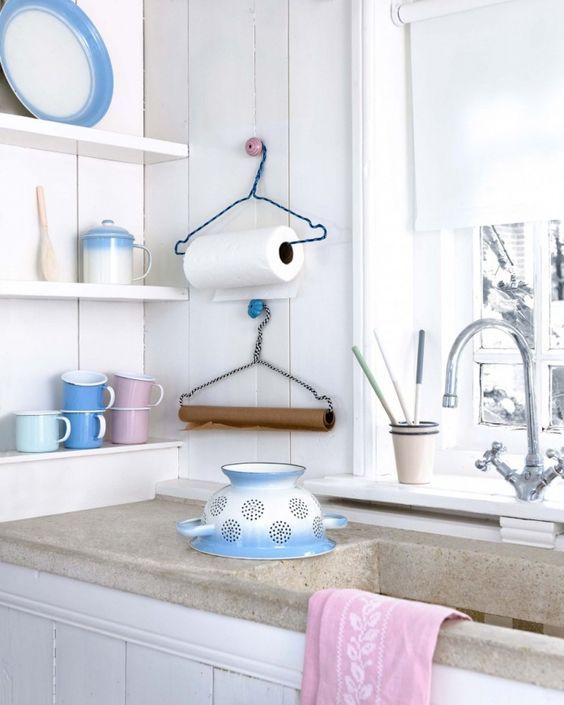 Don't throw away your former hanger into a trash bin. This hanger is useful as a paper towel. To make this paper towel is easy. You only need a wire hanger and iron scissors to cut the wire. Cut a wire hanger in the middle spot of its horizontal line. Make sure that your wire hanger has a strong material because you will hang tissue paper on it. After cutting the wire hanger, take your tissue paper to get into it. To decorate your kitchen more catchy, you can use a wire hanger with a cute motif.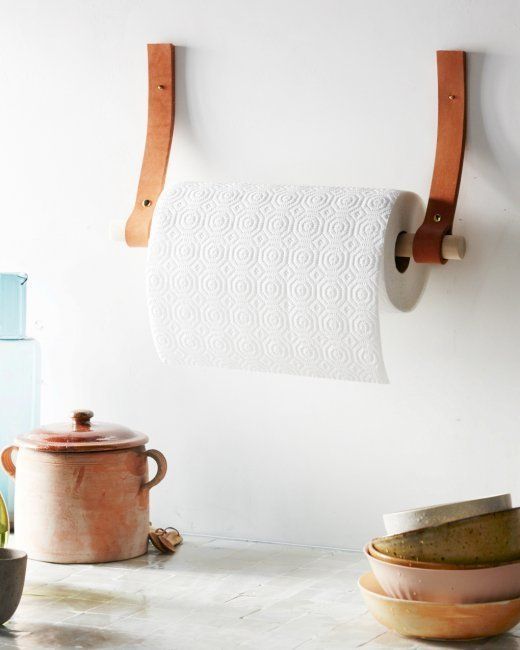 If you have unused leather, you can reuse it as a paper towel. The leather material has a flexible and strong texture. So, it will hold your tissue paper properly. This idea is simple because you only prepare three materials. Two leather in a long rectangular shape, four pins, and a wood or iron stick. These materials will be an interesting combination to redecorate your old tissue holder. You can pin this paper towel on a wood stem, concrete wall, or hang it on an iron stick in your kitchen.
Industrial Pipe Paper Towel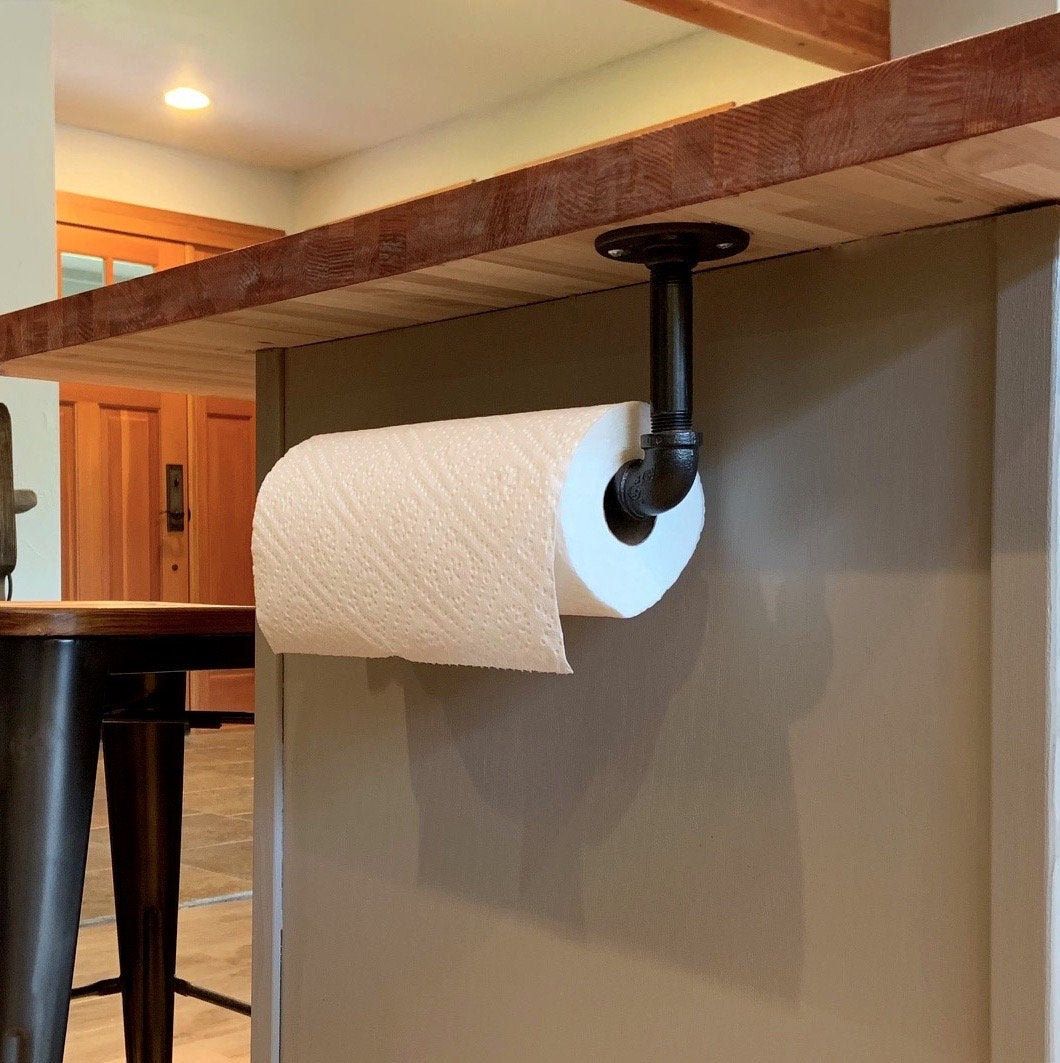 Industrial pipe is a multifunctional material. This material is wonderful to use as the main ingredient to make an Industrial chair, curtain rod, bookshelf, and paper towel. By providing Industrial pipes, elbow, nipple, a floor flange, and screws you can make an elegant Industrial paper towel. The black color of this pipe looks interesting and generates a stunning impression. You can install it under the kitchen island, under the wood cabinet, or inside your kitchen drawer. Put it in a strategic spot to make it easy when you want to pull the tissue.
Standing Leather Paper Towel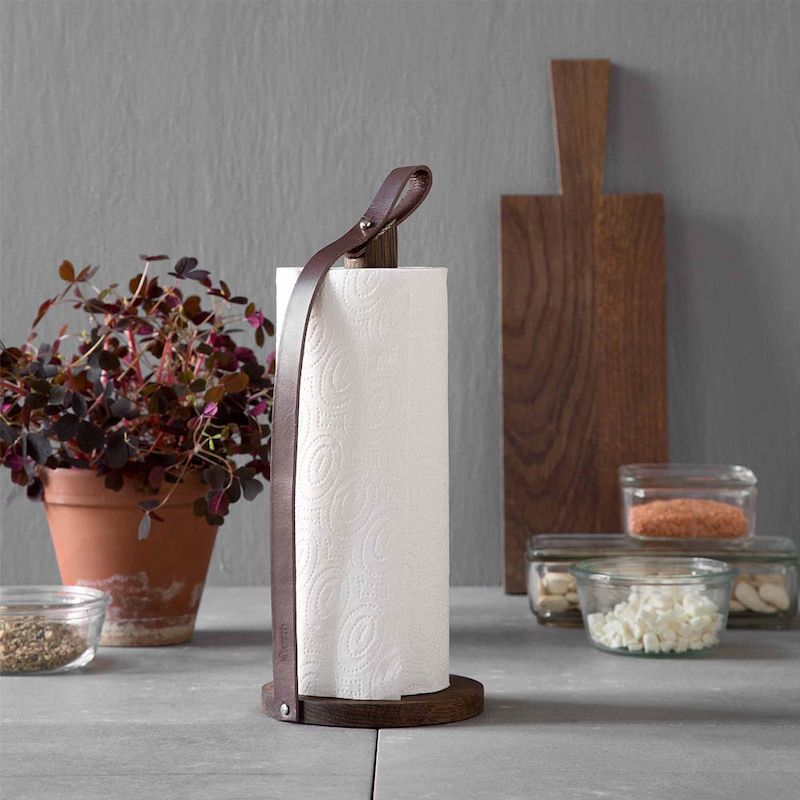 This idea is related to a leather paper towel but it is in a different position. A standing leather paper towel has a creative design. Since your tissue paper has a tube shape, you can make it stand on its round side. This paper towel needs a stick and a wood slab as the base to put your tissue. The advantage of having this tissue is the portable function. It makes your tissue looks interesting because you can move it into any spot when you need it.
Bathroom
You can also use a variety of DIY paper towels for your bathroom interior. Apart from the kitchen paper towels are also an essential thing for you to use in your kitchen. By using the right paper towel design, you can create a comfortable and beautiful bathroom for your daily use. For that, here are a variety of DIY paper towels for your bathroom that you can follow!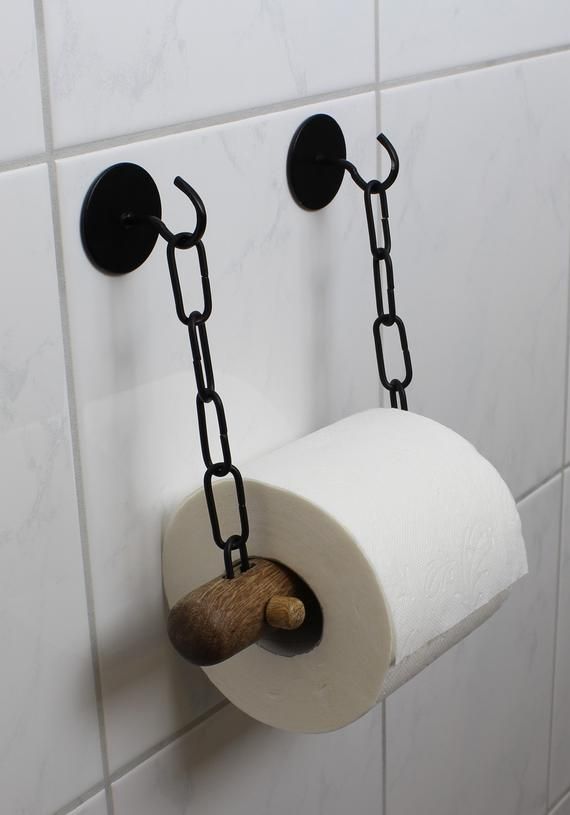 Since tissue paper is a must-have thing in every bathroom, then you should consider having it in this room. Having a black chain offers you the benefit to make it as a paper towel. Install two hooks on your bathroom wall. Hold a wood stick with two chains for the two edges, then put your chains for each hook. This idea is simple and gives you an elegant paper towel. Even though your paper towel is made of old material but it has a decorative function rather than just a paper towel.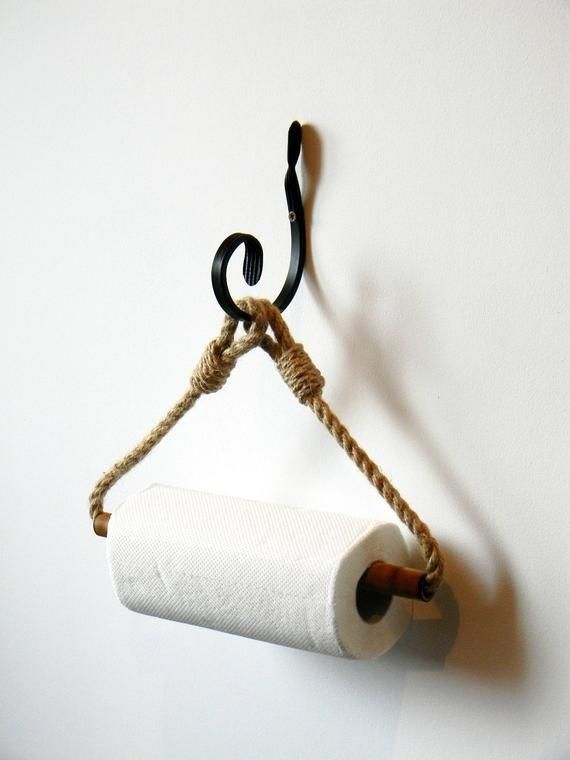 Using a rope is a common idea to make a paper towel. A rope has an artistic appearance that is beneficial too as a connector for your hanging paper towel. You only need one hook to hang your tissue paper on a wood stick by using two ropes. Creating this paper towel is catchy to put in your bathroom. This paper towel creates a rustic design accent on your bathroom wall. Thus, put a rope paper towel adjacent to your closet in a bathroom.
Unique Paper Towel by Using A Shoe Lace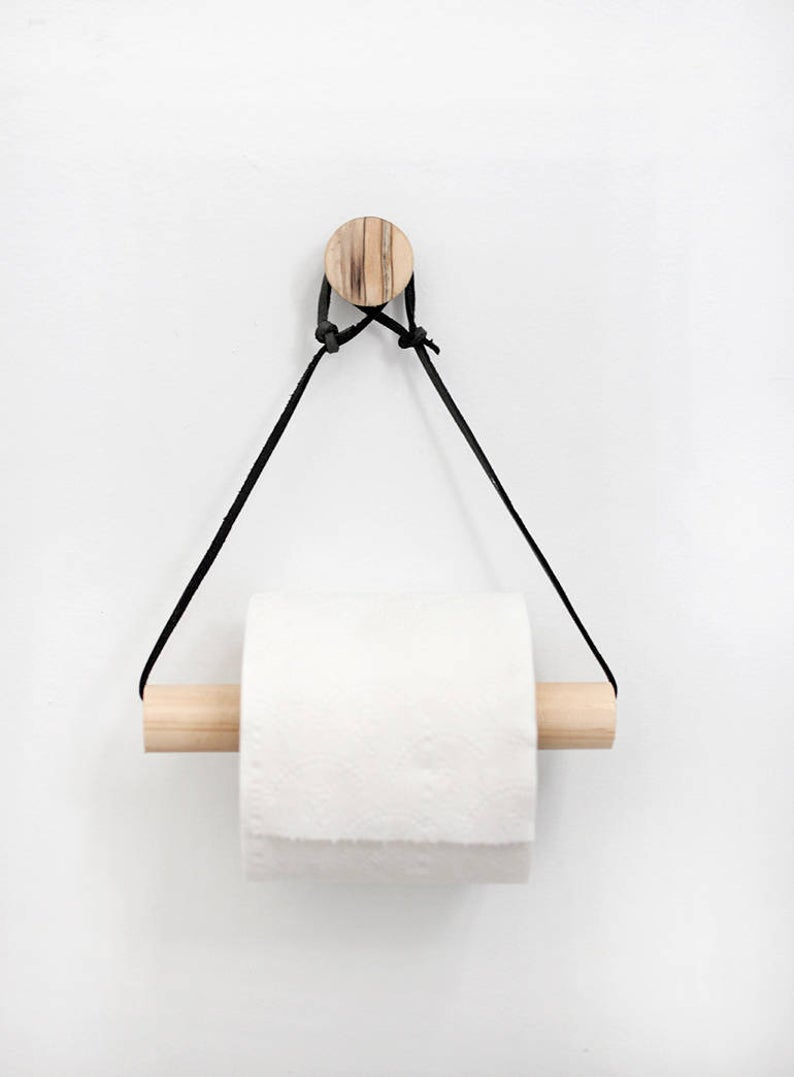 Collecting many shoes sometimes gives you overloaded storage for those shoes. These collections may contain some broken shoes. Take off your shoelaces to make another beneficial thing. You can use your shoelaces as a part of a paper towel. This lace thread is useful to connect a wood stick and hook or pin on your bathroom wall. Making this paper towel is not difficult. Tie your shoelaces on a wood stick, then make a round knot to hang it on a pin. This lace is easy to untie if you want to add tissue paper to its wood stick.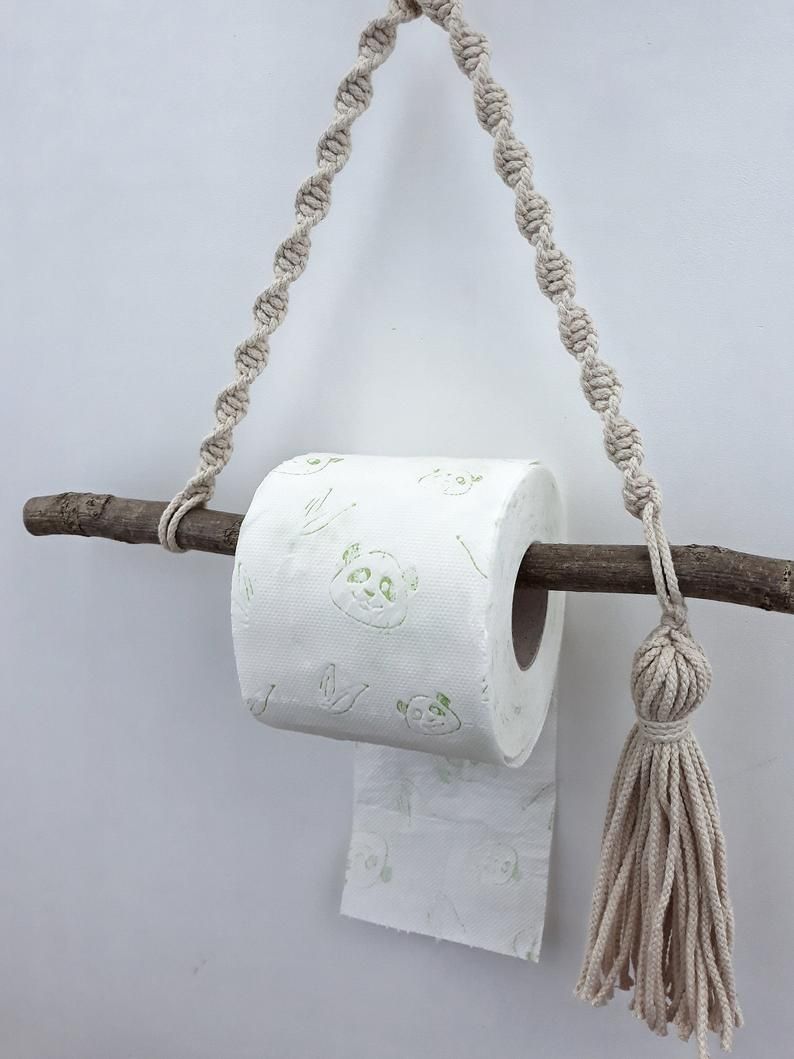 Macrame is an aesthetic artwork by knotting technique. Using a macrame rope as your bathroom paper towel will transform your wall to look interesting. The macrame rope usually is made of textile, then the texture is soft but strong enough to hold your tissue paper. Since this rope is the work of knotting technique, it has a round shape to put a wooden stick as a tissue paper holder. It means that creating this paper towel only needs two materials; a macrame rope and a wood stick.
Creating A Natural Stem Paper Towel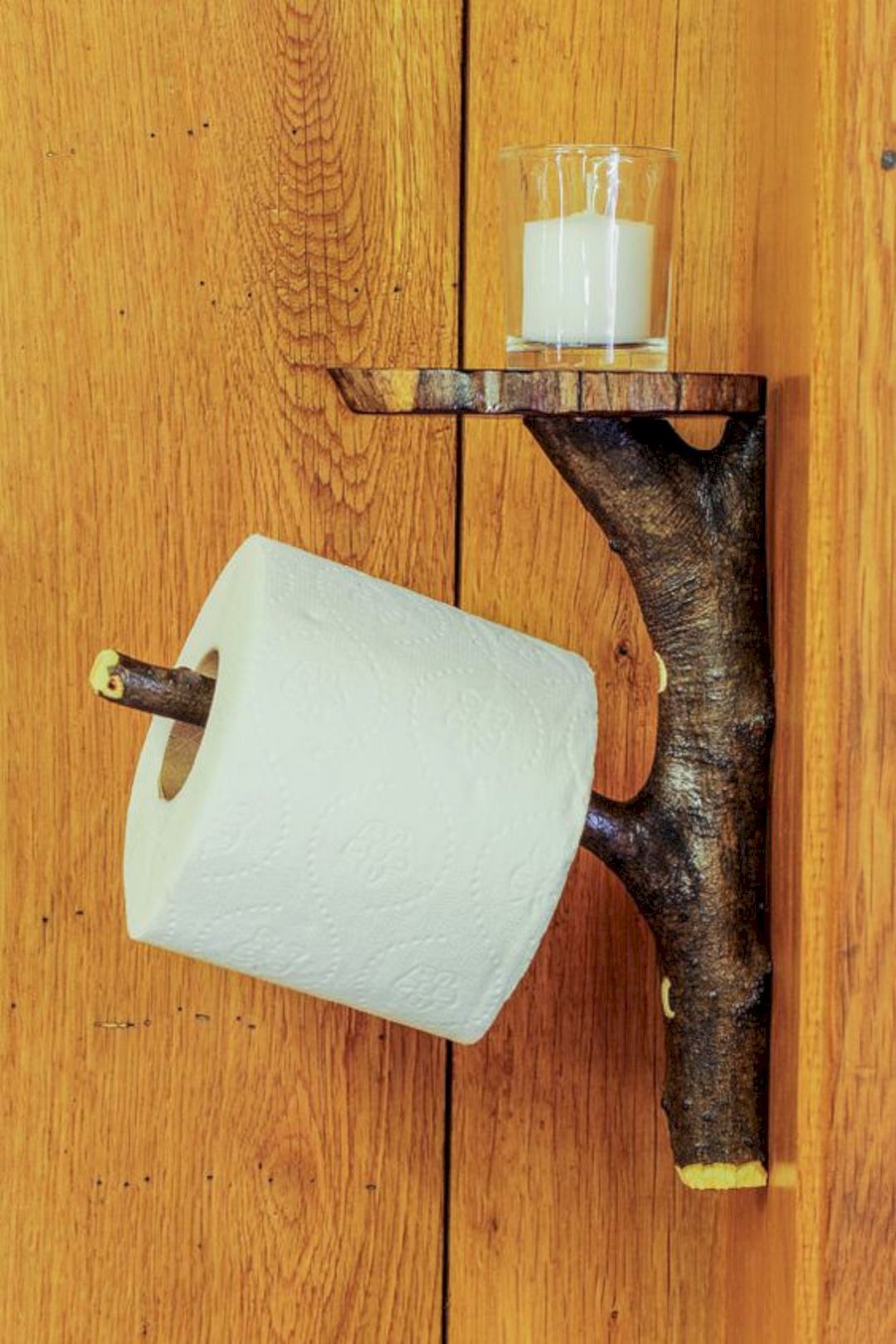 An original stem has a rough texture and natural appearance. This thing is useful to use as a paper towel. You will have a rustic accent if you use a natural stem as your paper towel. Take the best stem with a beneficial part to hang your paper towel. This stem has an original surface, then if you want to maintain this natural accent, you can varnish it by using the same shade for its brown color.
That is our discussion about Creative Ideas to Make DIY Paper Towels in Your Home. The kitchen is the most useful place to cook food every day, it generates trash, dirty spills, and oil spots on the kitchen bar. These spills are disgusting. By creating a tissue paper towel, it is practical to pull the tissue every time you need it to wipe these spills. The need for tissue paper is also important for a bathroom. You will need it to wipe your wet hand or clean your hand from the dirt. Thus, in this article, we suggest you have tissue paper in your kitchen and bathroom by making a DIY paper towel. So, it makes you stay healthy and always clean the dirt on these rooms by using tissue paper. Happy decorating!