Druhomes.com – Industrial interior design is a classic design that emerged in the Industrial era. This design uses black iron materials, dark colors, raw accents, and has a masculine impression. To get an industrial taste in home design, you should consider these things before decorating the room. This design allows you to explore the raw accents in the room interior to get an elegant decoration. It has a medium level to design it by yourself, but you need no worry because, in this article, we will discuss Tips and Ideas for Creating Elegant and Aesthetic Industrial Apartment. To make a short discussion, we use an apartment design to explore all rooms at once by using Industrial design.
We are always desiring an interesting home to live within. The dream of having an elegant design is about to real. By using Industrial design to decorate your apartment, you will satisfy to enjoy the time at your apartment. Follow us to discuss an Industrial design in an apartment room, in case that it will be your next design for your apartment interior. Let's discuss!
Main Room or Living Room
The first thing in your apartment that you need to pay attention to in creating an industrial interior design is the main room or living room. The main room or living room is a place for you to gather and share stories with your friends or family. In addition, this room is a place for you to relax or do other activities. For that, here are some ways you can create an aesthetic and elegant industrial accent.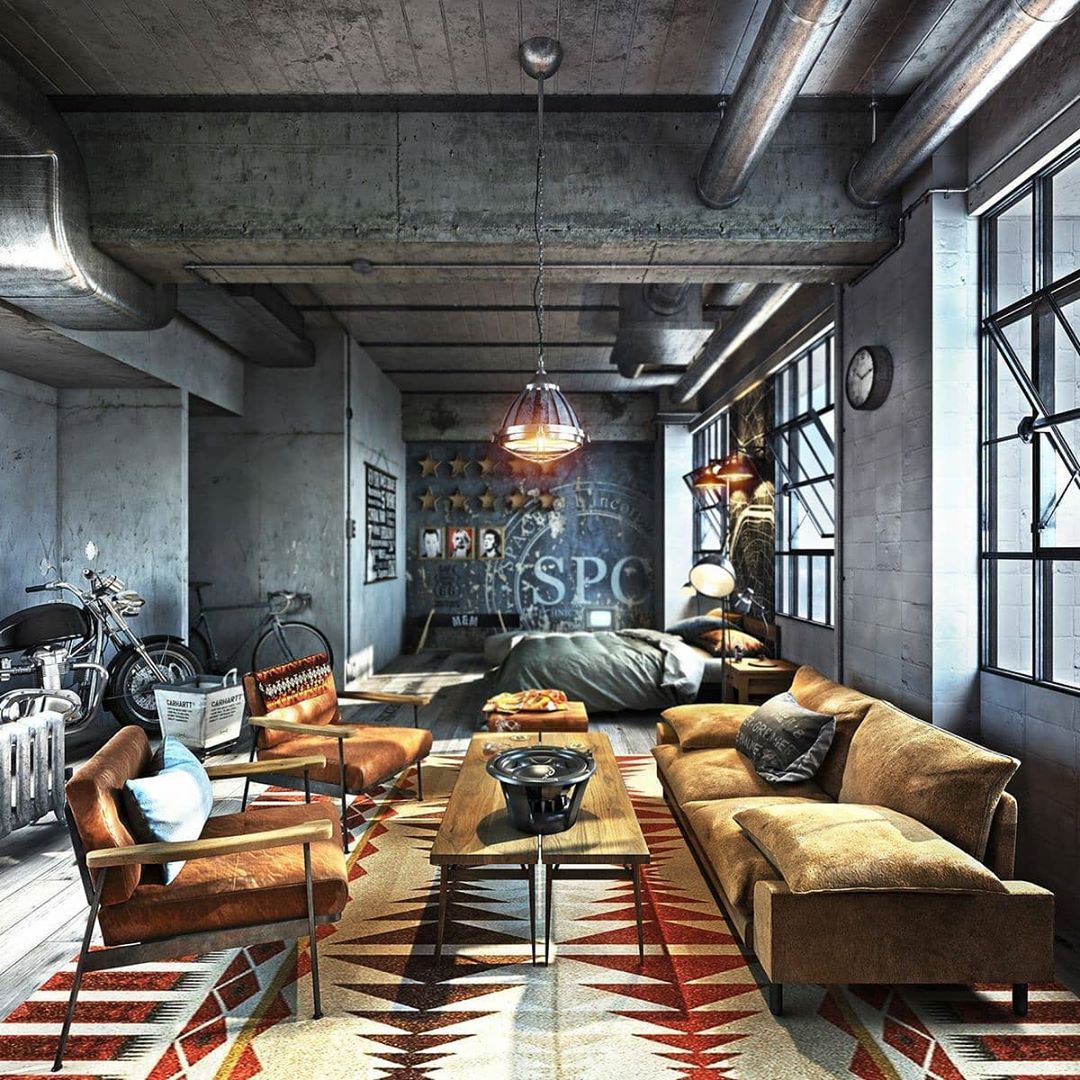 Some apartments have a narrow room, but it looks catchy when using the small couches. These couches suit your space for a living room in an Industrial touch. Install some Industrial couches to impart a warm inviting. Make sure that your couches dominate the interior of your living room. Use black color to a lookout point, but you can also use other colors in a dark shade such as beige and dark grey color. Since you install some couches, then check the seat if it has a soft texture or uses the leather material. The leather material makes your couches produce a hot surface.
Industrial design has an interesting accent by using unique furniture. Put a small coffee table in your living room brings an elegant decoration. Choose a coffee table with a geometric shape to adjust your living room space. It is more catchy if this table has a dark color. This color completes your Industrial design. Even though you have some couches but a small coffee table adjusts its style with an eccentric point.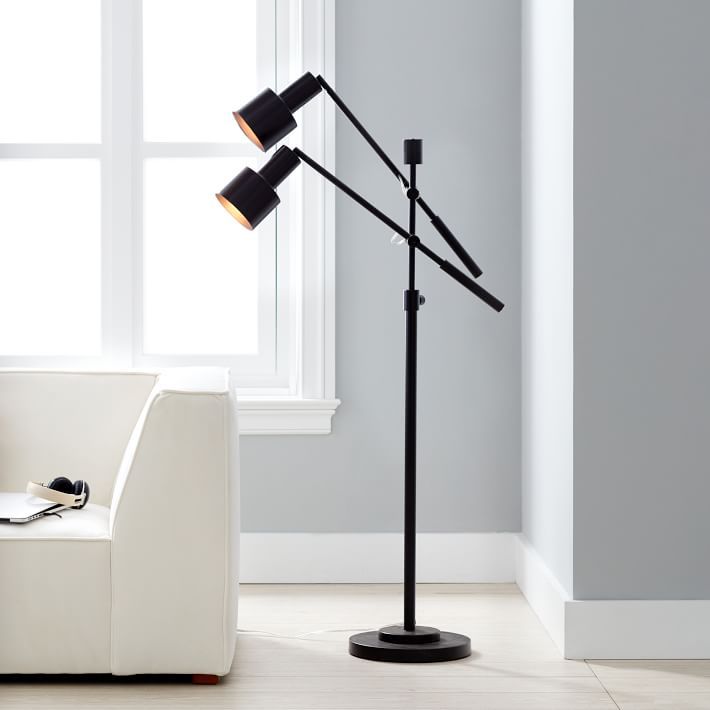 Designing your apartment by installing a standing lamp to make your Industrial living room looks perfect. The black standing lamp has a classic and masculine impression. It sticks on point as an important piece of furniture to bring out the Industrial interior. It illuminates your Industrial decorations to pick up the colors of the Industrial building. Tying the look of Industrial design by installing a standing lamp in your living room.
Bedroom
In addition to the main room or living room, you also need to pay attention to one of the important rooms for creating an industrial apartment design. The room is a bedroom. The bedroom is an important and essential room for you to use to relax, rest, sleep and do all other activities every day. For that, creating a bedroom with a certain design will greatly affect the interior appearance of your apartment. Here are some tips and ideas that you can follow to create an industrial style in your bedroom.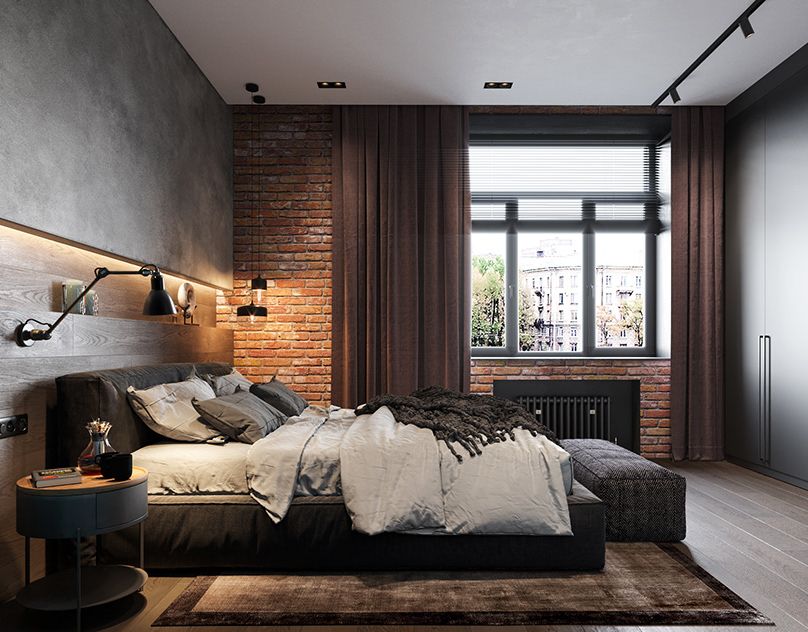 The design of the bed frame and loft bed is different. If your apartment is a loft apartment, then you may get extra room in your apartment. The loft apartment has a small second floor, it usually has a function as a bedroom. You need a special design for this type, it is better to use a frameless bed or mattress. The decoration depends on your taste. If you use a bed frame, then the frame is nice to use a black iron frame.
Rug for Industrial Bedroom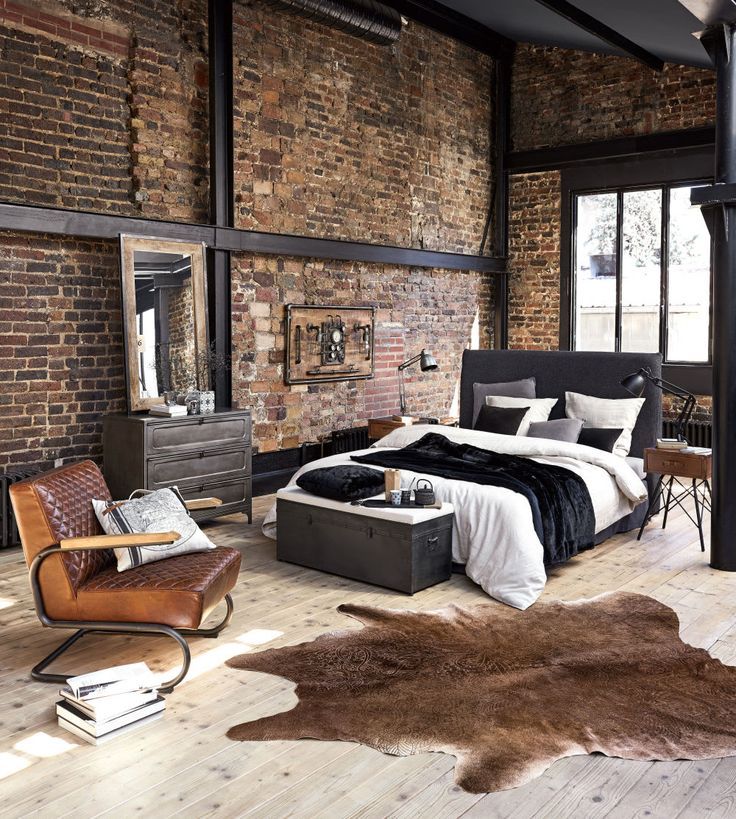 Sometimes, decorating a bedroom in Industrial taste is not difficult. Make your Industrial bedroom more catchy by having a furry rug on the floor. In the Industrial bedroom, the furry rug looks interesting, but if you want a masculine impression, then choose a leather rug with an animal print. The industrial rug typically has a dark color, it enlivens a classic atmosphere by the colors.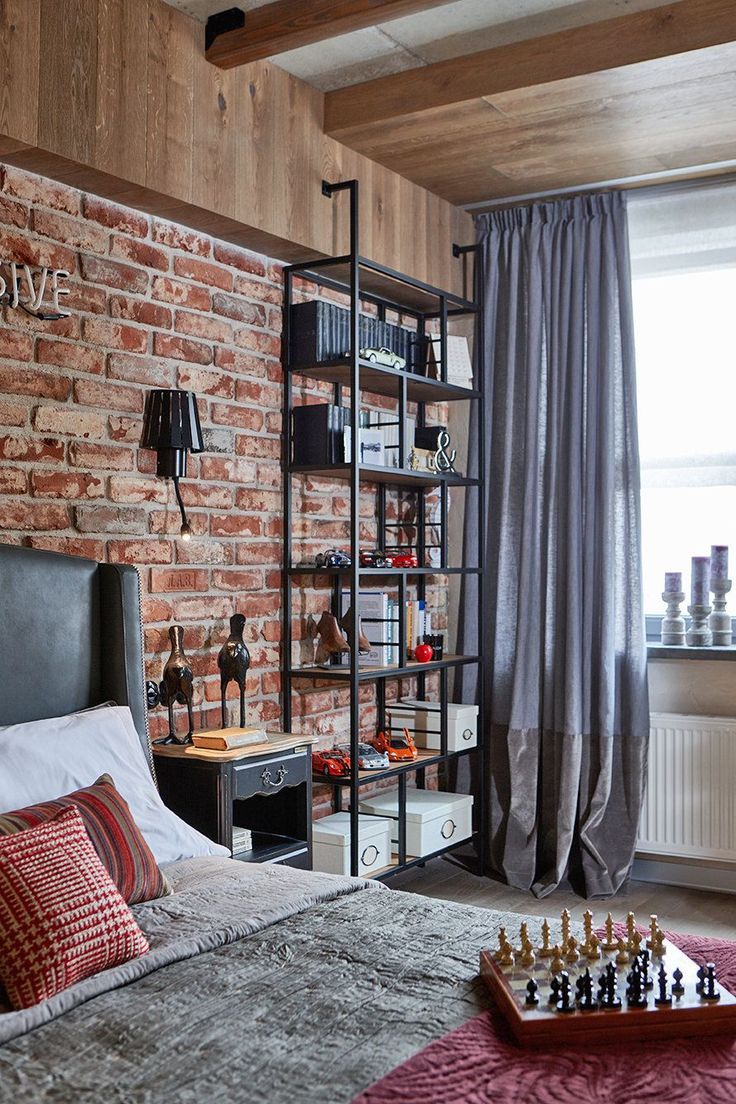 Storage has an important function in every home design. It is necessary to have storage in any room. Moreover, a bedroom also needs storage for clothes, books, shoes, bags, etc. In an Industrial bedroom, black iron storage is nice to install in your bedroom. You can save myriad stuff in this storage. Keep your room looks neat by arranging this stuff in your iron storage.
Dining Room and Kitchen
You also need to pay attention to the dining room and kitchen that you have in creating industrial apartment designs. By paying attention to these two rooms, you can provide an elegant and aesthetic dining atmosphere. In addition, you can also use a variety of industrial furniture and decorations to suit the interior concept that you are creating. For that, here are easy ways you can follow in creating an interior dining room and industrial kitchen in your apartment. Let's discuss them one by one!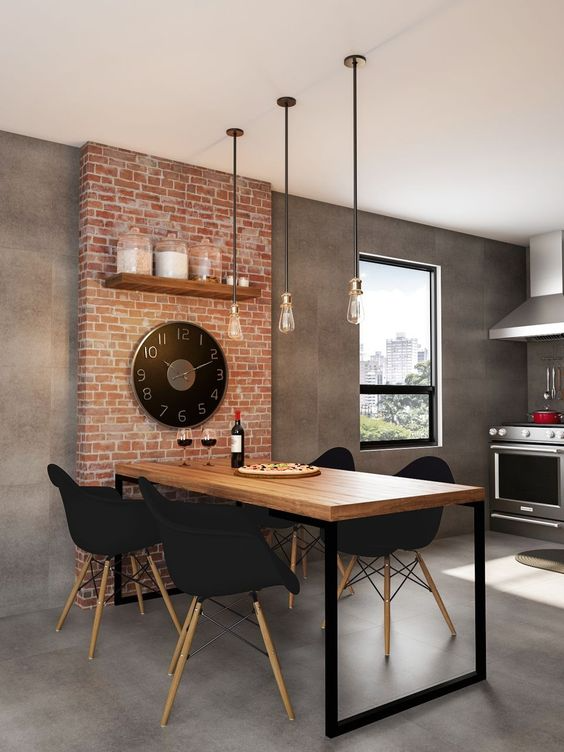 Cooking the meal at night needs good lighting to avoid a burnt food or overcooked food. If your kitchen is dark then you can't see your meal when you make it. Install some pendant lights in your kitchen is crucial. The pendant light will not bother you when cooking the meal. Arrange the light by considering the length of wire to hang in your kitchen. Moreover, many pendant lights that look catchy make your Industrial kitchen more stunning.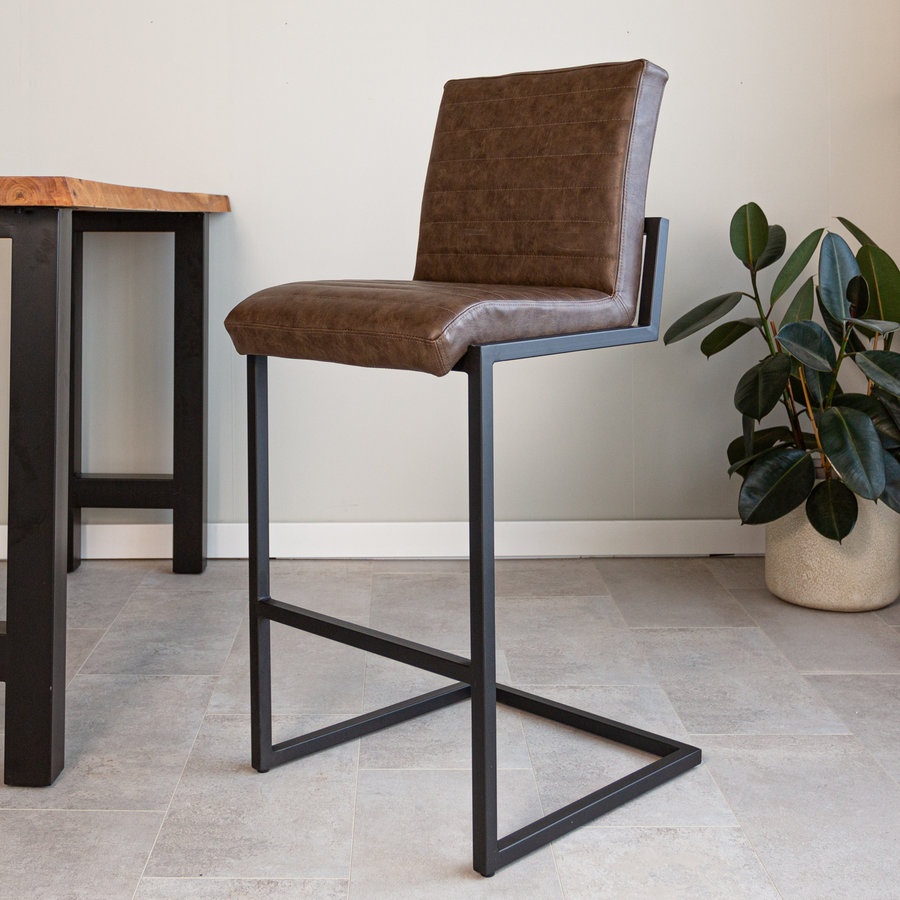 Having a mealtime in the kitchen is more complete by installing some bar chairs near the kitchen island. Industrial bar chairs have a small and simple design. It suits your apartment room to simplify the decoration. Many attractive bar chairs to choose from, some are made of iron material that strengthens your Industrial dining room. Even though you have a small apartment, installing this chair will not make it looks narrower.
A Dark Color for the Kitchen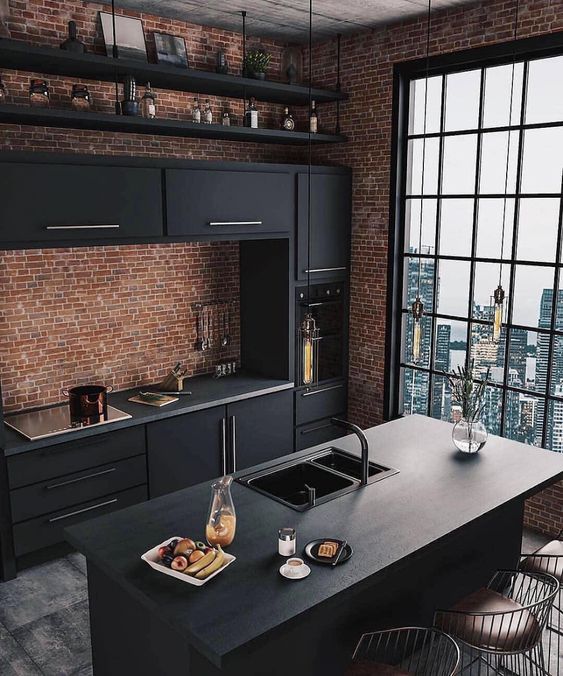 Since you use an Industrial design for your apartment, it is better to use dark color for your kitchen. Black and dark grey will help you to build an Industrial ambiance. This color reflects the light to get a dim effect in your room. It also brings a masculine impression if you combine it with other metallic furniture. Thus, attaching a dark color is the right option for your Industrial kitchen apartment.
Bathroom
The bathroom is also a part of an industrial apartment design that is important for you to pay attention to. With a comfortable and beautiful bathroom, you can be more comfortable doing all your activities in it. You can also create an aesthetic and elegant bathroom with a variety of industrial accents. Thus, your bathroom will appear more attractive with the industrial interior design in it. For that, here are some industrial accents that you can follow in decorating your bathroom. Let's discuss!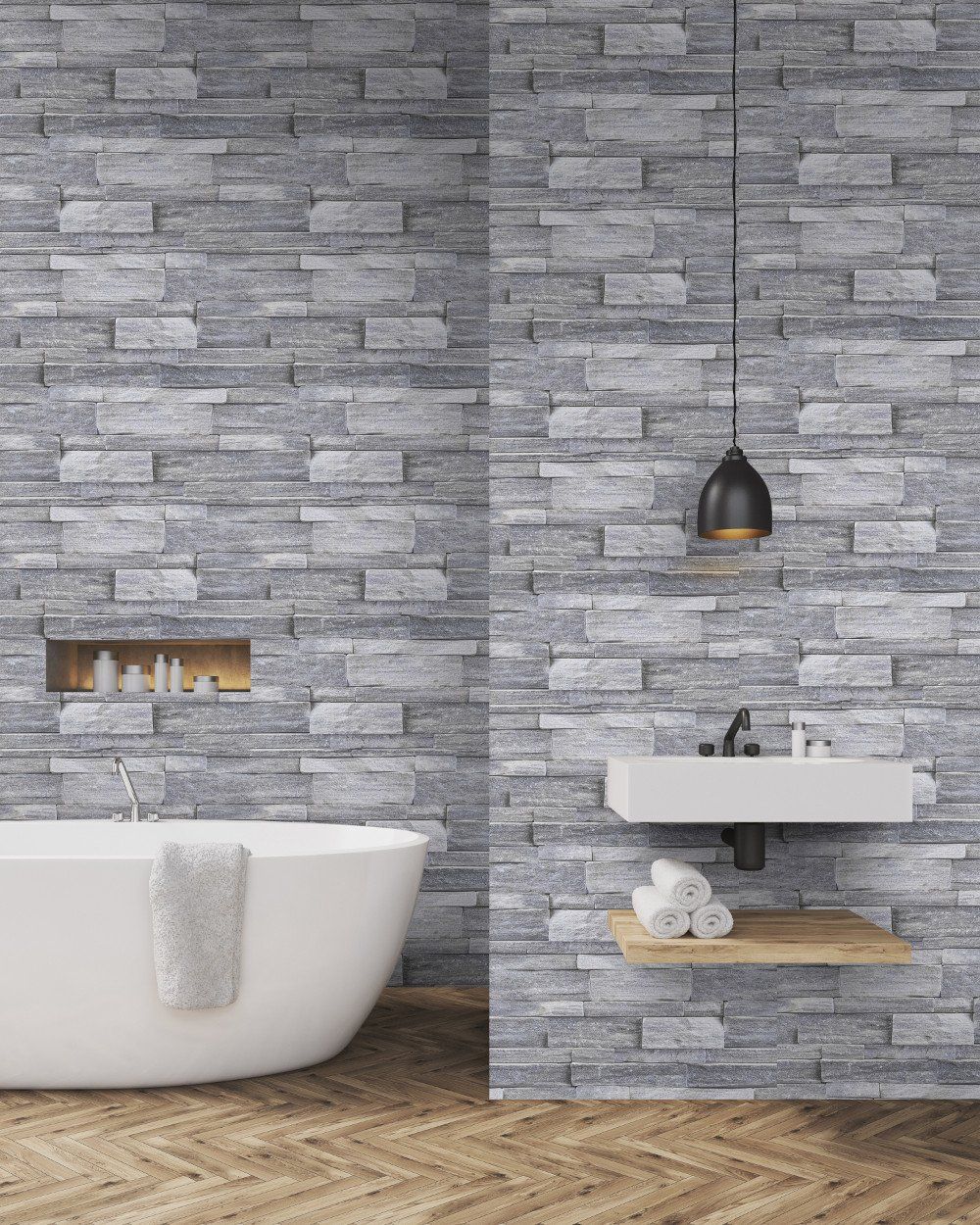 When entering a bathroom, the tile on the wall is an interesting point to catch your attention. If your bathroom has attractive tiles, it can be a focal point even from the entrance of your bathroom. An industrial bathroom uses dark tiles with plain patterns to give a strange effect to your bathroom interior. There are a bunch of attractive bathroom tiles to modify your Industrial bathroom, even you can install vinyl wallpaper to create an interesting bathroom instantly. This material is waterproof then it is a durable wallpaper to use for years.
Choose an Industrial Shower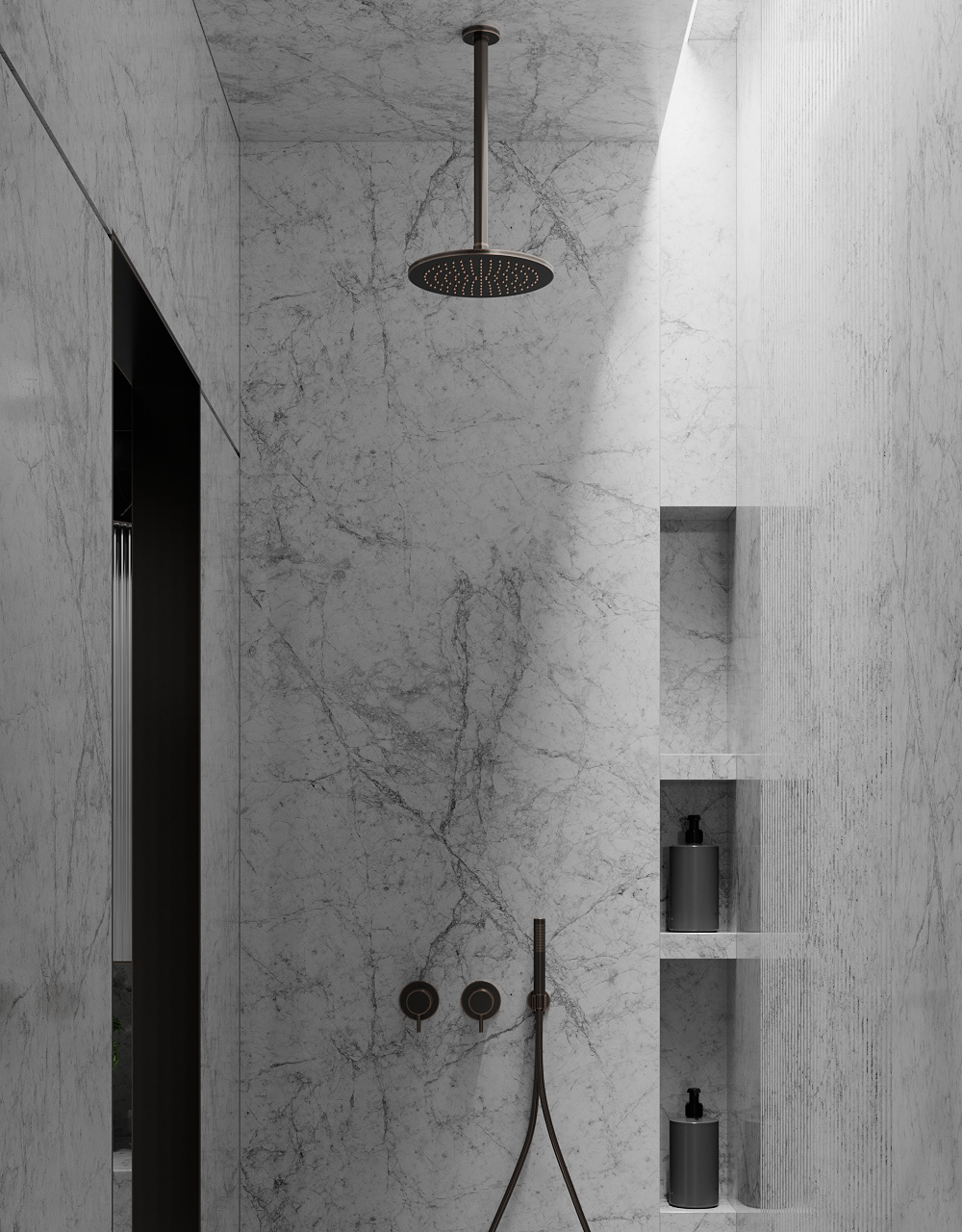 A shower is an essential thing to help you clean your body. It provides freshwater from its small holes, then the tension from the water will not hurt your skin. Install an Industrial shower to complete the decoration in your bathroom. Choose a shower that has black. Add a small basket on the wall if it is necessary. This basket offers a clean place to put your body wash or keep your smartphone from water.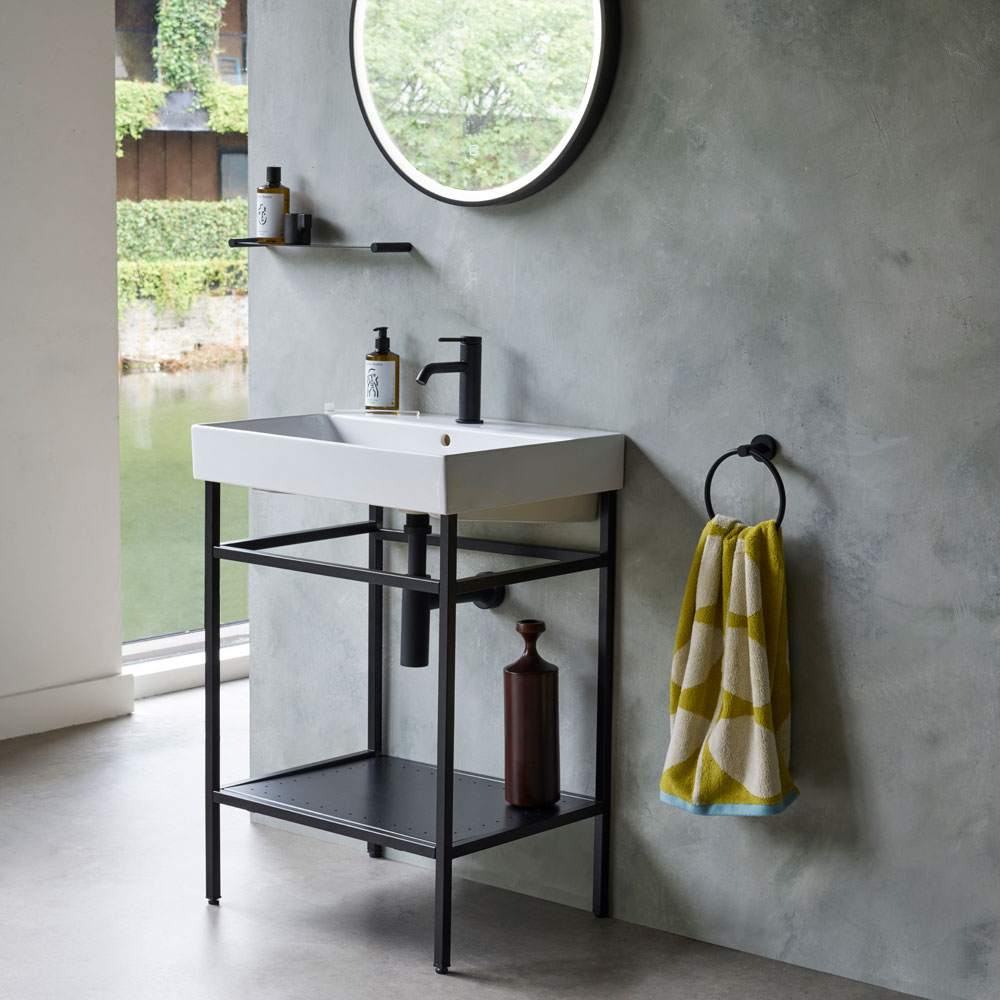 The design of the Industrial bathroom sink is attractive. It arouses an elegant impression by an aesthetic combination of the mirror frame, sink, and lighting. Hang a pendant light to brighten the surrounding will help you to see the mirror reflection properly. Thus, decorate your bathroom sink with an elegant mirror and lighting.
Conclusion
That is our discussion about Tips and Ideas for Creating Elegant and Aesthetic Industrial Apartment. Many Industrial designs that we haven't explored yet, maybe we will get a deeper discussion net time. That's all the short guiding to apply an Industrial design in an apartment room. The design suits any room size and type of apartment. The key of Industrial design is a combination of raw material and dark color. We hope you get the point and find creative ideas to design your apartment interior by applying an Industrial design. Happy decorating!